•  One in five new homes only achieve a 'C' rating
•  Claims zero carbon homes are too expensive to build are myths
Authors: Julian Roberts, Head of Communications, Energy Saving Trust, and Joseph Cosier, Policy Officer, Energy Saving Trust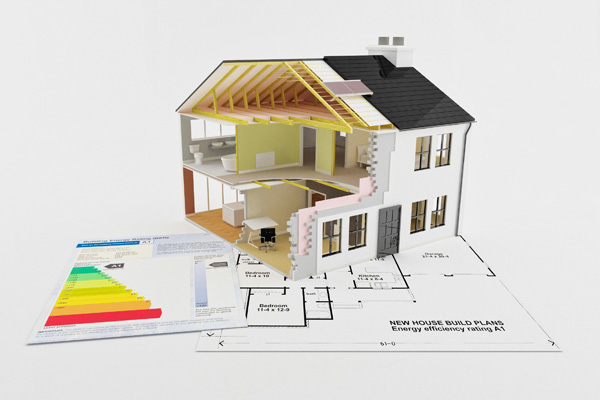 More than 150,000 new homes are built every year in the UK, and whilst they are generally more energy efficient than previous existing ones, there's still huge room for improvement.
Let's put it this way, one in five new homes are rated as a 'C' based on the official Energy Performance Certificate (EPC) – that's just one level up from the national average. And this is despite the fact that, right now, we have the technology and know-how to easily build 'A' rated homes – the very best of which meet a 2050-ready, zero-carbon-homes standard.
How do we define a 2050-ready home, and why are they important?
A 2050-ready home won't have to be improved between now and 2050 to meet our national target for reductions in carbon emissions. It is a future-proofed home: a home that is built to have minimal energy use over the year because it is highly insulated, has low water demand and is fitted with or directly connected to renewable energy systems.
To state the obvious, most homes stick around for decades, if not centuries. Government, NGOs, and industry are struggling enough to address the millions of existing inefficient, carbon intensive, cold and expensive to heat homes. So why on earth would we want to exacerbate the problem? The simple response is that the current state-of-play is just plain daft.
Building zero carbon homes makes sense on a number of levels.
The UK has a legally binding 2050 target of cutting greenhouse gas emissions by 80 per cent relative to 1990 levels. Achieving carbon savings in buildings will be key to hitting that target. Many argue that because of the difficulty of saving carbon in other sectors, we are likely to need to come close to a complete decarbonisation of our building stock by 2050.
Legally binding carbon targets – low carbon living makes total sense
Against this backdrop there is a high demand for housing and a shortage of new homes in the UK. In its recent Housing White Paper the government points to the fact that we need to build 250,000 homes a year to meet demand. With these two drivers in mind – the need for millions of new homes and the need for close-to-zero-carbon buildings to hit our 2050 carbon target – we at the Energy Saving Trust say that all new homes should be built to a '2050-ready' standard. We're not alone in this, the Committee on Climate Change (CCC), the Government's official advisers on carbon reduction targets, is also calling for zero carbon homes. Energy Saving Trust has calculated that with a '2050-ready' homes policy on new homes built between 2020 and 2050, there will be a carbon saving equivalent to taking around 18 million cars off the road for a whole year.
It's too expensive to build a low carbon home, right? Wrong.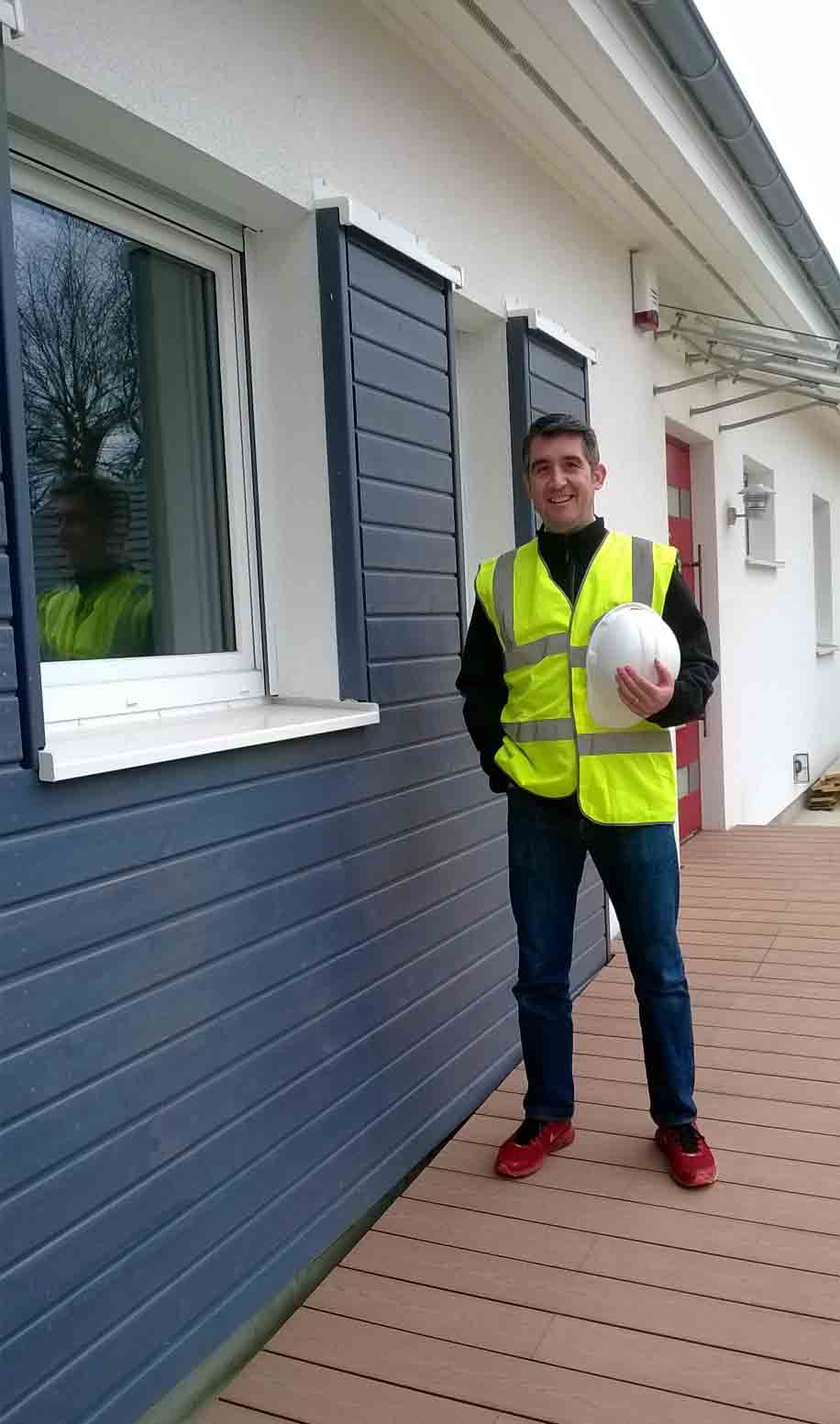 One argument against building zero carbon homes is that it's too expensive to do. Well, let me tell you that this argument simply doesn't stack up. I should know because I've built a highly efficient home. My colleagues argue that the cost of not having a 2050-ready new-build housing policy outweighs the cost of having one.
I'll put this into context.
Calculations done in 2014 showed that the additional cost of building a home to a '2050-ready' standard costs around £2,500 for a flat and £7,500 for a detached house. At that time, the average cost of a flat in the UK was a little over £150k and a detached home around £280k.
That means it cost around 1.5 to 2.5 per cent more to future proof our homes in 2014. With the rise in house prices, the additional cost of 2050-ready homes will be an even smaller percentage of today's new home.
Now, the annual energy running cost for the average UK home is about £1,200. My home costs only £200 to run each year, an annual saving of £1,000. The £7,500 additional costs, as referenced above, are consistent with my own personal experience of building a home. I will recoup this initial extra investment in less than eight years.
What's more, the costs of building zero carbon homes will drop if they become more mainstream because building techniques, materials and the supply chain will benefit from efficiencies found in scale. 
Clean Growth Plan: New approaches needed to make fuel poverty impact
Time to test Government's energy efficiency commitment
Report offers guidance in zero carbon quest
A man who can't put up a shelf can build a house
Low carbon homes are better to live in anyway
As I testify, low carbon homes are very comfortable to live in. In our house we experience no draughts, we're always warm but very rarely need the heating on – even in the middle of winter. The triple glazing helps keep the warmth in and any noise out. Our mechanical heat ventilation system – a clever bit of kit that captures heat from cooker hobs and showers, discards stale air and moisture and brings in fresh air that's blended with captured heat – creates a really pleasant atmosphere. We get no build-up of mould in bathrooms, no condensation running down the windows and cooking smells disappear almost immediately. When the sun is blazing, we switch the system to summer mode and our home stays nice and cool and airy.
If the current generation of politicians are failing to latch on to the massive upsides of low carbon living then the next generation surely won't. My son proudly documents our daily production of electricity from our solar panel and has become an advocate at his school. What's more, parents of his friends are planning to emulate what we've done – having had no previous desire to self-build.
It's a big yes then, that people want to live in these homes once they experience them.
It's all in the next Government's hands
The Conservatives make it clear in their manifesto and the recent Housing White Paper that they are not opposed in principle to the idea of '2050-ready' homes and in fact had a 'zero carbon homes' policy in place up until 2015. Both Labour and the Liberal Democrats continue to support the policy. Building Regulations are devolved in Scotland, Wales and Northern Ireland and there is an equally strong case for similar 2050-ready new build policies in each of those countries.
With the next government facing hugely complex Brexit negotiations, I hope that the arguments for strong policy on zero carbon homes are so obvious that ministers can enjoy making some easy decisions. The pragmatists will surely consider the hard facts:
We have the know-how to build zero carbon homes and the extra costs are far from prohibitive
People like and want zero carbon homes
Low carbon living future proofs us from inevitable increases in fuel bills
And they play a very significant role in reducing carbon emissions
If ministers do need convincing of these arguments, they are welcome round to my house for a cuppa, where, like friends who have called round, they'll be able to see for themselves.
Learn about Energy Saving Trust's policy positions and register for weekly policy updates via email. Share your thoughts with us in the comments below or tweet us @EnergySvgTrust.