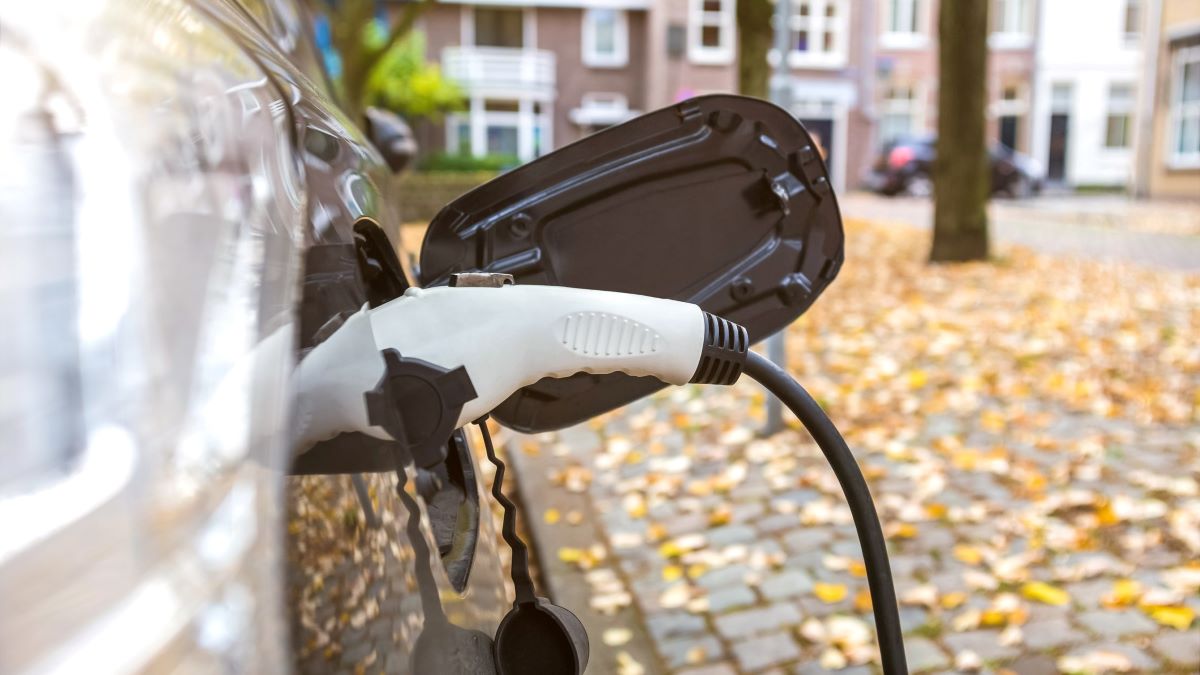 Energy Saving Trust and Go Ultra Low are working together to tackle the climate emergency and deliver clean air to our cities. We're joining forces to pool our expertise to bring people the latest information and advice about electric vehicles. We're creating online guides to support you in making the switch to an electric car or van.
The majority of cars on UK roads burn petrol or diesel, contributing 18% annually to the UK's total emissions. In fact transport, including planes, trains and HGVs makes up around a third of the UK's annual carbon emissions. In addition, the tailpipe emissions contribute to poor air quality in our towns and cities, with 63 authorities around the UK known to be in breach of air quality standards designed to protect the health and wellbeing of their residents.
Go Ultra Low is a joint government and car industry campaign backed by the Society of Motor Manufacturers (SMMT) and the Office of Low Emission Vehicles (OLEV). It aims to support the switchover to electric vehicles on our roads. Go Ultra Low's partnerships with vehicle manufacturers, energy providers and chargepoint manufacturers bring their expertise to the provision of expert guidance, with everything you need to know about electric vehicles.
If you're thinking about switching to an electric vehicle, you can find lots more information about electric vehicles and how to charge them on our website.
Energy Saving Trust's experience is principally around working with vehicle fleet owners and managers. Energy Saving Trust runs a programme to inform, advise and support fleet operators in switching to electric vehicles. We help organisations build a business case and successfully implement electric vehicles into their fleets, with associated charging infrastructure if needed.
Go Ultra Low's industry expertise and Energy Saving Trust's understanding of vehicle fleets puts us in a great position to create information and advice for people across the UK who want to know more about electric vehicles.
There's more choice than ever when it comes to zero carbon vehicles, as car manufacturers launch several new models this year, with ever increasing real world ranges and faster charging times. The charging industry is also responding with innovation and technical solutions that will make charging our vehicles simpler, faster and more reliable.
Working with fleets
Increasing numbers of electric cars and vans on UK roads will play a significant part in driving down carbon emissions and help deliver the UK's ambitious target to reach net zero by 2050. The fastest way to reduce emissions is to engage with organisations operating large vehicle fleets. Energy Saving Trust has always taken a pragmatic and realistic approach to their integration into fleets by highlighting the economic benefits of electrification, for both fleet operators and the UK economy.
Energy Saving Trust will be working to boost the advice and support available to fleets through Go Ultra Low. We are running a series of webinars, which started with the topic of 'Benefit in Kind', which refers to company car tax. Panellists included Matthew Ahmed from HM Treasury, Matthew Croucher from SMMT, Hamish Phillips from Tesla and Energy Saving Trust's Peter Eggeman.
We're also working with Go Ultra Low Companies to support a number of trailblazing organisations, which have already committed to having 5% of their fleets made up of electric vehicles. This requires a whole new level of information and advice and we're aiming to provide new case studies, a fleet solutions pack, refreshed content on the Go Ultra Low website and bespoke best practice guides as well as continuing to provide direct fleet advice through our Fleet Support Team.
We invite you to join us on this journey and to enjoy the new content and activities we will be working on with our Go Ultra Low colleagues.
Our next webinar will be held on Thursday 13 February which SSE Enterprise will be providing their insights on the topic of 'smart cities and chargepoint infrastructure'.
Please do register your interest for the Smart Cities and Chargepoint Infrastructure webinar.
More on this...