By Tim Anderson – Senior Account Manager, Energy Saving Trust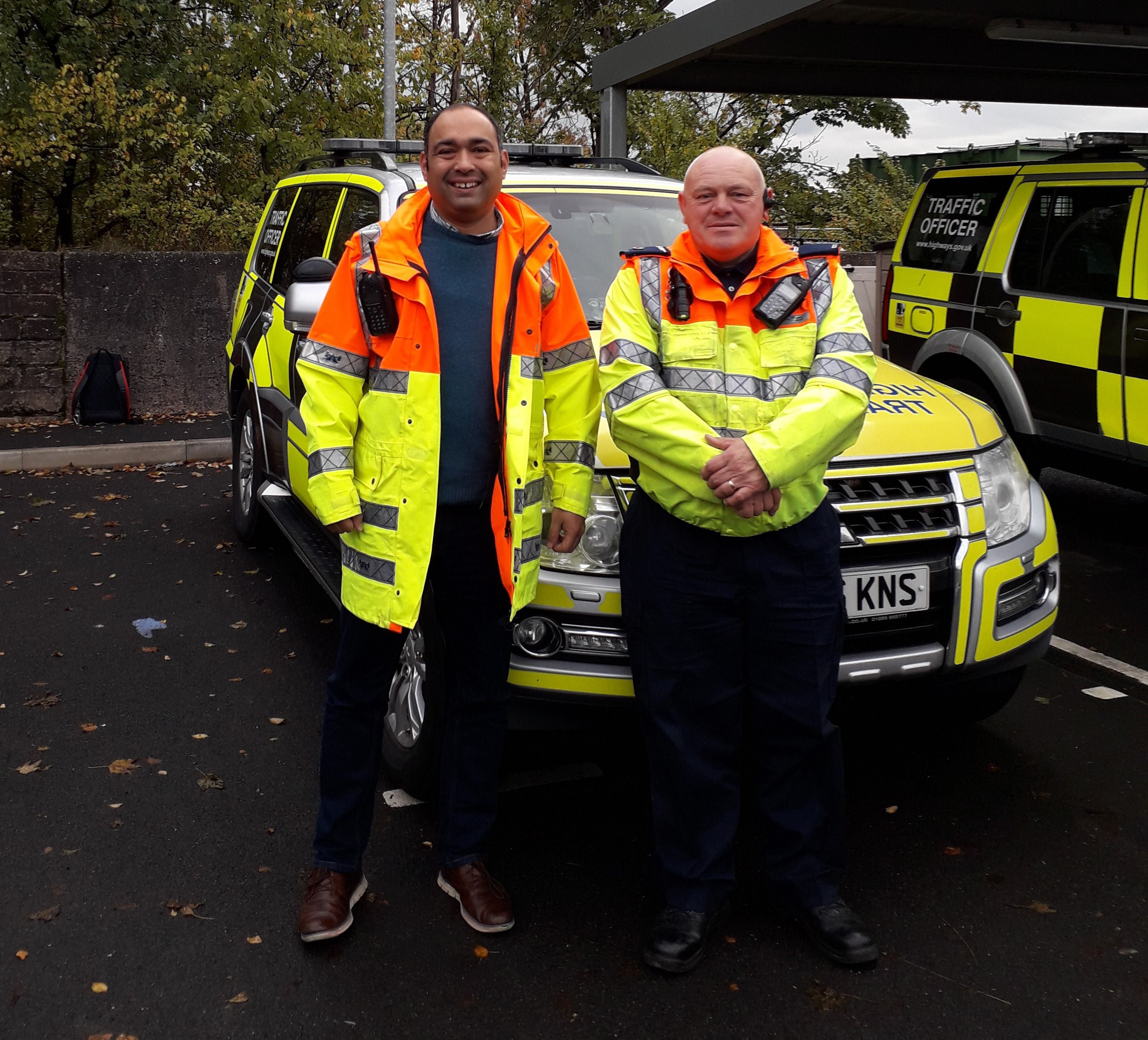 Energy Saving Trust works to helps people save energy when they're at home and on the move. One of our key areas of expertise is working with businesses to help them manage the emissions from their fleet. Energy Saving Trust is working with Highways England to do just that.
Finding the right multi-purpose vehicle
We've all seen the ubiquitous Traffic Officer Vehicles, which patrol the motorways up and down the country. These hard working vehicles and their crews are there to keep traffic moving and ensure the roads are safe places for everyone to use.
Energy Saving Trust is looking at ways of reducing the emissions from these Traffic Officer Vehicles. In particular, we are examining whether ultra-low emission vehicles (i.e. electric vehicles or plug-in hybrids) could be deployed to help reduce fuel costs and emissions. But there are some challenges.
Highways England needs a vehicle that does it all. As well as being reliable, safe and comfortable, it needs to be able to tow heavy vehicles off the carriageway, carry large amounts of heavy kit and be all-weather capable. Highways England officers currently use large 4x4 vehicles to meet these needs, but they have fuel consumption and emissions to match. Highways England is committed to investigating alternatives.
Joining the early shift 
As part of the project, I have been working with the Highways England lead, Matthew Leeder, to engage with the Traffic Officer Service team to understand how the vehicles are used. I joined the team at Knutsford outstation in Cheshire at 6am on a rainy morning in November for the early shift to get the full experience. Welcoming me aboard the Mitsubishi Shogun were Traffic Officers Martin Wallace and Dean (Deano) Schnieders.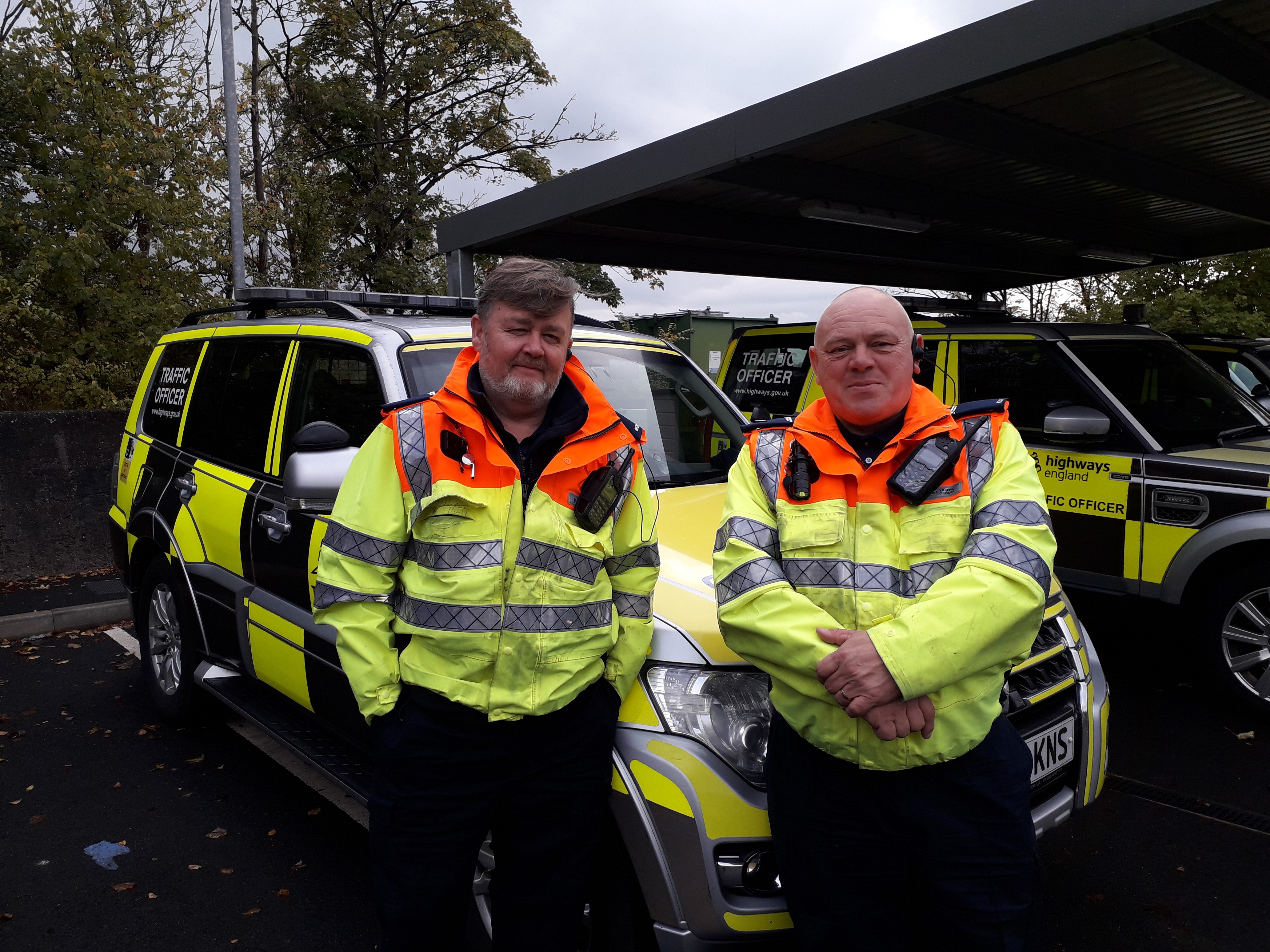 Once the morning briefing was complete, the vehicle inspection took place with a walk around the vehicle to check all the kit was stowed, the emergency lights and horn were working and the radios were tuned properly. The designated 'route 52' took us up the M6, across the M56 and up the M53 towards Liverpool to check all was running smoothly.
To save fuel, the crew are encouraged to complete a preliminary patrol, then park up in a strategic location and await news of an incident from a member of the public or from the Regional Control Centre watching the motorway cameras. For us, it was a quiet morning and fortunately for the users of our section of motorway, all was running smoothly. The radio chatter from around the region indicated that it was not all plain sailing with a number of collisions and debris on the road needing to be sorted out in other areas.
The Mitsubishi Shogun and Land Rover Discovery are fine vehicles and carry out their tasks with distinction. They are popular with Traffic Officers, for whom comfort is a key consideration. As Highways England move to reduce emissions, the highly visible Traffic Officer Vehicles will be an obvious place to start.
Finding the right ultra-low emission vehicle that does everything required of it, at a price that offers value for money is a challenge. Energy Saving Trust will be working with Highways England to find opportunities for Traffic Officer Vehicles and the wider Highways England fleet.
Being a child of the eighties, I always wanted to be Eric Estrada from the TV show CHiPs (California Highway Patrol) and so being a member of the Traffic Officer Patrols in Cheshire for a morning was a thrill. The good news is that our section of road was flowing freely, ensuring a safe and quick journey for all.
Find out more...