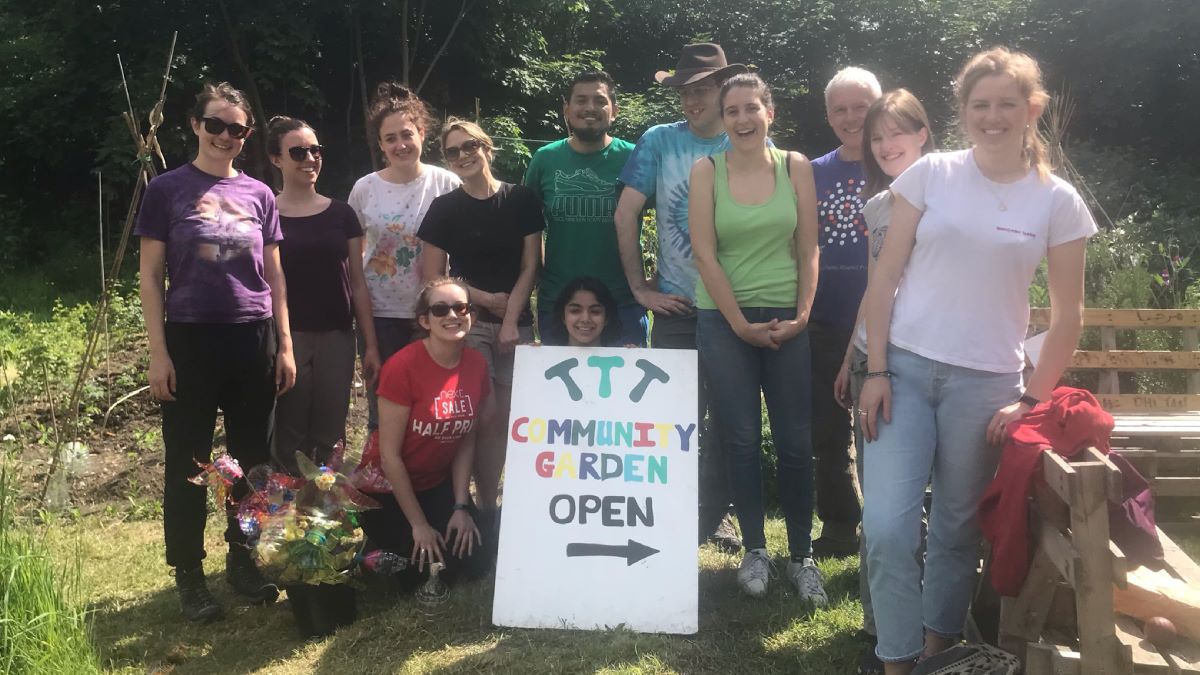 by Bethany Picton
Energy Saving Trust has Sustainability Groups in each of its offices to promote environmental activities and sustainable behaviour. Recently, a group of staff from the London-based Energy Saving Trust Sustainability Group spent a day helping at Tooting Community Garden in South London.  The garden is one of many initiatives in the area as part of the Transition Town Tooting project.
Transition Towns is a project that encourages community groups to develop initiatives that benefit their local community. The project operates globally, with over 900 initiatives, including 30 in London.
The group of volunteers were introduced to the Tooting Community Garden by Chuck, who manages the initiative, while drinking tea made using a volcano kettle, as the garden has no electricity. A volcano kettle is a double-walled container filled with sticks and other debris to create a fire within it, which boils the water surrounding the fire chamber. Some staff had herbal teas made from freshly picked leaves from the garden. Chuck explained who comes to the garden and the different purposes, including a local primary school that visits each week.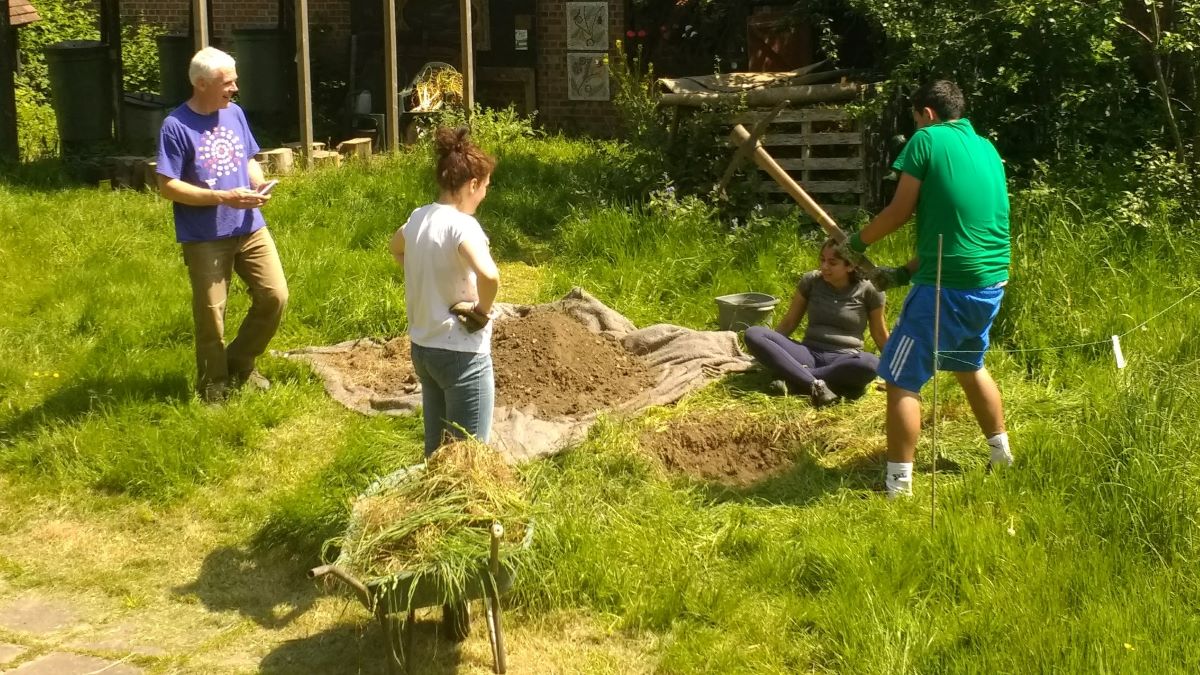 Chuck soon put the volunteers to work at various tasks in the garden. One team worked to plant out the young tomato plants that had started growing in the greenhouse, while others created a frame out of bamboo sticks and plastic mesh, which would encourage the young sweet pea plants to grow upwards. Another couple of staff worked on the compost heap, while others cut overgrown grass. Finally, a few staff dug a hole for a new tree.
Once the tasks were completed, the group got creative, making decorative flowers out of old plastic water bottles for use around the garden.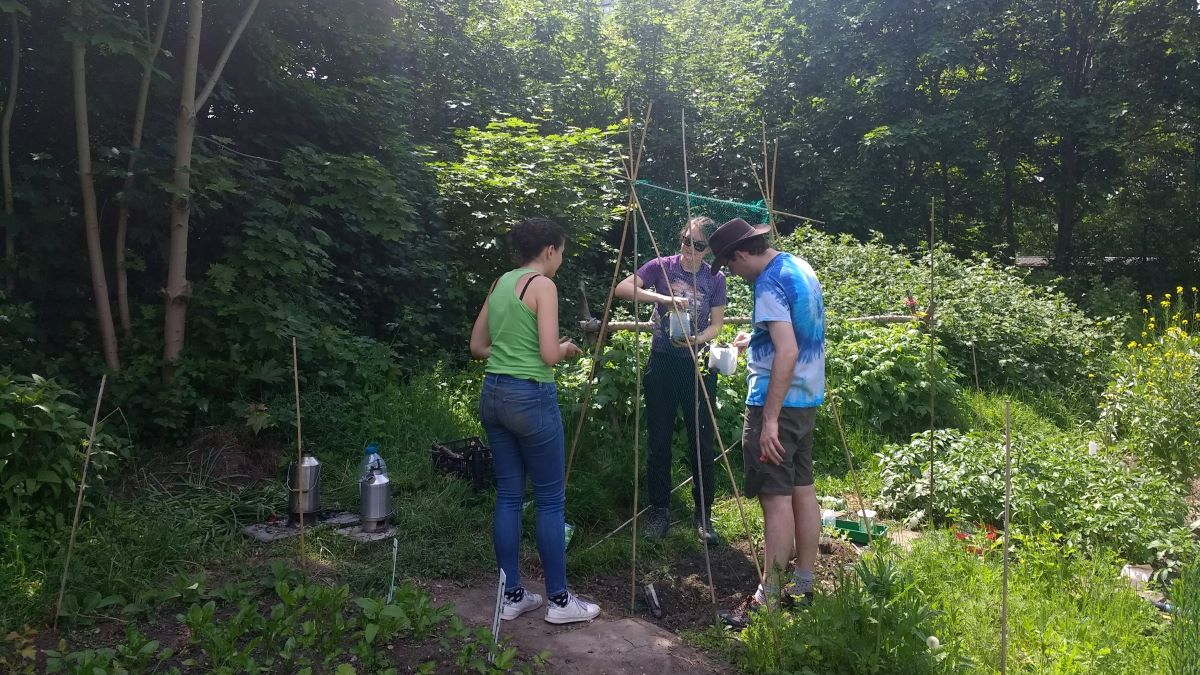 These tasks were a great help to the garden, with a lot of work completed in a short time, including maintenance tasks that the regular garden volunteers often don't have time for. The volunteers were glad to 'get their hands dirty' and contribute to an important piece of work.
Chuck had this to say:
"Why is the community garden a good initiative? Getting together on a community project like this is good socially, it's fun, it gets us outdoors and taking some exercise, it gets us closer to nature even in the heart of the city. Local growing gives everyone an opportunity to contribute as they want to, growing really good local and healthy produce with negligible food-miles between plot and table.
Inviting a dozen people to visit the garden together from Energy Saving Trust meant that we could suggest several of our larger current garden must-dos as tasks for smaller groups. Some jobs were more physical, some more 'garden-technical'. On the day the team was really flexible and thorough, and made the garden jobs fun. Thank you, it's fantastic that so much was achieved!"
Learn more about Transition Towns and find your nearest one by visiting the Transition Network website. You can also visit Tooting Community Garden – check their Facebook page for more information.
More on this...