The way we get from place to place is important – with impacts on health and wellbeing, as well as climate change. Switching to low carbon transport can significantly improve your carbon footprint, transport, not including aviation and shipping, accounts for 20% of EU greenhouse gas emissions. 
European Mobility Week runs from 16-22 September 2019. The idea is for towns and cities across the continent to show a commitment to clean transport. It's an opportunity to test new approaches, check progress so far and generally take special time to consider their contribution to bringing about a more sustainable future.
Go walkabout or get pedalling
Over 2,000 urban areas have already signed up to take part this year, and the focus is on safe walking and cycling. The World Health Organisation has highlighted safe infrastructure for active transport as a means of achieving greater health equity worldwide, while urban features such as green spaces and better lighting add to the appeal of getting around on foot and by bike.
Participation in the week's events is rising annually. Last year's activities covered 54 different countries, with the appeal spreading well beyond Europe to Ecuador, Colombia, Japan, Mali and Mongolia among others. The week motivated thousands of tangible changes including improving pavement accessibility, developing urban mobility plans, plus creating and improving cycling facilities. It also saw the introduction of scores of new technologies to improve green transport infrastructure and incorporating low-emissions vehicles into fleets.
In the UK, 13 towns and cities are taking part this year, with a pretty even spread around the country. Aberdeen City Council is offering school children the chance to try out different kinds of bikes, council staff in Gloucester are being encouraged to travel by active and sustainable means, while there's a walking festival in Bath. Other local authorities, such as those in Nottingham, Exeter and Portsmouth, are promoting a range of local activities during the week.
Towards car-free urban areas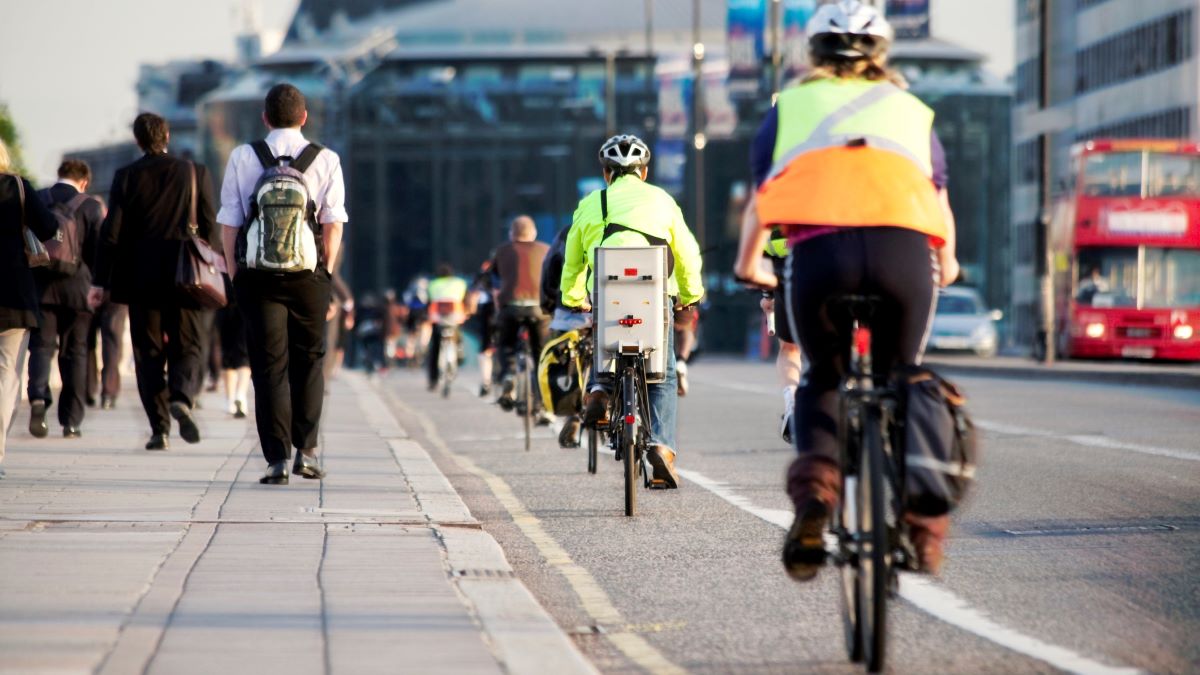 The flurry of mobility-themed action provides a build-up to World Car Free Day on Sunday 22 September. Getting involved is pretty straightforward: simply don't use your car on that day. The concept is helped along by towns and cities doing their bit: an impressive 1,153 closed their streets to traffic last year, and organisers are hoping to do similarly well this time around.
A number of UK cities are going car-free on the day, including Birmingham, Bath, Worcester and the London boroughs of Lambeth and Hackney. The capital is a particularly interesting case study, as the organisers of London Car Free Day are hoping to use this year's event as a springboard to regular carless days across the city, as well as sparking a push for greater pedestrianisation, creation of more green space and promotion of cycling.
Energy Saving Trust Head of Transport, Tim Anderson, said: "You don't need an electric vehicle to go zero emissions – leave your car at home instead.
Walking and cycling is the best way to make short journeys – it's free of charge, you get some fresh air which promotes good physical and mental health and you make a contribution to clean air in your local area. For longer journeys, think about whether you need to travel and if so, can public transport get you there?"
Walking and cycling are linked to reduced risk of cardiovascular disease and diabetes, and research has showed that active travel could realistically replace over 40% of short car trips, reducing emissions from car travel. Then, there's the considerable cost savings to factor in. All in all, some strong reasons to use European Mobility Week as your own personal springboard to a more active, cleaner lifestyle.
More on this...