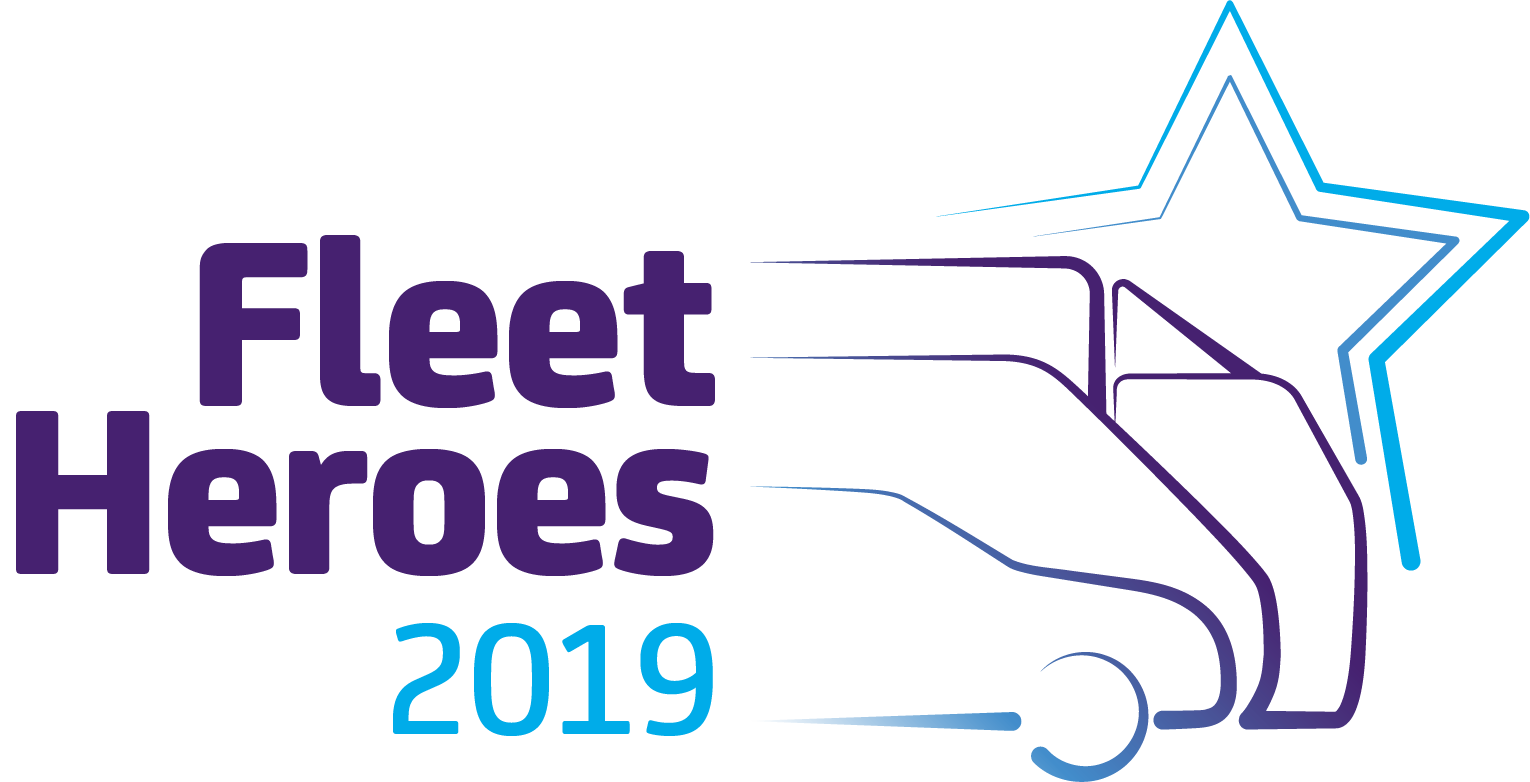 Fleet Heroes Conference and Awards is Energy Saving Trust's event to celebrate the great work that fleet managers are doing to drive down emissions from business transport. The 14th Fleet Heroes Awards took place on 28 November 2019 at the National Gallery, Trafalgar Square, with transport experts and professionals from across the country bringing the latest insights from their respective fields and regions.
While it's still important for individuals to switch to lower carbon transport wherever possible, tackling emissions from large fleets makes more substantial strides towards net zero emissions simply because of the numbers involved. When you think about the traffic generated by business transport – everything from delivery vans, utility vehicles, police cars, ambulances to HGVs – if they're all using petrol or diesel, this contributes a substantial amount to air pollution and carbon emissions. Due to their low fuel and tax costs, electric vehicles can also help organisations to save money.
Tim Anderson, Head of Transport at Energy Saving Trust, opened the conference with a call to action. Many organisations and the transport sector have a lot be proud of, but we need to continue to find ways to help more organisations and people from all backgrounds to switch to electric vehicles as well as public transport, walking and cycling.
At the Fleet Heroes Conference and Awards we saw speakers from the private and public sector take the stage to discuss the pathway to net zero and share their successes to date.
The Fleet Heroes Conference
The conference provided an opportunity for delegates to exchange information and ideas with transport specialists from around the UK, at a series of sessions, which focused on issues around air quality, electrification of fleets and cities.
An illustrator from Live Illustration attended all the sessions and captured the line of discussion in this series of images, which reflect some of the key thoughts and ideas.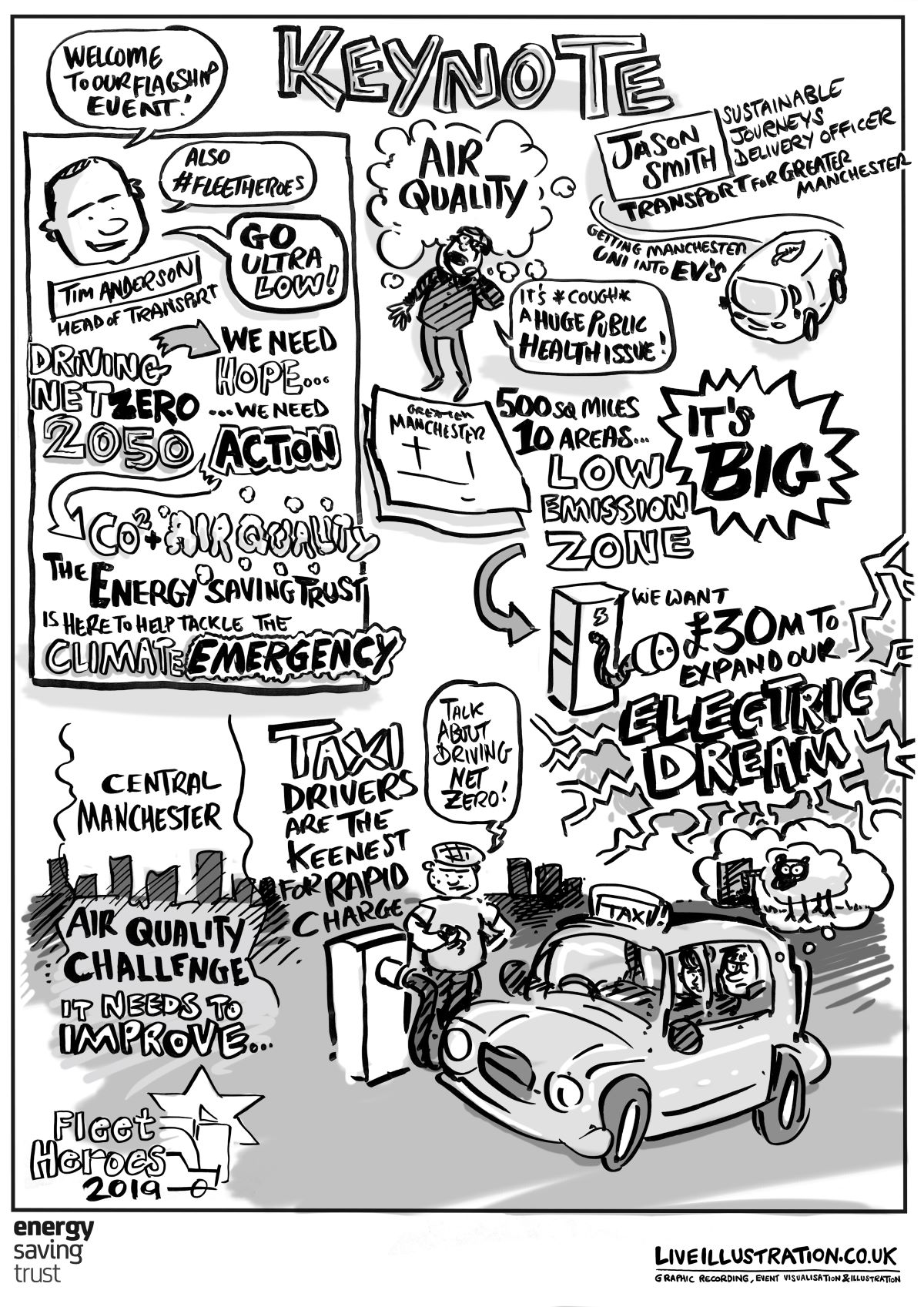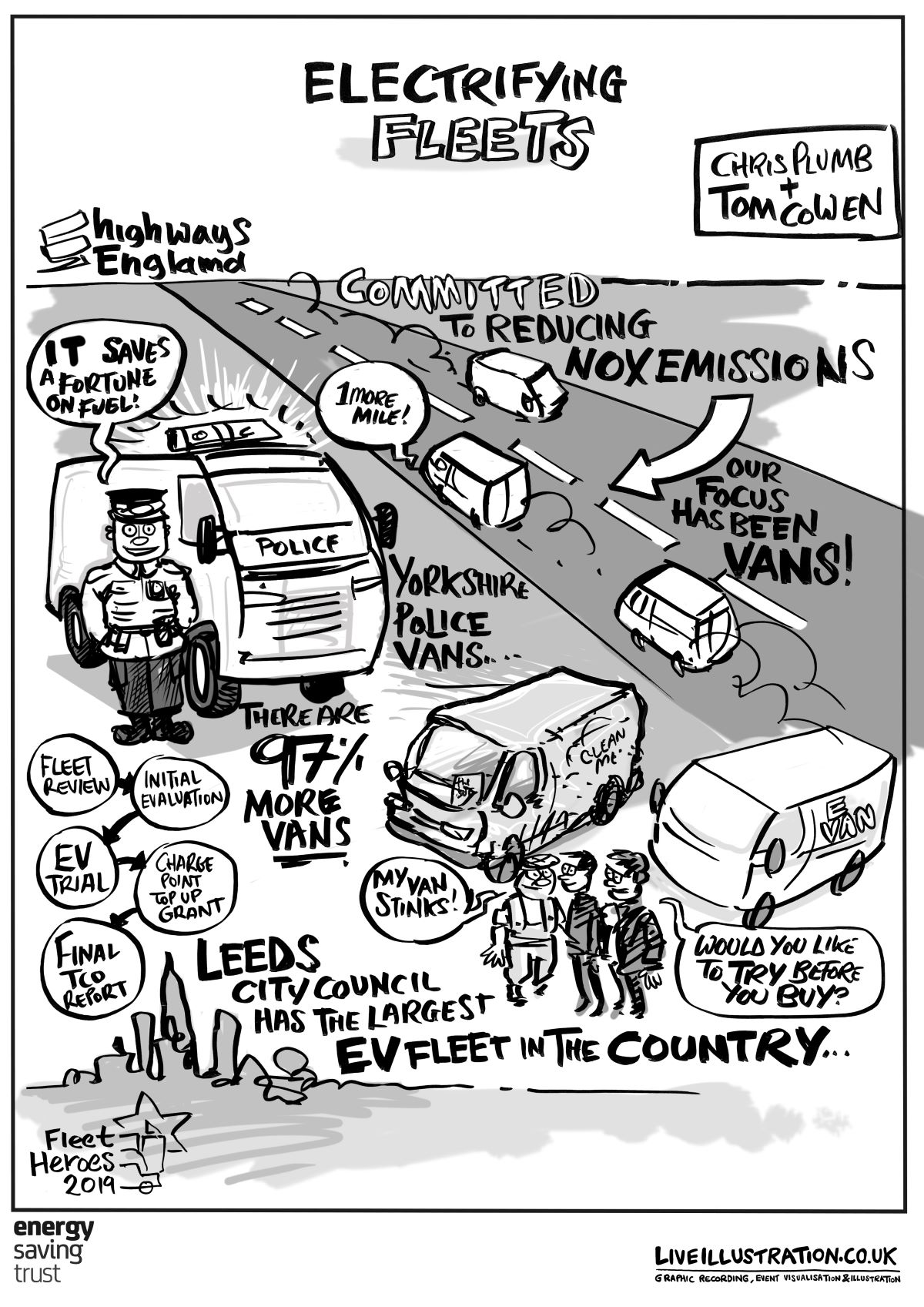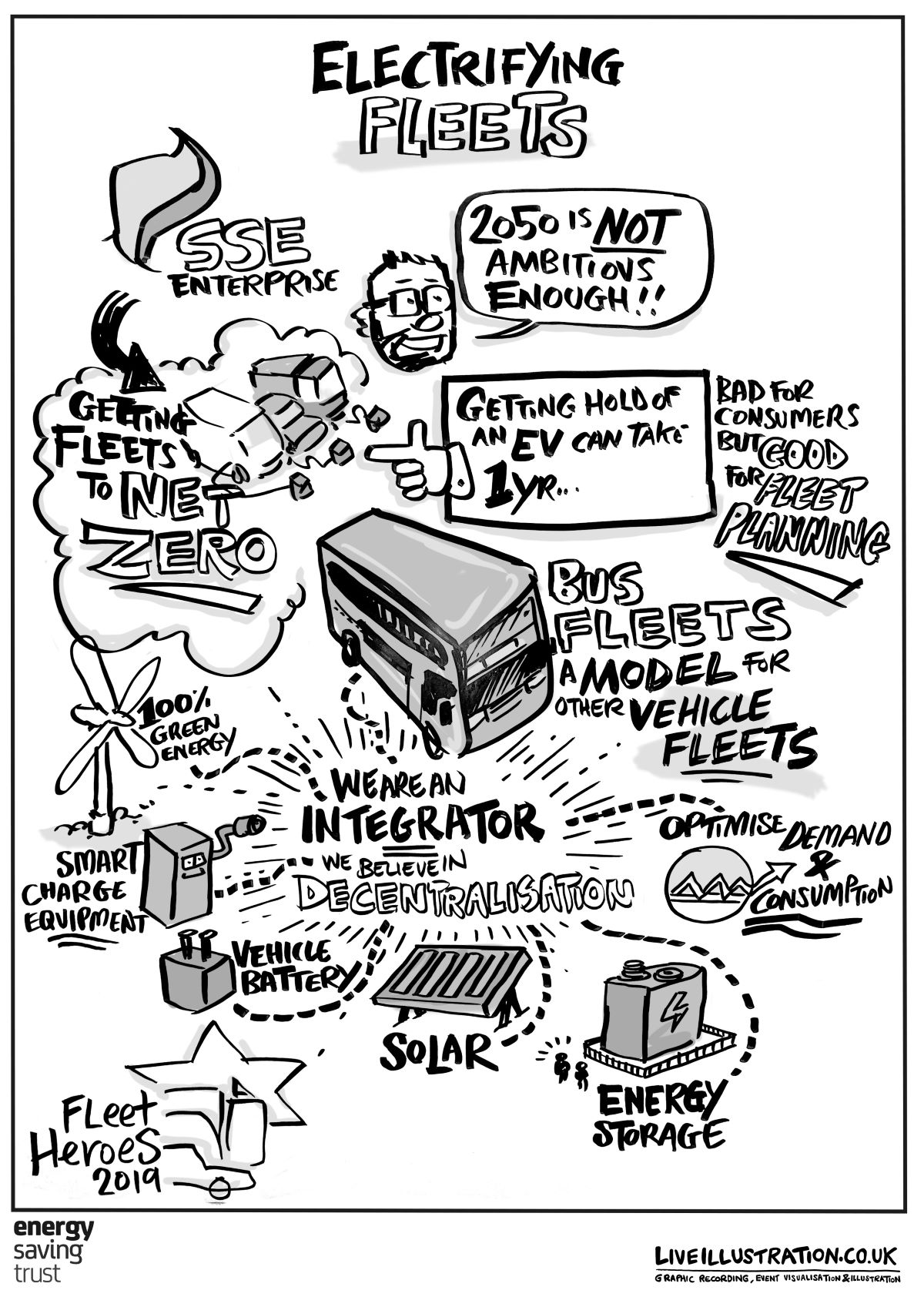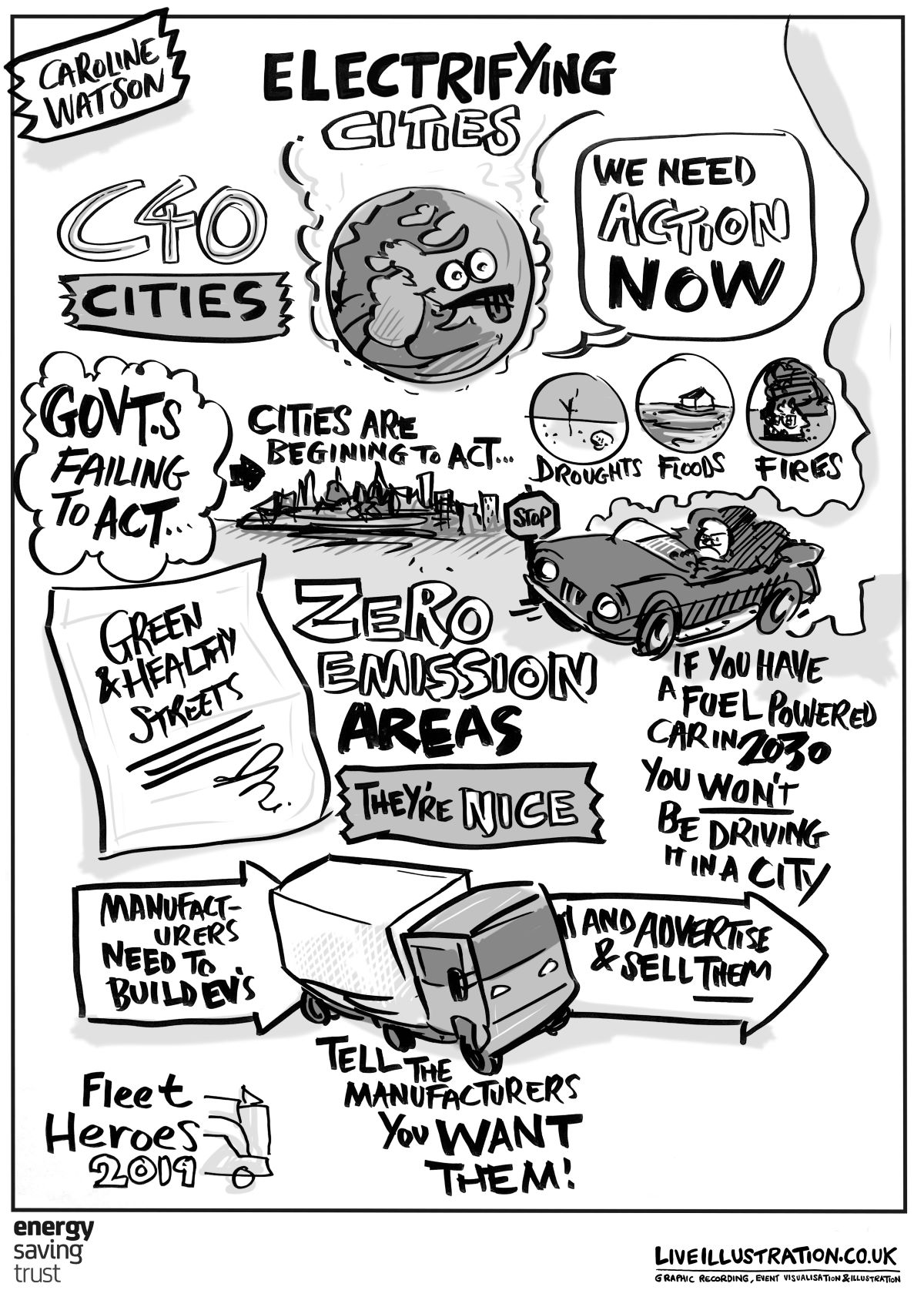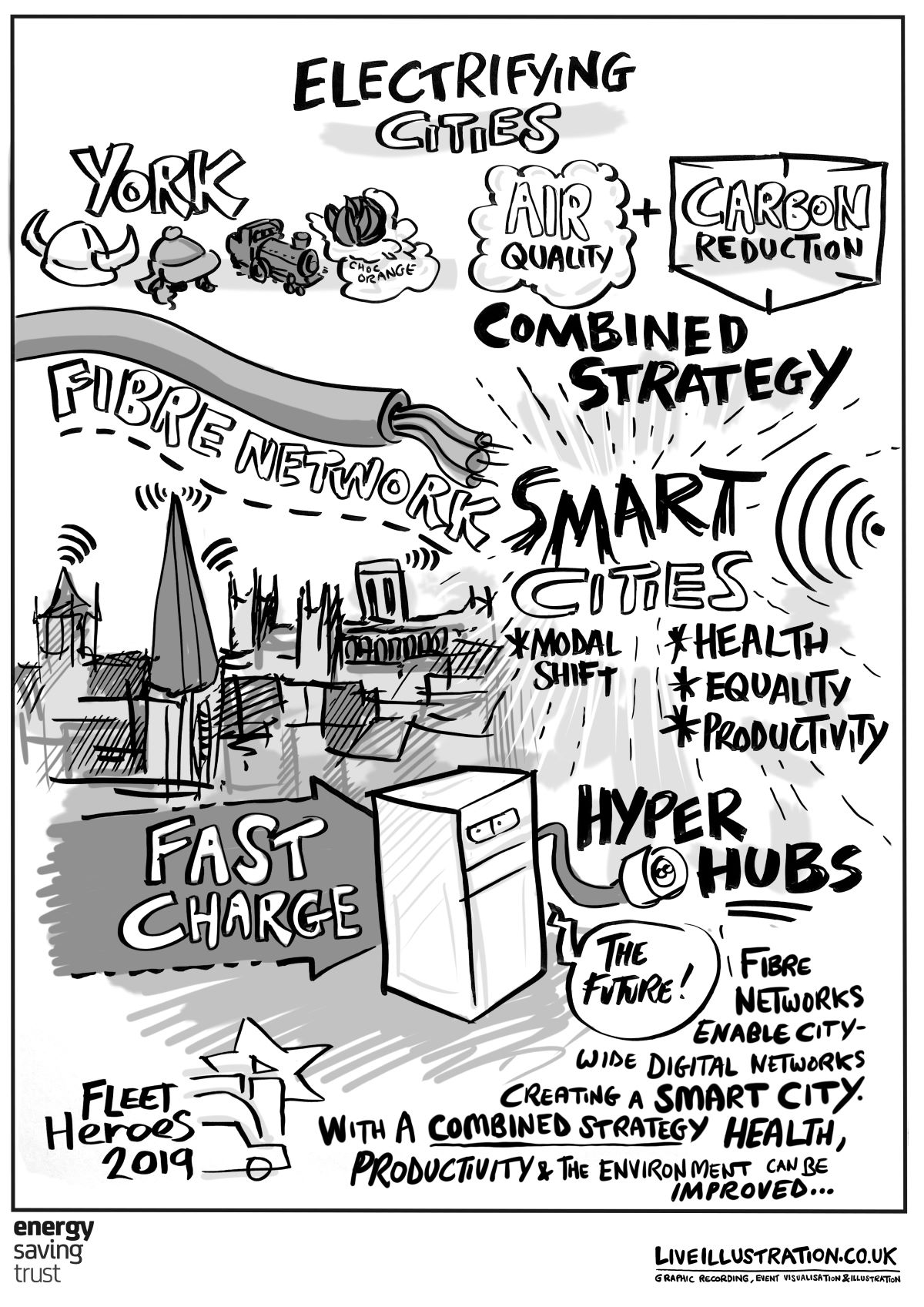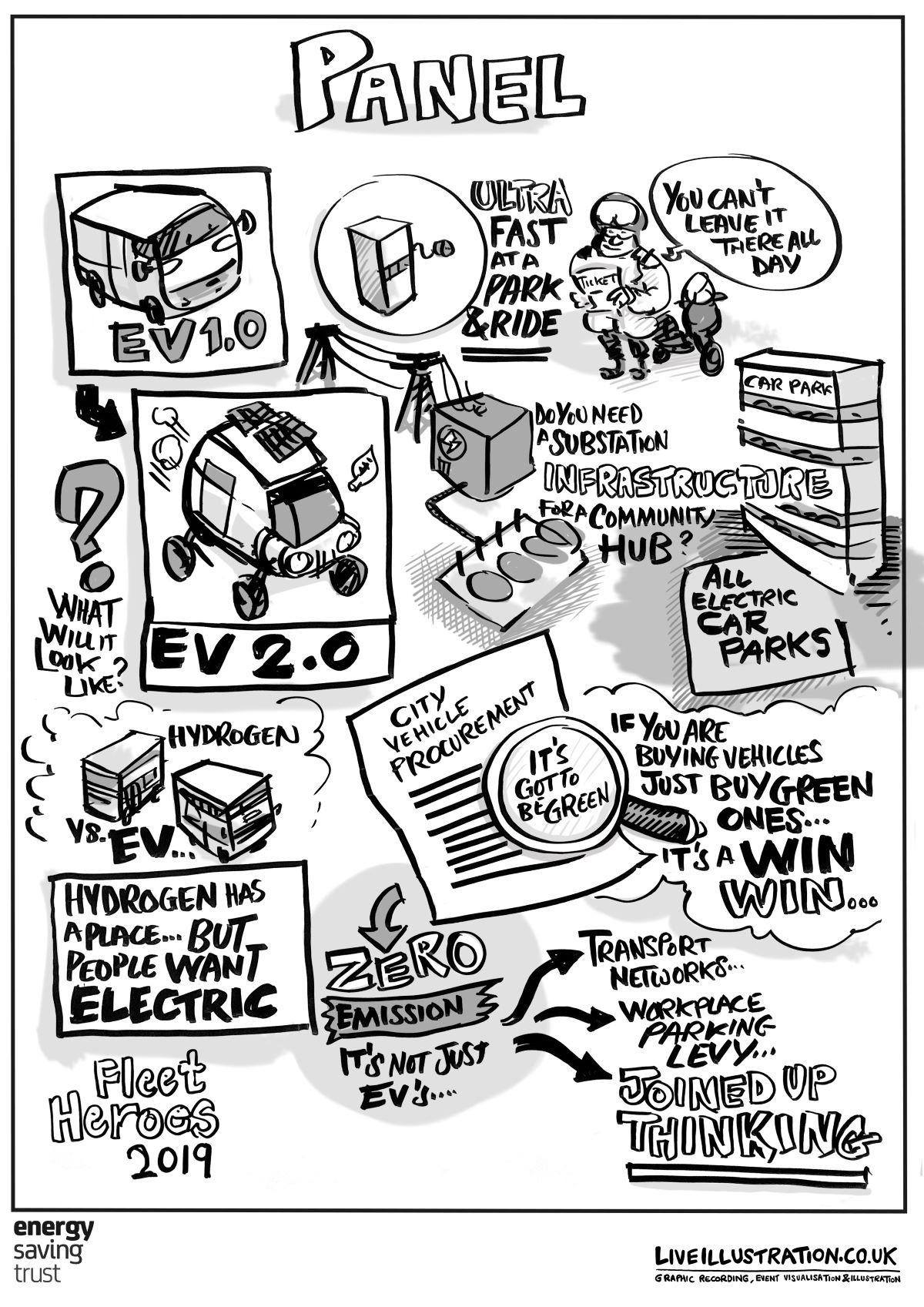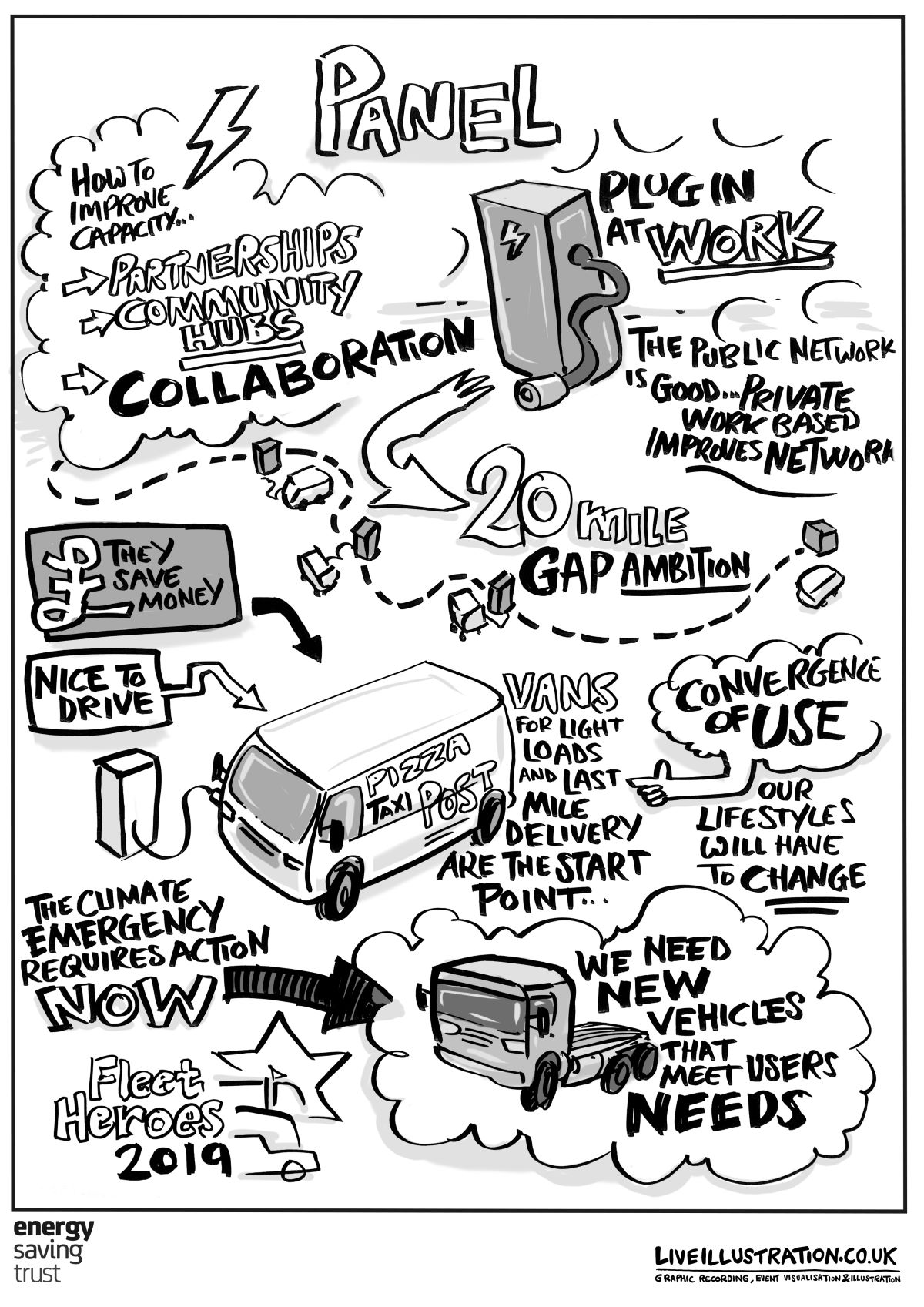 All our speakers emphasised the need for urgent action, and the current challenge of the lack of availability of ultra low emission vehicles from manufacturers in order to achieve this. Speakers and panel discussions also agreed that consistent messaging on electric vehicles could help decarbonise the transport sector, and innovative solutions were the way forward.
Conference sessions
The conference kicked off with a keynote speech from Jason Smith, Clean Air Officer at Transport for Greater Manchester (TfGM). He spoke about the issue of air quality in Manchester, where around 1,200 premature deaths a year are linked to poor air quality, with some of the highest rates of asthma related hospital admissions across the UK.
The arrival of a Clean Air Zone in the next few years, encompassing all local authorities in the Greater Manchester region, alongside other investment, should help address these statistics.
Electrifying fleets and cities
There was a session on electrifying fleets, which covered the integration of electric vehicles into fleets, as well as growing the charging network. Kevin Welstead highlighted SSE Enterprise's bus to grid projects, where energy can be stored in electric bus batteries, as well as the possibility of integrating home assistants such as Google Home or Amazon's Alexa with vehicle charging, opening the door to innovation.
The second half of the conference covered the electrification of cities, looking at examples from the Netherlands and Norway, where electric vehicles have become mainstream already, thanks to successful legislation, investment and grant funding.
There was also a look at what's happening in York, which has invested in new gigabit technology, making it possible to manage traffic much better and paving the way for further innovation. York is also planning two hubs of rapid chargepoints with solar panels on the outskirts of the city, which will be a huge benefit to residents and businesses with electric vehicles and help improve air quality.
Throughout the conference it was fantastic to hear how many solutions there are to help fleets charge electric vehicles easily, especially when different organisations collaborate. As more electric vehicle models arrive on the market over the next few years, it's an exciting time for fleets and a promising step towards a zero-emission future.
Fleet Heroes Awards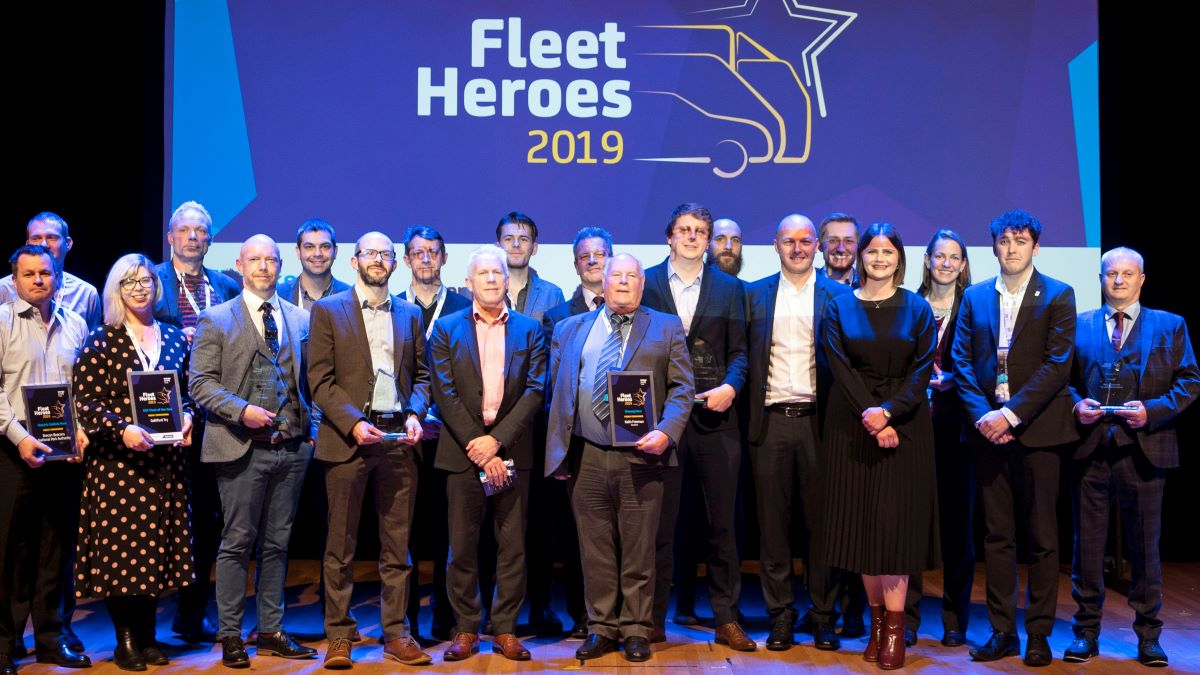 The Award ceremony took place following the conference. There were seven  categories, which celebrated different elements of how organisations can contribute to the switch to low carbon transport. There were wins for The Climate Group  in the Innovation Hero category and DPD  in the Sustainable Deliveries  category. We've got more details on the Fleet Heroes website.
There were over 100  delegates at the Fleet Heroes Conference and Awards, who all gained some insight from the event. Energy Saving Trust will be running the event next year, so if your organisation is  making the switch to ultra low emission  vehicles, get in touch with our team on fleetheroes@est.org.uk  and you could be at next year's event.
More on this…