ebikes, or pedal-assisted electric bikes, are increasing in popularity and availability across the UK. Energy Saving Trust has more information about what an ebike actually is and how it could benefit you. ebikes typically cost between £500 and £3,500, but if you live in Scotland, you may be eligible for funding towards the cost.
ebike World Record Challenge
So why did Chris make his world record attempt on a track? He'd probably have had a better time cycling along roads in the Highlands, even given the weather he had to battle on the day. But Guinness World Records stipulate that the record attempt must be undertaken on a track, so it is measureable. Still, it meant that Chris could be cheered on by wife Julie, and friend Mark Beaumont of Around the World in 80 Days fame, as well as a crowd of spectators, who were visiting the museum.
Chris maintained a constant speed of around 16.5mph, meaning that, on average, he was pedalling above the 15.5mph maximum speed where the motor provides power assistance. 'When fatigue set in and my speed started to drop, the VOLT ebike motor instantly kicked in and assisted me, meaning I could allow my legs to recover slightly', Chris commented.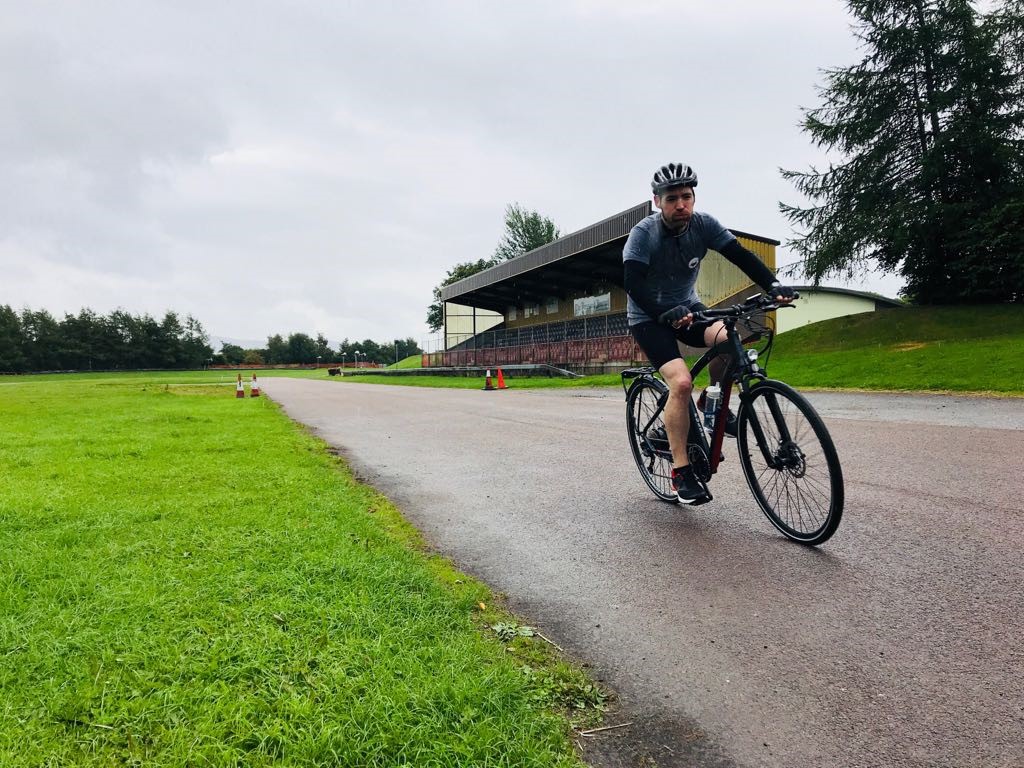 Chris pedalled around the Grampian Transport Museum track a total of 727times.
He welcomed this electric assistance: 'The strategy was to be out on the bike as long as possible,' explained Chris. 'My first break of 15 minutes came after almost 4 hours of constant riding. I actually broke the record 7 hours into the record attempt, and this is when mental strength became the biggest part of challenge.'
Chris kept his energy up by keeping hydrated by drinking plenty of water an hour, combined with electrolytes, plus a supply of bananas and protein bars. 'Not being an experienced cyclist and never having tackled an endurance ride before, I read up as much as possible and also received guidance from my friend, World Record cyclist, Mark Beaumont,' Chris told us.
Switch your car for an ebike
No one expects you to commute for hundreds of miles a day on an ebike, but as Chris pointed out: 'Many people have a commute of around 10miles a day, and generally drive alone - an ebike is a perfect substitute for a car. And it's not all about the environment, as Chris said: 'There are health benefits too.'
Switching from a car to an ebike would help alleviate the issue of traffic pollution. If you're based in Scotland the Energy Saving Trust can help you get your hands on one. 'The ebike loan is another fantastic initiative from Energy Saving Trust, said Chris. 'One of the main barriers that stops people switching to an ebike is the cost compared to a conventional bike. Being able to access up to £6,000 on a 4 year interest-free loan helps remove this barrier.'
To find out more about ebike trials, or to request a loan application form, please call Home Energy Scotland on 0808 808 2282.

Heather Kennedy from Home Energy Scotland, organiser of Scottish EV Drivers' Club, who drove all the way up in her 24kWh Nissan LEAF to cheer Chris on at the starting line. 
For more information on Chris's next electrifying adventure, visit Plug-In Adventures or follow him @pluginadventure.
Find out more...