by Emily Stone
A long-awaited new recruit joined the transport team at Energy Saving Trust's Edinburgh office in February 2019. Quiet, smart and reliable, StEVie proved an instant hit with the team.
StEVie's role? It's the electric pool car; a Nissan Leaf Acenta to be precise.
For such a large and mobile team, it made sense to have a shared vehicle to transport staff to events, conferences and difficult-to-access meetings. Scotland has a good public transport system, which continues to be heavily utilised by Energy Saving Trust staff, particularly whilst travelling throughout the central belt. However, from time to time we need to transport multiple staff members or resources, such as pop-up banners or a bicycle for example, and it makes sense to have a pool car for these circumstances.
Energy Saving Trust is committed to achieving as low a carbon footprint as possible, both for our own operations and for that of our clients. The transport team delivers support through advice, consultancy and the delivery of government funding. In doing so, Energy Saving Trust advocates the adoption of electric vehicles and our work supports the drive to electrify road transport in Scotland.
As such, our pool car of choice couldn't be anything other than an electric vehicle (EV).
If you'd like to find out more about how electric vehicles could work for you, we've got lots of information on our electric vehicle pages, or read on for more about using a pool EV.
Using an electric pool car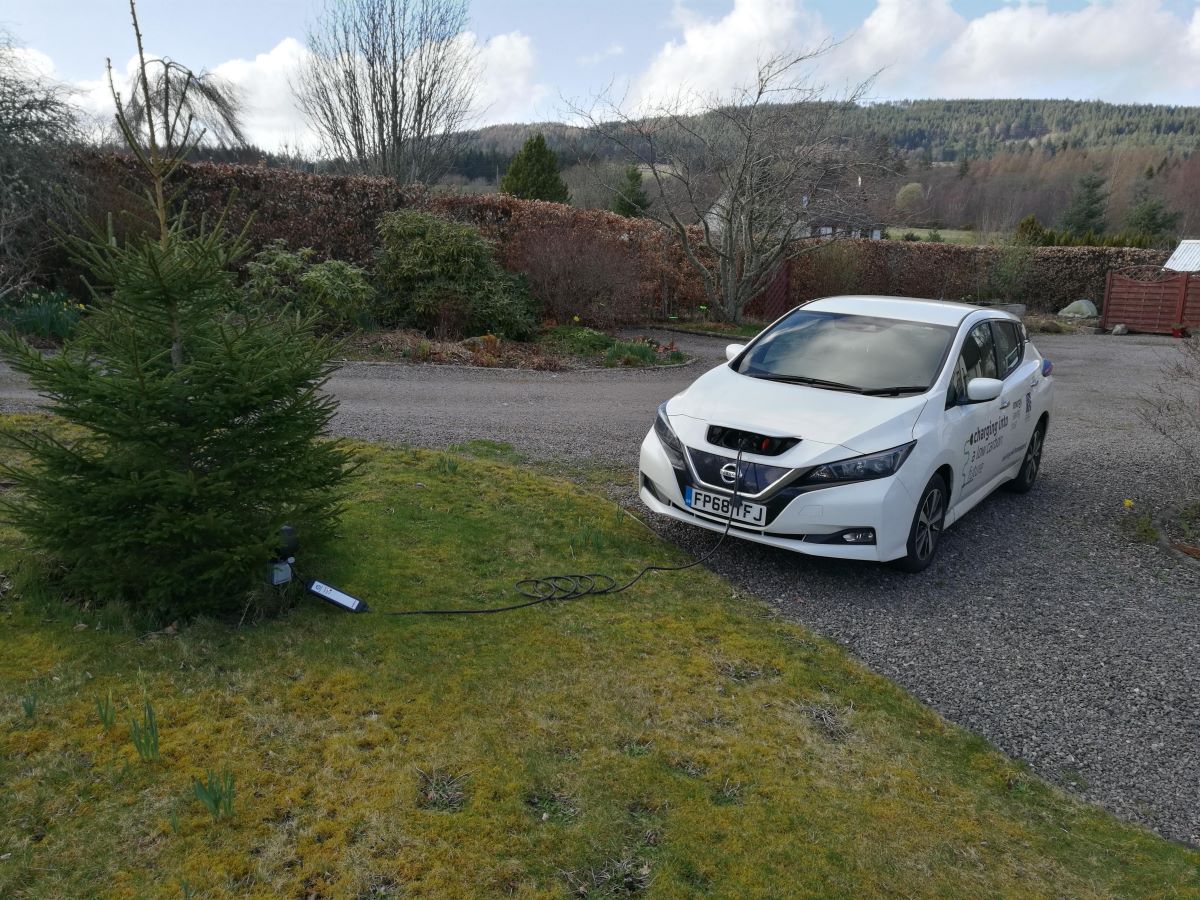 It's easy to adapt to driving an electric vehicle. They're automatic, meaning they can be driven confidently by a wide range of drivers. Our team have a short induction before trying out the pool EV but people quickly warm to using StEVie.
In order to ensure fair access to the pool car, the team uses a shared calendar system to book the vehicle in the same way that they would book a meeting room. This allows everyone to see when the car is available. StEVie is part of the transport team, but other staff within Energy Saving Trust's Edinburgh office can also access the car, if it isn't needed by one of their transport colleagues. Likely mileage is recorded by the booker, alongside driver and passenger details. 
Energy Saving Trust does not have its own charge point for the vehicle, so the battery is generally topped up at the destination or en route. Thanks to the prevalence of public charging stations on the ChargePlace Scotland network, this is a straightforward process and you're never far from a top-up, so there's no need to worry about range. Charging a car on the ChargePlace Scotland network is cost effective, and many charge points remain free to use.
We use a ChargePlace Scotland radio-frequency identification (RFID) card, which is kept inside the vehicle, to access the ChargePlace Scotland network. Any driver can use any charge point on the network, with the fees incurred automatically applied to Energy Saving Trust's account.
It takes around 40 minutes to rapid charge the battery from almost empty to 80%, giving approximately 140 miles of driving range. From experience, in reality an hour on a rapid charger almost fully charges the battery.
StEVie and other Nissan Leafs are able to charge at 50KW, which means that they are compatible with rapid charging. They can also charge at 6.6 KW and – if desperate – at 3KW, taking around 7 hours and 21 hours respectively for the battery to reach full capacity from zero. Find out more about charging electric vehicles here.
The benefits of an electric pool car
The lower cost of running an electric vehicle makes it a smart business choice. With considerably fewer moving parts than a petrol or diesel counterpart, maintenance costs are kept low and staff time isn't wasted arranging repairs, keeping on top of oil changes and taking the car to the garage. There is also less hassle with fuel cards, expense receipts and paying mileage on employees' own vehicles. The use of an EV also negates the possibility of a staff member filling a work vehicle with the wrong fuel.
Bearing Energy Saving Trust branding, StEVie provides the added benefit of being a moving advertisement for our organisation, flying the flag for our brand and raising awareness of electric vehicles in general.
StEVie has been well received when shown off at events alongside other EVs as well as out and about driving across Scotland. Energy Saving Trust's Head of Transport Matthew Eastwood said: 'Energy Saving Trust exists to help people and organisations save energy every day and it is therefore important that we lead by example; wherever possible, walking, cycling and using public transport for work travel and, where it is necessary to travel by car, working to ensure that that car travel is as low emission as possible.'
If you would like to find out more about how electric vehicles could work for your business, email sustainabletransport@est.org.uk or get in touch with a specialist advisor on 0808 808 2282.
Check out our transport blogs for more on low-carbon transport alternatives.
Find out more…