Ride to work week aims to get more people commuting by bike. With transport one of the major sources of carbon emissions in the UK, every bike journey helps reduce that figure. But what's it like cycling in the big city? We caught up with Energy Saving Trust staffer and regular cycle commuter, Stewart Muir.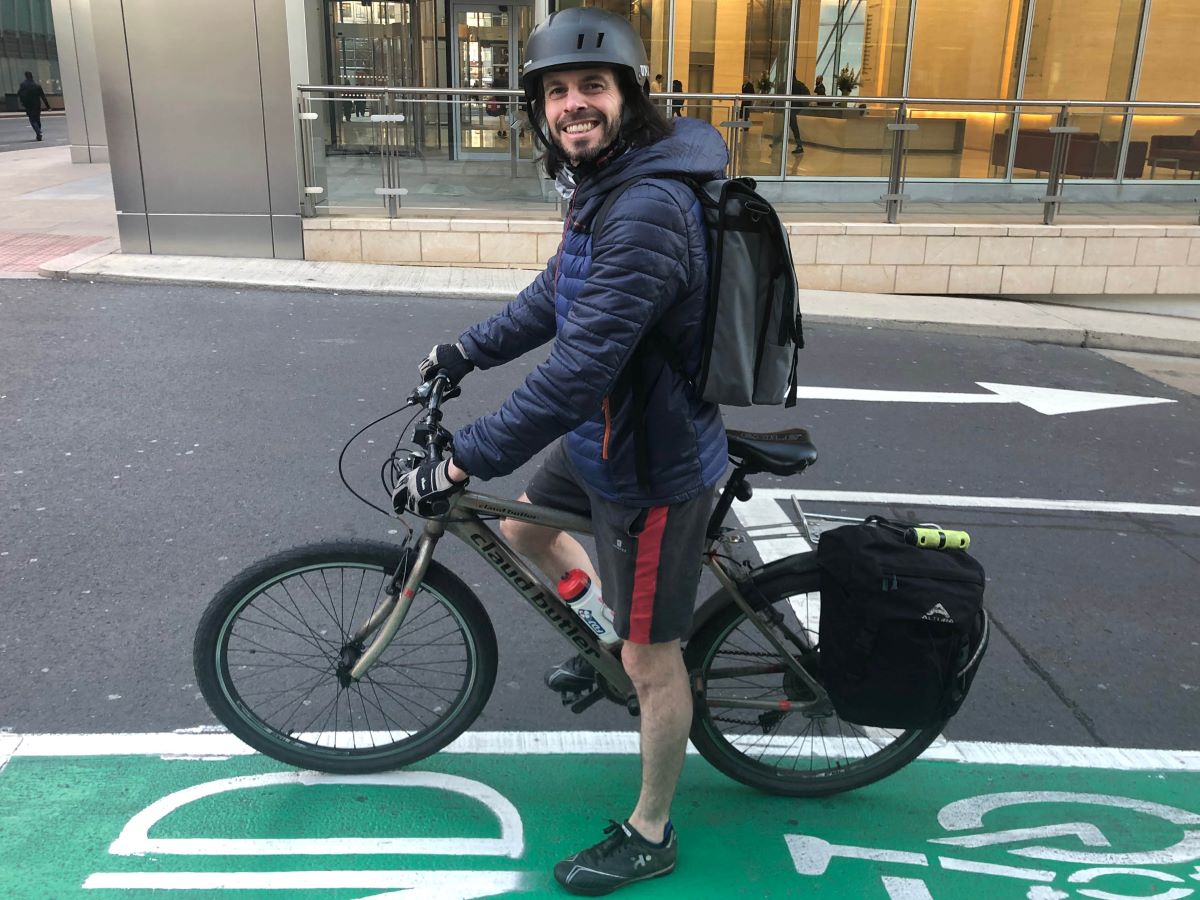 'I have been cycling in London for nearly nine years. I still don't see myself as a hardcore member of the bike brigade but around half of my commuting life has been on two wheels.  I remember braving it for the first time back in 2010.  With home being the last stop before a major London terminus, the train was always packed and I often couldn't get on in the morning.  So I bought an entry-level mountain bike, and set off one Monday morning on a new experience. 
I left ridiculously early because I didn't know the route and arrived about 45 minutes early because I thought it might take over an hour to bike 6 miles. It was much easier and quicker than I thought to get to the Energy Saving Trust offices. I've not looked back since. I feel much more refreshed after some morning exercise instead of getting into a scrum on the train.
The landscape around cycling has changed significantly since then. London isn't quite Copenhagen or Amsterdam yet, but the UK definitely has more of a cycling culture than nine years ago.  It feels like cycling has become much more integrated into the transport network.  Cycle paths have appeared in new locations – for example the lanes that were installed in Parliament Square roundabout and Quietway 1 that links South-East and Central London.  The Cycle SuperHighWay 1 seems to go on forever at times, with its reassuring bright blue paint marking out the two-wheel zone, and feels nicely detached from the cars.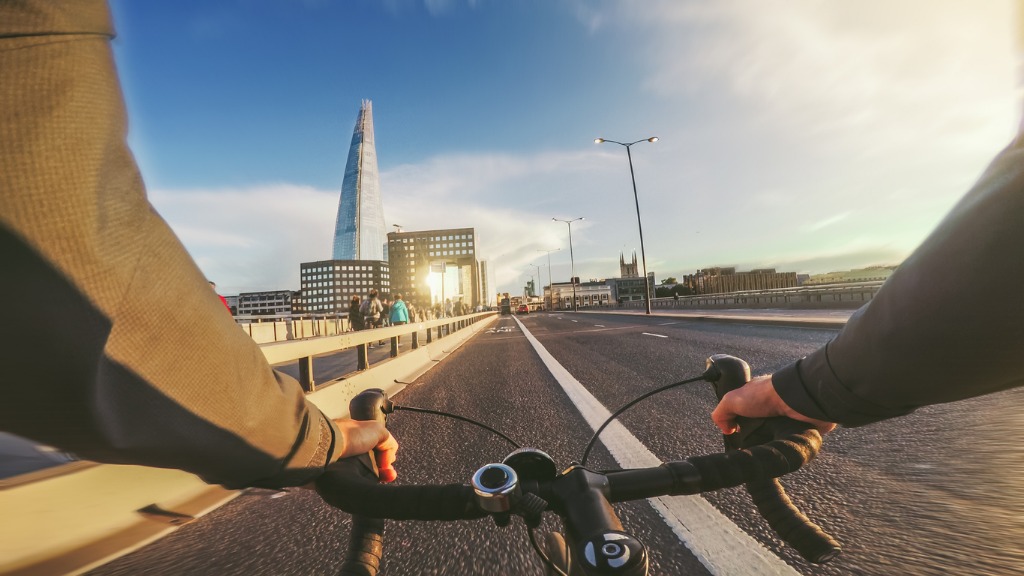 There's still a little way to go before cycling becomes the mainstream travel option it is in some places.  It doesn't work for everyone.  But if you've never tried it, you might surprise yourself.  How do you know you're not a cyclist?  Is taking the tube or bus to get about just 'what you do', like, say, being given a plastic bag at a supermarket?
I absolutely love cycling in London, which came as a surprise to me.  I've always been sporty, but never really into bikes.  I own zero pieces of 'proper' cycling clothing.  But the opportunity to be outside for a part of the day, to actually see places as you travel between them instead of being underground, and to get around essentially for free has been a hugely positive addition to my everyday life. 
I'm lucky of course that I've never lived more than six miles away from the office and we have good shower facilities for cyclists at Energy Saving Trust – this isn't the case for everyone. 
I would urge everyone to try cycling to work at least once.  If you're nervous about braving the traffic, there's a lot to be said for getting some training with an instructor (which can sometimes be had for free) or going out in convoy with a friend on a quiet route.  Here's a few tips if you're thinking of getting into the saddle.
You don't need a lot of expensive gear…..
I've never felt the urge to own a full-on lycra bicycle outfit.  Ditto 'clip-in' shoes.  I've got by just fine with what I like to call my standard 'PE kit'.  Trainers, shorts, and a pair of pretty standard running tights with a long sleeve baselayer for the cold days. 
You get hotter than you might expect carrying a backpack, even on colder days.  A waterproof cycling jacket for the rain is a must, but these don't have to be expensive, although you'll definitely need something reflective and high visual. 
….but do get a good helmet, lock and light up
I have never had my bike stolen, although I know plenty of people who have.  Someone did steal my seat once, and randomly, my bell (I often wonder what they used it for).  A solid D-lock and some kind of cable for the front wheel are a good investment.  As are lights.  USB-charged ones are pretty much the norm and keeping a few spares to clip on to a bag as well as your seat post is good call.  And a decent helmet is essential.
The winter is actually one of the best times to cycle
It can be cold out there, but once you've started, you'll soon warm up.  Leaving the bike at home may be the best decision if it's icy, but on the clear days an invigorating winter cycle can be as nice as a warm summer one.  Another big advantage is you tend to avoid getting ill.  Compared to squishing in on public transport for the winter months, it's a lot healthier.  Wrap up warm and get out there!
Learn a few repair skills
Chances are, you're going to get a puncture at some point.  Why not go on a bike repair course? Many cycle shops offer the opportunity to get your hands dirty and learn some maintenance.  Practice makes perfect – and it's useful to take some elements of the bike apart to see exactly how they work. Inner tubes and brakes are quite easy to put back together and you can't really break them.
Position yourself
Pretty much the best thing you can do safety-wise is to learn to position yourself well on the road.  Even very basic cycling training will give you some important tips such as keeping a safe distance from car doors that could open, and when you need to assert yourself in front of cars to 'take the lane'.  It's all about being seen and being predictable. 
It's good to develop the habit of anticipation when something might change ahead, for example being able to gauge if a pedestrian might step out.  And keep regular track of what's happening over your right shoulder – try to develop that as a reflex if you need to move out into the middle of the road to overtake or go round a parked car.'
If you want to make the switch to two wheels cycling organisations such as Sustrans and Cycling UK have loads of advice and support, on bike buddies, workplace bike schemes, cycle training and more. You don't have to be a lycra-clad mamil to make cycling part of your daily routine. It really could work for you too.
More on this...