•    Cuts in support have reduced installations
•    How to maximise your grid exports
•    How to maximise your payback
Solar PV has become big news over the last few years; but from an astronomical rise in UK installations to cuts in financial support, sometimes it can be hard to see where things are at, and whether it's still high time to install solar on your roof. Here, we address some of the key considerations.  
The costs
The cost of solar PV installations has come down dramatically over the past few years. Recent installations suggest a likely price of around £5,000 to £8,000 for a typical domestic installation (4 kilowatts peak output) – but it could be a significantly lower installation quote. Always get several quotes, and check the quotes and the installers' credentials carefully. 
There are several pieces of equipment to pay for, including the inverter (which converts the electricity to mains voltage AC), the generation meter, the panel mounting system and the wiring. There is also the cost of paying someone to supply, install, connect and register the panels and, for most systems, the cost of scaffolding. All these are included in the price quoted above. 
The incentives
If you install a solar PV system in Great Britain then, provided you meet the relevant criteria, you will be able to claim Feed-in Tariff (FITs) payments. 
This will give you a set payment for every unit of electricity you generate irrespective of what you do with that electricity, and any electricity you do not use will be exported to the grid. You will be paid another set amount for every unit of electricity you are considered to have exported – this is usually assumed to be 50% of the total amount you generate.
These are both in addition to any savings you make on your electricity bill as a result of using some of the generated electricity directly in the home, meaning you have to import less from the gird, so your electricity bills are lower. The numbers could look a bit like this:
Feed-in Tariff payments: £260
Bill savings: £60
Total income/savings: £320
Maximising your grid exports
If you get a smart meter fitted towards the end of 2016, then this will measure the amount exported, in which case you will be paid the export tariff for every unit you actually export. If you already have a smart meter installed you should ask your supplier whether it will be able to measure exported energy. For most domestic systems this is likely to be quite a bit more than 50% of generation, so your payments are likely to go up.
If you install a system but it is not registered with the Feed-in Tariff, then your surplus electricity will be exported but you will not be usually be paid for it. In principle you could offer your export to any registered electricity company and agree a price with them, but these companies do not tend to offer supply contracts to very small generators such as individual households.
READ MORE OF OUR BLOGS:
Renewables and household energy bills: the real story with subsidies
The big benefits of a solar-powered community project
Is energy storage about to go mainstream?
Panel positioning
Where you are and where your roof faces does have an effect on a system's output, and hence on the amount of money earned. A system in southern Scotland might generate about 15% less than an equivalent system in southern England; then you've got to think about the amount of this sunlight that actually hits your solar panels.
If your panels are not facing south or are not angled toward the sun's average elevation, then you will generate a little less electricity. More importantly, if your panels are fitted just to the north of a large tree or building then they will be shaded at certain times of the day or year, and this will dramatically reduce output and your income and savings.
Soup up your solar
There are several things to do to make sure you get a reasonable payback on your solar installation.
Firstly, use a good site – the key issue is to avoid shading, but you also want a system that is ideally angled between 30 and 50 degrees from horizontal and facing somewhere between south east and south west. Then, get a good deal – make sure you get quotes from several installers so you are not paying over the odds.
Finally, use more of the electricity yourself. if someone is at home during the day, try to use the your appliances during the day, but all at different times. If there is no-one in during the day you might want to get timers to runs these appliances on while you're out. You could also consider investing in a solar diverter (to heat up your hot water cylinder when the sun shines) or a solar battery system. You can read about the pros and cons of energy storage in our recent blog.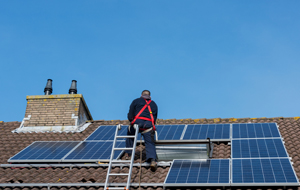 Going 'solar only'
For people who live in isolated properties, with no realistic option for a mains connection, solar PV is one of the options for providing some level of electricity supply. You will need a substantial battery store, and most people would also opt for a diesel generator to top the system up when necessary. 
For those of us who already have mains there is no point in even considering disconnecting. It is theoretically possible to do so, but you will spend a fortune on equipment that takes up a lot of space in exchange for a variable supply that won't be able to run all of your existing appliances. And you won't be helping the planet much either.
If you have the mains, use it, and if you fit enough solar panels you may generate more than you use over the year. If you want to call that 'solar only' then that's up to you.
Maintenance costs
The solar panels themselves are unlikely to need any maintenance during their expected 25 year life. If a panel fails it should be covered by the manufacturer's warranty – make sure this is in place before agreeing to an installation.
One piece of equipment that probably will need replacing is the inverter – this is the box of electronics that converts the solar output into 240V electricity that can be connected to your supply. Expect to pay around £600 to £800. Inverters last around 10-12 years so will probably need replacing one to 2 times in the 25 year lifespan of the panels. 
Taking on fossil fuels
Solar is not cost-competitive with fossil fuels such as gas and coal just yet. However, it has now become cheap enough to offer a useful contribution to our national electricity supply, with only limited support. For the householder, solar PV is unlikely to be cost effective yet without the Feed-in Tariff.
Unfortunately it now looks like the tariff rates have been reduced too far, too quickly, and the number of installations has dropped dramatically. If this trend continues then we will need to see a modest increase in tariffs to encourage resurgence in installations. This will help bring prices down to the point where support is no longer necessary, and solar electricity becomes competitive in its own right.