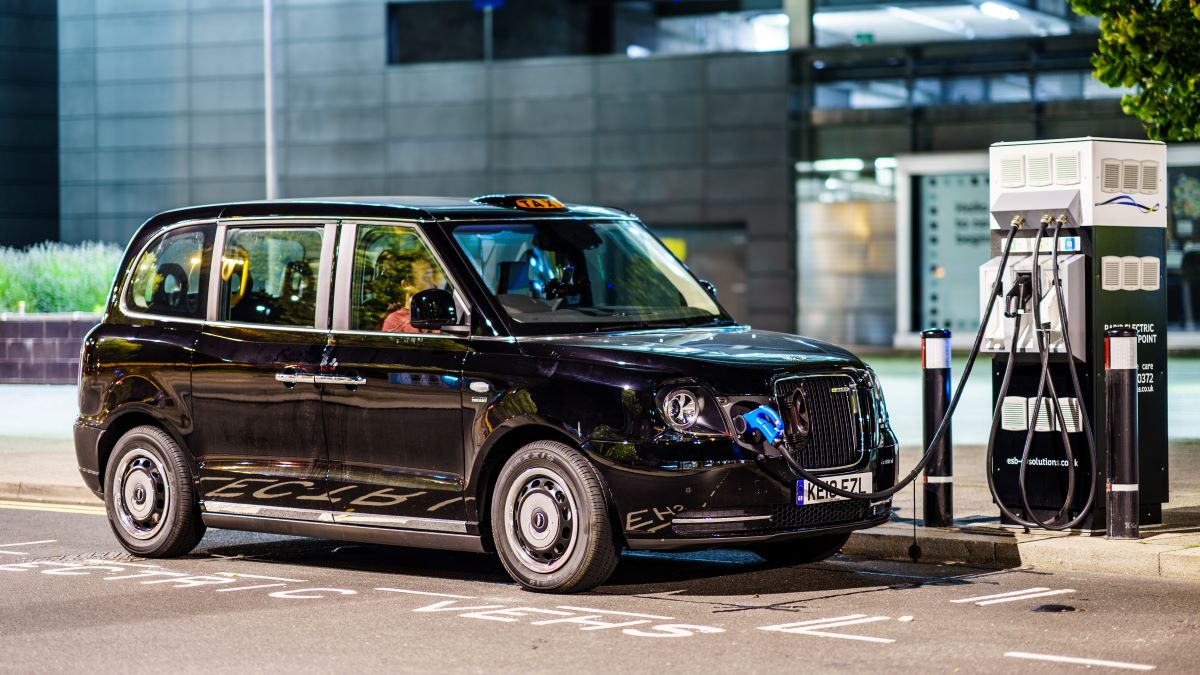 by Oliver McHugh
There are currently around 21,000 black cabs in London, licenced by the Public Carriage Office, with just under 88,000 other private-hire vehicles driving around in the capital. The chances are, when you're riding in one of them, you will be a passenger in a low emission vehicle. But why is this the case, and how does this compare to the rest of the country?
The short answer is that it depends on your local authority. The Department for Environment, Food and Rural Affairs (DEFRA) has identified several cities with particularly poor air quality in the UK. Outside London, this includes Derby, Birmingham, Leeds, Southampton and Nottingham. Older diesel engines are the main cause of the problem, emitting harmful NOx and Particulate Matter (PM) in a concentrated area.
One option to help local authorities tackle this issue is to charge vehicles with the highest level of emissions to enter areas known as 'Clean Air Zones' (CAZ). There are four different types of CAZ – Class A to D - and each has a different set of conditions, which affect different vehicle categories.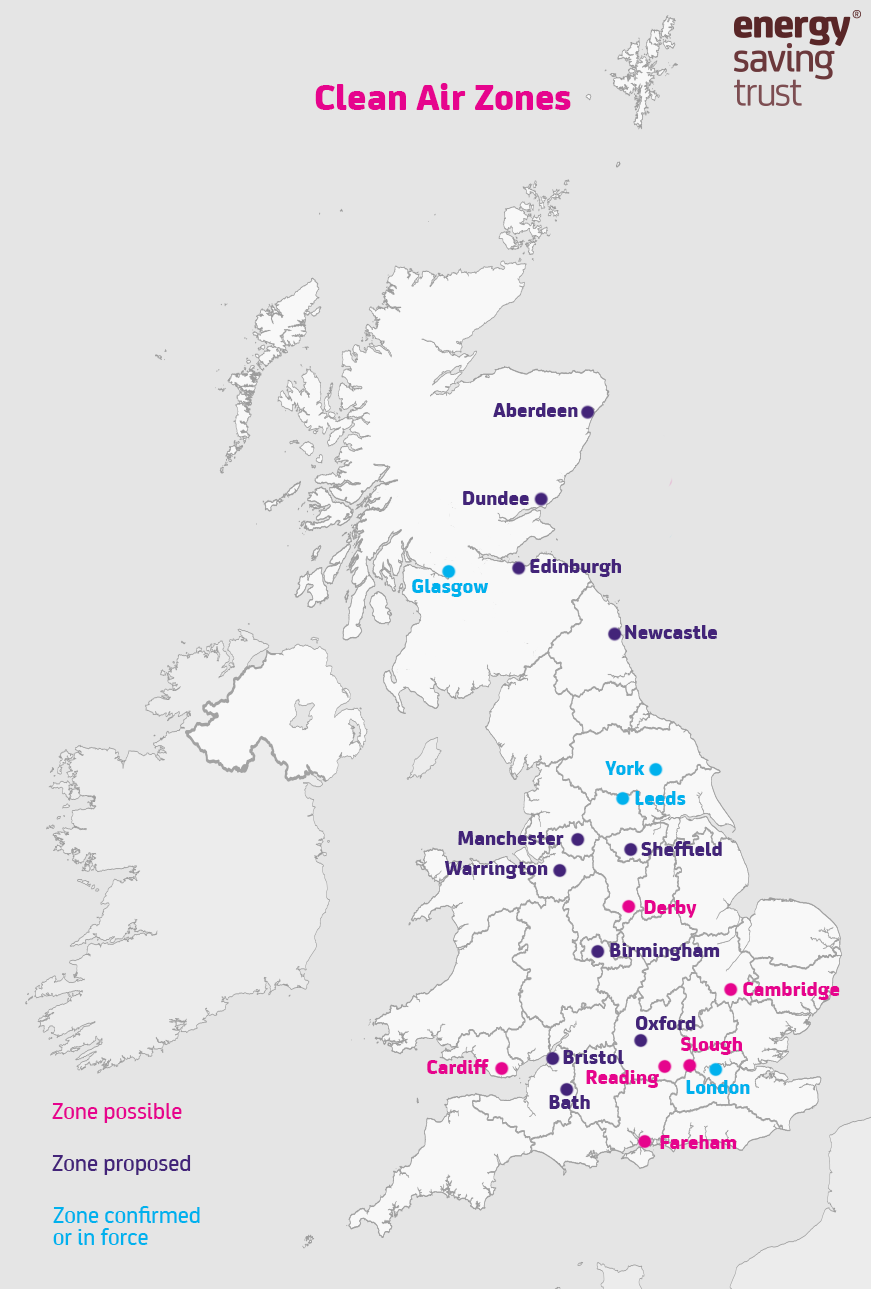 Class A covers buses, coaches, taxis and private hire vehicles and each subsequent class includes additional vehicle categories, up to Class D, which essentially affects all vehicles and offers the largest potential improvements in air quality. Taxis are included within each class, highlighting the important role that these high mileage vehicles have to play in improving urban air quality.
Find out more about Clean Air Zones in our blog.
Which vehicles are 'low emission'?
As a taxi driver, to comply with the clean air zones, including London's Ultra Low Emission Zone (ULEZ), your vehicle must meet Euro 4 standards for a petrol and Euro 6 standards for a diesel. Simply put, most new petrol cars sold after 2005 and most new diesel cars sold after 2015 will comply. If you prefer to do more than the minimum, then you can choose from a range of low emission, fully electric, plug-in hybrid and hybrid vehicles – most of which will comply.
Some local authorities are supplementing CAZ conditions with additional criteria designed to increase the positive impact their plans will have on improving local air quality. Take Leeds for example; its proposed Class B CAZ will require taxi and private hire vehicle drivers to adopt alternative technologies, such as electric or LPG, with a sunset period for drivers of larger and wheelchair accessible vehicles until 2025. These additional measures complement the Government's Road to Zero commitment to ban the sale of new conventional petrol and diesel cars by 2040.
Under Leeds' clean air policy, as a taxi or private hire driver, you can avoid charges in the zone with the following vehicles:
Battery electric vehicle (BEV): a vehicle with a large battery that powers the wheels. You can charge it by plugging the car in at home, work, or using a public charger.  You can extend the range by using regenerative braking. Examples include the Nissan Leaf, Renault Zoe and Tesla Model S
Plug-in Hybrid Vehicle (PHEV): a vehicle with a petrol engine, electrical motor and a small battery. You can charge the battery in the same way as the BEV (above).  You can use both the conventional engine and the electric motor to power the wheels, either in combination or separately. Examples include the VW Passat and Hyundai IONIQ PHEV
Hybrid electric vehicle (HEV): a vehicle with a battery and a petrol engine. The battery can't be charged by plugging in and instead relies on the conventional engine and regenerative braking to charge. You might see these vehicles described by some manufacturers as 'self-charging', but this is slightly misleading, as they require petrol to charge the battery. Examples include the Toyota Prius, Ford Mondeo and Kia Niro HEV models
Range Extended Vehicle (REX): a vehicle with a battery, electric motor and a small petrol generator. The electric motor always drives the wheels and you only use the conventional engine to generate electricity to top up the battery whilst driving – extending the range without plugging in. Examples include the LEVC TX.
What can I do to encourage uptake of electric taxis?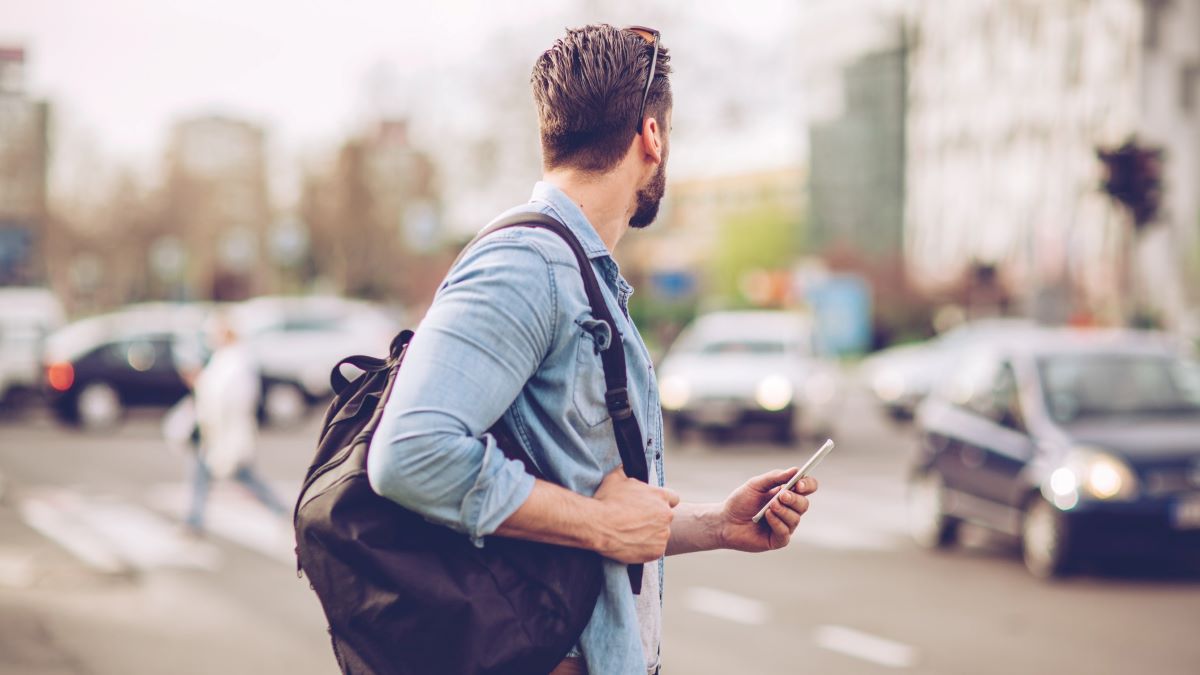 The more people consciously choose an electric taxi, the more popular they will become, but how easy is it to decide what type of vehicle you want to pick you up?
Anyone who lives in or has recently visited London will have noticed the increase of electric black cabs on the road. In part, this is a direct result of Transport for London's policy, but arguably, the change also reflects a shift in consumer attitudes towards environmentally friendly options. Electric journeys in modern cabs have other virtues, including the relative quiet and calm of the ride, which should help win over anyone hanging on to a preference for conventional taxis.
Different ride hailing apps offer different services, with some even giving you a choice of vehicles for your journey. Gett. a black taxi app, allows you to specifically choose an electric cab, meaning that you can minimise the impact of your journey on air quality and carbon emissions.
In a similar move, a start-up ride-hailing app, Xooox also uses technology to allow users to specify an electric vehicle. This service aims to appeal to a wider range of fleet operators including the private hire market – competing with established ride hailing apps.
The emergence of low emission ride hailing apps isn't a British phenomenon, as similar apps have been developed across the globe. Grab are one of the largest ride-hailing apps in South East Asia and allows users to request an electric taxi.
The elephant in the room is Uber, which currently provides no option for customers to specify an electric or hybrid vehicle, despite a large proportion of registered low emission vehicles. Uber does however have its 'clean air fee' initiative – helping drivers to make the switch to an electric vehicle. With 3.6 million Londoners said to regularly use the Uber app, it will be interesting to see how effective this policy is, and how successfully the 15p per mile surcharge is in making electric vehicles more readily available through their service.
Energy Saving Trust works with local authorities on the local transition to low emission taxi and private hire options, funded by the Department for Transport and Transport Scotland. If you work for a local authority and would like to find out more, you can contact us at transportadvice@est.org.uk or visit energysavingtrust.org.uk/transport.
More on this…