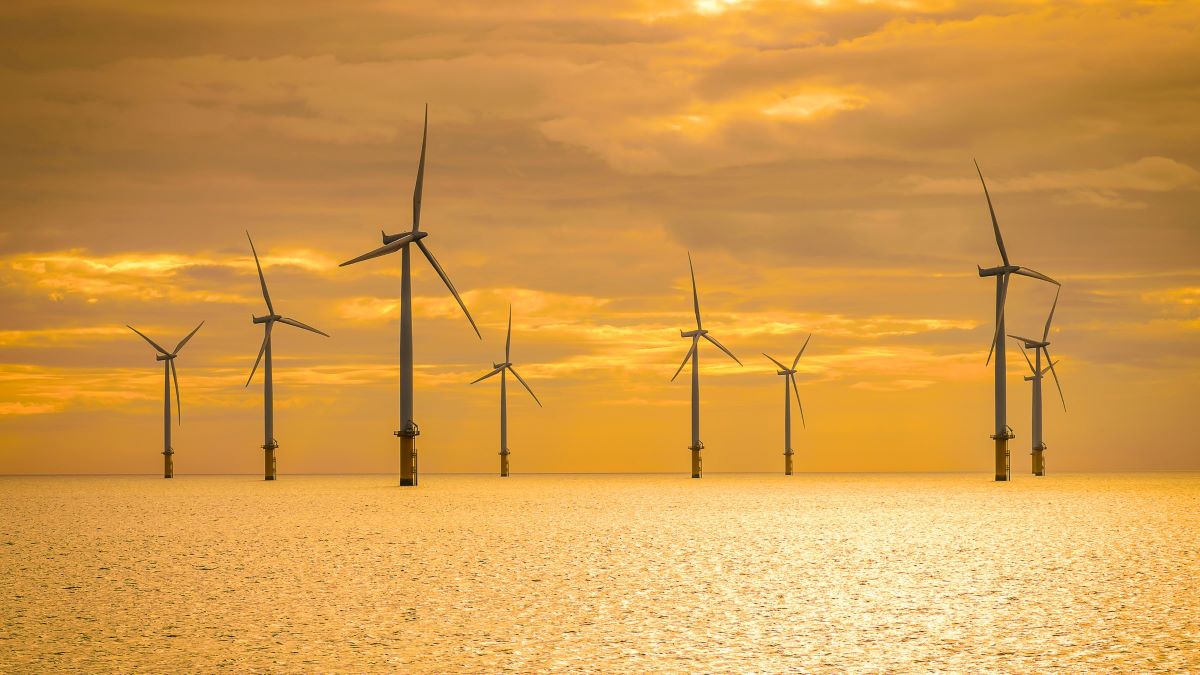 Offshore wind generation has flourished in the UK in recent years. The UK's long coastline and geographic location mean it is ideally situated to exploit the power of the wind. In Scotland, wind turbines generated almost twice the entire country's domestic power requirements in the first six months of 2019 and Britain plans to generate a third of its power from wind by 2030.
Recent weeks have seen a series of significant developments for UK wind power. The result of the third 'Contracts for Difference' auction saw the Government awarding contracts for a further six gigawatts (GW) of offshore wind generation. These contracts provide a fixed price for the energy generated from the winning projects for the next 15 years, protecting them from volatility in the energy markets.
Forthwind consortium's Dogger Bank project and Innogy's Sofia Offshore Wind Farm (also on the Dogger Bank site) won 5GW out of the 6GW available, with the remaining capacity going to a series of Scottish projects, including four remote island wind projects and two offshore wind projects. 1GW is equivalent to one million kilowatt hours of electricity, which is enough to power around one million homes for an hour.
This is all good news, but what's even more significant is that at around £40 per Megawatt Hour (MWh), the price is a third lower than at the last similar power auction held in 2017, when the lowest cost was £57.50/MWh.  It's also below the current wholesale cost, meaning that the new wind farms could generate power more cheaply than existing gas plants.
The new windfarms could be operational as early as 2023. As they'll be subsidy free, their creation will come at no additional cost to householders – in fact, they could even help bring down energy bills.
Why stop at 6GW?
If the UK is to meet its Net Zero carbon emissions target, it needs to generate more energy from renewable sources. While an additional 6GW is good news, taking the total offshore wind capacity to almost 20GW, the Committee on Climate Change has called for 75GW of offshore wind capability by 2050. Despite the success of this power auction in increasing generating capacity, more than 6GW of projects applied and there was disappointment that the cap wasn't set higher. The projects that lost out may not go ahead, as it's difficult to raise the relevant finance without the security of a government contract
In another piece of good news, The Crown Estate announced that it would auction four sites of seabed for development as offshore wind farms. The Crown Estate manages the Sovereign's public holdings (i.e. lands or territories that aren't the Queen's private property but neither do they belong to the Government) including the seabed around England, Wales and Northern Ireland.
The tender process is beginning this month and expected to take around 12 months, with the first seabed rights awarded in early 2021. Once operational, the new sites could host an additional 7GW of electricity generation.
Increasing efficiency
The good news for wind power doesn't end there. A study by DNV GL, an environmental consultancy, suggests that wind power will become even cheaper as turbines become more effective. Large 12MW turbines, set for deployment from 2022, will have greater operating capacity, making the energy cheaper to generate.
The offshore wind sector is riding high. But despite studies showing that the cheapest form of energy to generate within the UK is onshore wind, its development isn't following the same trajectory. Following new regulation around the construction of onshore turbines in 2015, planning applications for onshore wind dropped by 94%.
The Government introduced these regulations following complaints about onshore wind farms destroying countryside across the UK. However, a 2018 YouGov poll found that two-thirds of British people favour removing the policy and allowing onshore wind farms to be built, where there's local backing for them. While onshore wind farms aren't popular with everyone, the Climate Emergency makes speeding the transition to renewable power all the more important. The UK needs to make the most of its natural resources – and wind power is certainly one of them.
Wind power and other renewable energy networks don't always generate the same amount of power - as they rely on the weather. As these intermittent energy generators are integrated into our energy system, we need the wider grid to be able to react more flexibly. Potential 'gaps' could be plugged through fast responding generators (such as gas plants) but there is a growing interest in how reducing demand, by people not using energy, either for an agreed period or, indefinitely could play a role. Once smart meters are installed across the country, we'll be able to chart how and when people use energy and attach a price to avoiding using energy at peak times, which could in the future provide a new subsidy for retrofitting your home.
Read our response to the Government's Call for Evidence on routes to market for energy efficiency as an alternative to generation and network reinforcement.
More on this …