Location notice
Please note that this page contains information and links most relevant for people living in International.
EU HEROES is a European partnership project, funded by the European Union's (EU) Horizon 2020 programme, tackling barriers to the development of community-owned solar photovoltaic (PV) projects. The project brought together a partnership of seven agencies from across Europe, including Energy Saving Trust, to understand how energy communities can establish PV projects that support the transition to a flexible, low carbon energy system.
EU HEROES has provided a unique opportunity to work with a range of European partners at a time when the EU is introducing policies to facilitate the development of energy communities through the Renewable Energy Directive. It has been a very useful experience to compare how the different partner countries are approaching the transition to a low carbon future and the role that solar PV has to play in that, as well as the lessons that might be learnt and applied in the UK.
Through a series of case studies and pilot projects, the project partners have been able to draw upon the experience of community solar projects and industry experts to understand how network operators and communities in the participating countries are working together to develop solar projects. These projects benefit communities and help to support an affordable and sustainable energy network.  The case studies and pilot projects are all available on the EU HEROES website.
One of the key deliverables from the project has been a financial modelling tool that can be used to assess early stage PV projects. You can download the tool and user guide here. Energy Saving Trust contributed to the validation of the tool, working with a number of community organisations in the process including Egni Co-op, which is installing multiple solar PV systems across South Wales, including one at the National Velodrome of Wales.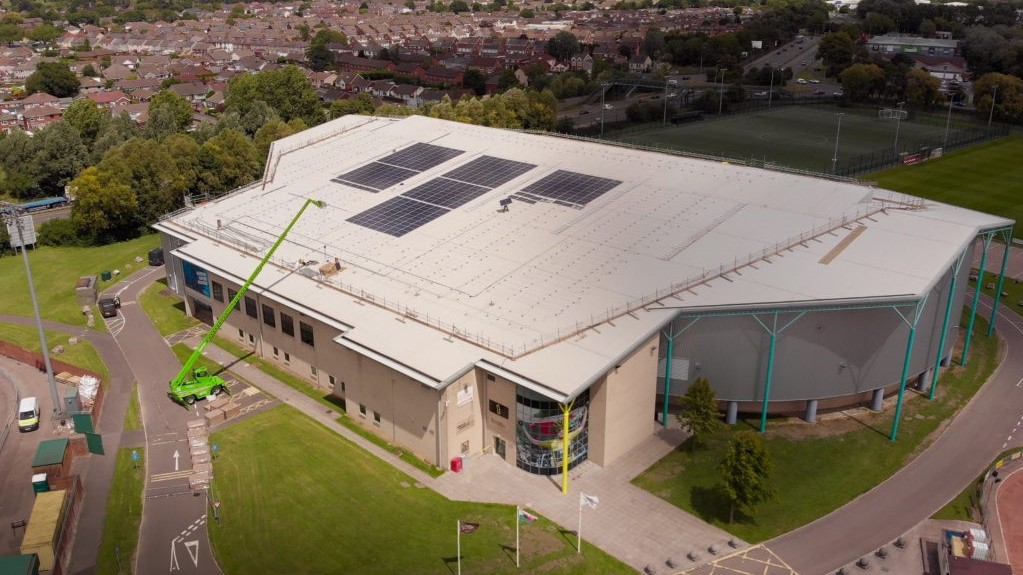 We also provided technical support and training to Llanteg Park, a community group in West Wales, in their ambition to become more sustainable through the development of a solar PV project.
Additionally, Energy Saving Trust organised a series of seminars to disseminate the EU HEROES work and findings, including one (Community Solar – a bright future) that was delivered through the UK's Community Energy Fortnight 2020, organised by Community Energy England. These webinars reviewed the opportunities for community PV in the UK and across Europe, and considered how these people-powered projects have contributed to achieving net zero carbon emissions.
According to Graham Ayling, EU HEROES project manager at Energy Saving Trust, "a key aim of the EU HEROES project was to foster collaboration, information sharing and learning across the European partners involved. This was certainly achieved, with each partner coming away with a stronger grasp of the progress that is being made across Europe towards a more decentralised, community-focused energy system."
As the EU updates the Renewable Energy Directive, it's clear that policymakers at the national level are increasingly considering the future of their own energy systems. Across Europe, greater provision is being made for Energy Communities, with new laws enacted to enable net metering, promote storage, encourage self-consumption of renewable electricity, and facilitate diverse cooperation between individuals, households, communities, municipalities, and the private sector.
Underpinning much of this has been intense discussion regarding the definitions of community energy projects and actors. The Directives coming from the EU have proven highly progressive in this area, aiming to protect the integrity of the sector while not excluding the diversity that has proven to be such a discerning feature across the region. The EU HEROES partner countries have largely sustained this progressive approach, with Greece and Lithuania in particular interpreting the relevant EU Directives in a manner which should support the strong growth of Energy Communities in each of their countries.
Energy Communities across Europe still face significant challenges, and a positive outcome of the EU HEROES project has been the realisation that many of these challenges are either currently shared between partners or have been challenges addressed in the past. As part of the project, Energy Saving Trust has produced a series of policy recommendations, which highlight best practice examples, seek to identify key challenges, and offer tangible, deployable recommendations to address them. Most of these recommendations have already been trialled in one or more partner countries or at a relatively small scale, but nonetheless they offer useful lessons for other partners, as well as the wider international community.
Examples of the support we suggest should be made available range from implementing a supportive framework of government assistance and funding, to new policies and laws enabling net metering and local energy supply.
Credit image: Mike Harrison
Find out more: