The domestic housing sector accounts for around 27% of UK carbon emissions. Many properties fall short of design standards and are in need of crucial energy efficiency measures, such as loft and wall insulation and low-carbon heating solutions.
Planning how to decarbonise your region to address the climate emergency will involve getting your housing stock (of which many might be unfit for the challenges of climate change) retrofitted to increase their SAP score.
With new funding, such as the Green Homes Grant Local Authority Delivery scheme, raising the energy efficiency of low income and low EPC rated homes, to reach the UK's commitment to net zero by 2050 is now more attainable than ever.
Learn more about the Green Homes Grant Local Authority Delivery Scheme.
A dataset to understand housing with EPC ratings below C
The most important step in understanding the scope of your challenge is to collate accurate and relevant housing-stock data within your region. You might already have EPCs and other historical datasets, but your data might be missing Unique Property Reference Numbers (UPRNs), particular energy characteristics or up-to-date information – meaning you'll need to spend time and resources to ensure you're working off the correct data before formulating your carbon-reduction strategy.
Our Home Analytics data service is a fast and easy solution for this. The service can produce, update and fill any gaps in the data you hold for your domestic housing stock by using statistical modelling techniques to associate the data.
Home Analytics overview
an address-level database of known and modelled data for all homes in Great Britain
offers 85+ fields related to building fabric, energy efficiency, renewables and deprivation
refined over 7+ years of development and testing
supports area-based retrofit schemes, decarbonisation plans and fuel poverty strategies
used by 50+ local authorities and housing associations in Great Britain
We've worked with multiple local authorities who have used Home Analytics to identify homes that need support the most and help them meet important targets and objectives.
Find out more about Home Analytics.
What to do with your data and how to run different modelling and retrofit scenarios
Once you have a complete and accurate dataset of homes that need energy efficient interventions, you'll need to run, test and model different scenarios to find the most effective ways to get fuel bill savings and SAP score increases. For this, we recommend our Portfolio Energy Assessment Tool (PEAT) as a quick way to discover what actions will yield the best results.
PEAT overview
a Portfolio Energy Assessment Tool that translates Home Analytics data into SAP inputs
it uses a SAP calculation engine to recommend a package of retrofit measures for each home
reports costs, savings, CO2 reductions and estimated SAP improvement for each property
models several different retrofit scenarios based on target SAP scores and funding budgets
An insight report of recommendations
For further insights and recommendations, we can use the data to produce a report to recommend a decarbonisation strategy including a list of prioritised actions and funding opportunities based on your budget.
analysis of your housing stock in terms of energy efficiency opportunities, funding eligibility, with segmentation and national benchmarking
analysis of your PEAT modelling outputs, including sub-regional maps to prioritise retrofit opportunities
tailored recommendations for decarbonising your stock, accessing funding and meeting your targets
These steps will provide you with actionable recommendations to input into your carbon reduction strategy, giving you accurate data to support your climate emergency ambitions.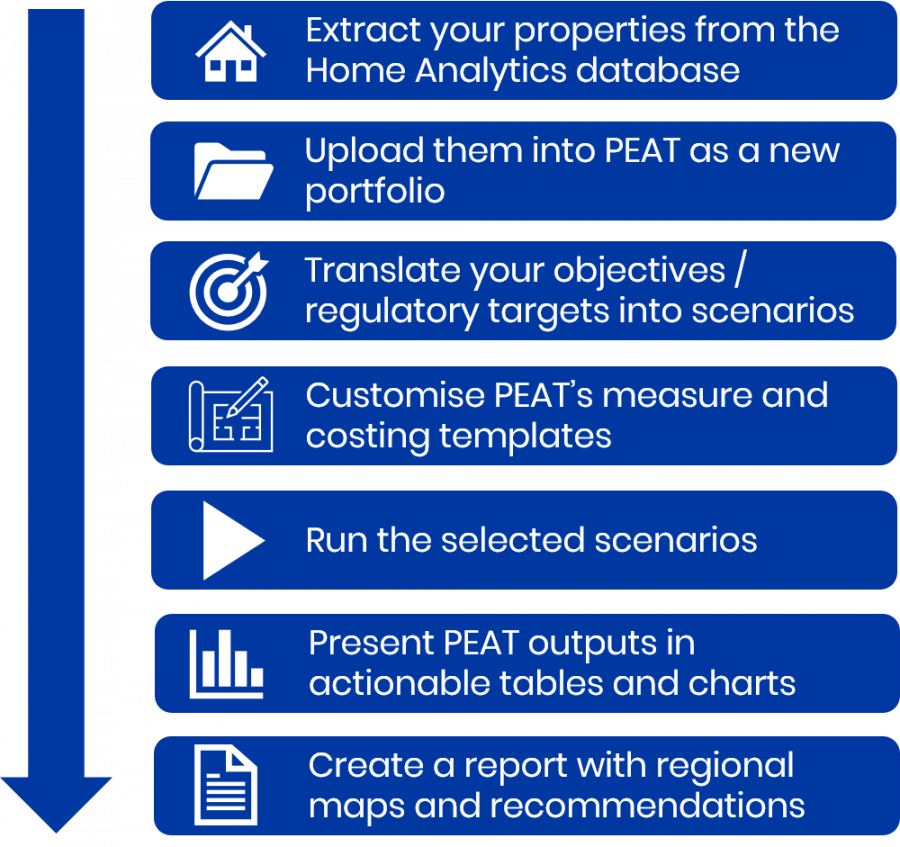 If you're looking for support in decarbonising the houses in your region with data, insights and tools, get in touch.
See also…
You can also sign up to our Energy Saving Trust Updates newsletter for insights and updates straight to your inbox.