Location notice
Please note that this page contains information and links most relevant for people living in Scotland.
Energy efficiency is a national infrastructure priority for Scotland – but the challenge ahead is considerable.
The most recent Scottish Housing Condition Survey reveals that 81% of solid wall properties are not insulated, around 619,000 households in Scotland are fuel poor, and 18% of properties are off gas grid. While those figures could make for depressing reading, they also represent a significant opportunity to improve energy efficiency and reduce the corresponding energy use, which could lift households out of fuel poverty. Large numbers of properties across Scotland can be significantly improved through installing insulation and other measures, with the 445,000 off grid homes having significant potential for renewable heat.
Portal brings the data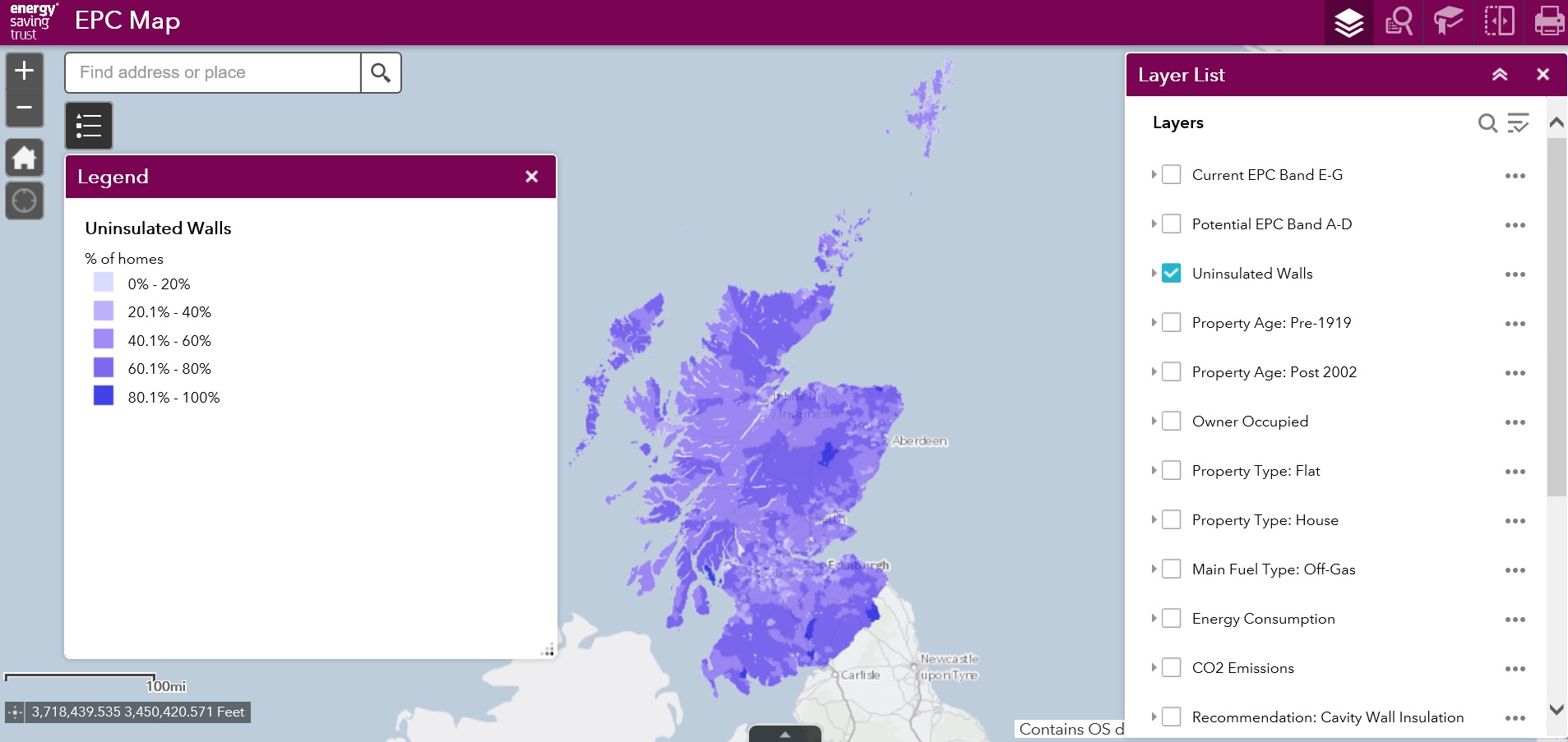 To do the work necessary to fully realise this opportunity, many businesses are going to have to get involved in the market for energy efficiency and renewables. If they are already there but specialise in a narrow area, they may well need to diversify to meet increased demand for broader packages of energy efficiency home improvements. But where do they start? Well, this is where our Local Homes Portal comes in. But what's it all about?
The Local Homes Portal is an initiative developed to make data on energy efficiency more accessible to a range of individuals, businesses and organisations across Scotland.
Householders or tenants – can learn about the energy efficiency of your home, compare your home's performance to homes in your local area and get tips on how you can save money on your fuel bill.
Supply chain members – can inform your business model by learning more about the local potential for energy efficiency and renewable energy measures across Scotland.
Local authorities, RSLs and Scottish Government – can enhance your retrofit scheme planning by using bespoke Home Analytics reports, maps and tools to help understand the housing stock in your area.
Researchers, charities and commuity groups – can enhance your research and advocacy work by accessing a rich dataset of property attributes and energy efficiency characteristics for homes across Scotland.
Ian Cuthbert, the sustainable energy supply chain expert for Energy Saving Trust Scotland, explained: "The portal uses maps to visualise data about how many homes in a specific area of 100-1,000 properties have specific characteristics—for example are off-gas or have uninsulated cavity walls. It's not just aimed at the supply chain, but anyone can sign up including householders and tenants who can see EPC data in their area.
"Users can quickly identify neighbourhoods with high potential for particular measures. They also have the ability to customise the maps by filtering them for particular characteristics, such as narrowing down to a specific local authority."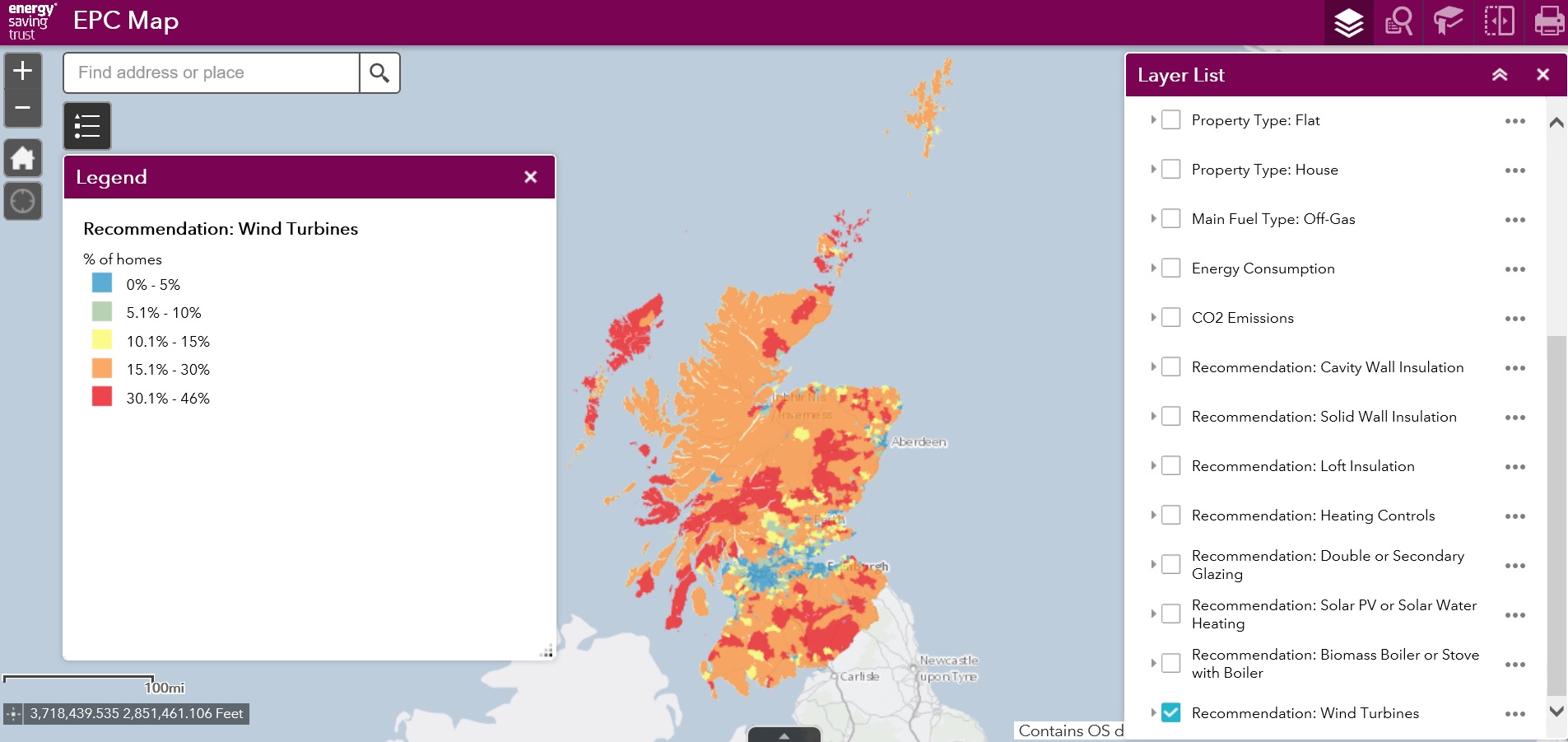 European support
Inter-country teamwork and European funding provided the impetus for the Portal. Cuthbert said: "It proved a really good link-up between Energy Saving Trust in Scotland and England, with a potential wider impact in Europe. The EU team had secured some funding from the EU scheme Request2Action, which is all about making Energy Performance Certificate (EPC) data more accessible and useful.
In Scotland we look after the EPC register, so it made sense to make it more accessible here. There's a real need for more data to be available out there to help guide the market and to really make a business case for action – so it's great to be able to take this step forward."
More on this…