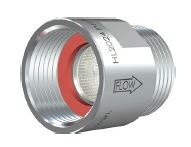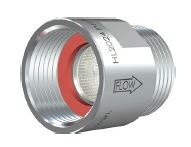 Cenergist Limited
HL2024 CONNECT
Installed at the inlets of thermostatic and non-thermostatic mixers, the HL2024 Connect provides a constant flow, significantly reduces temperature fluctuations and creates optimal user comfort. The HL2024 Connects do that by largely eliminating the influence of pressure differences. Two products required per mixer.
Flow rate variants (combination of HL2024 Flow Controllers) 5.0 | 7.8 l/min
The HL2024 Flow Controller is at the heart of every HL2024 product. Quickly and automatically adjusting to pressure differences, HL2024 Flow Controllers deliver a constant flow rate within narrow tolerances. Thereby HL2024 optimises user experience, adds stability to water systems, and can reduce flow rates leading to water and energy savings.
HL2024 is the only flow regulator on the market that meets KIWA's performance protocol BRL K635/03 requirements for pressure independence.
As per Kiwa's publically available certification database, as of 22nd November 2019.
Visit manufacturer's site