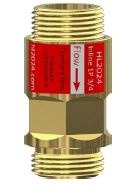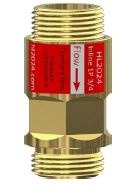 Cenergist Limited
HL2024 INLINE 1P 3/4"
Fitted into the piping, the HL2024 1P 3/4" is optimally suitable to control flows into specified areas of any water system. As such it ensures system stabilisation, and optimises user comfort.
Flow rate variants (combination of HL2024 Flow Controllers) 5.0 | 7.8 l/min
The HL2024 Flow Controller is at the heart of every HL2024 product. Quickly and automatically adjusting to pressure differences, HL2024 Flow Controllers deliver a constant flow rate within narrow tolerances. Thereby HL2024 optimises user experience, adds stability to water systems, and can reduce flow rates leading to water and energy savings.
The HL2024 provides better control of flow rates than standard flow regulators on the market.
Based on laboratory testing compared to five other products.
Visit manufacturer's site