Energy Saving Trust is celebrating 15 years of technology testing and field trials.
With the team now offering three different types of assessment of product performance, we caught up with technical development manager James Russill ahead of a webinar on Tuesday 2 August, discussing Energy Saving Trust's previous and current projects.
It's fair to say testing and trials over the 15 years have covered a lot of ground. James explained: "It's been a mix of technology testing and building performance. We started off doing research looking at cavity and loft insulation, then moved on to looking at energy efficient lighting in the home. Then we looked at home heating, providing useful performance evaluation.
"From there, we moved into renewables, taking in micro wind, solar PV, solar thermal and heat pumps. 2009/10 was a busy time, when we completed trials on LED lighting, advanced heating controls and solid wall insulation, and most recently we looked at the scope for demand-side management technologies.
"Since then, we've moved into working with individual manufacturers who are seeking to bring new products to market. This marks a change from the big, cross-industry, government-funded work that we started off with."
Trials bring changes
The decade and a half of research has produced some significant changes in policy, consumer understanding and standard-setting. It's not about giving people the answers they want to hear, as James explained: "The early insulation work had quite an impact on government policy, at a time when it was looking to expand the energy supplier obligation. If they were going to be promoting insulation products, they needed that technical assessment.
"The trial did show that insulation products can save good amounts of energy but it also showed that the energy saving assumptions made in the Government's Standard Assessment Procedure (SAP) modelling tool had been about 40% too high. Our work looking at the energy consumption associated with domestic hot water use again found that SAP assumptions were outdated, which prompted BRE to update the model.
Tackling grey areas in product performance
It's always best to test products before they enter the mass market – though sometimes it hasn't been possible. However, there's still value in checking things are heading in the right direction. James said: "Condensing boilers were made mandatory under Building Regulations in 2004, and we conducted in-site field trials between 2005-2007. Ideally we'd have tested them before the Regulations changed, but our findings did validate the decision, showing that they operated well and close to expected efficiency levels."
When trials haven't brought the results industry were hoping for, there have been opportunities to go deeper and ensure the mistakes of the past wouldn't be repeated.
James explained: "The heat pump trial was a project where we found poor levels of performance in quite a number of homes – where they hadn't been properly installed or sized, or householders were not educated as to how operate them properly. But we were able to isolate the problems and move into a second phase, where we corrected the issues leading to significant improvements in performance. The outputs of this field trial fed into the development of Microgeneration Certification Scheme (MCS) Standards."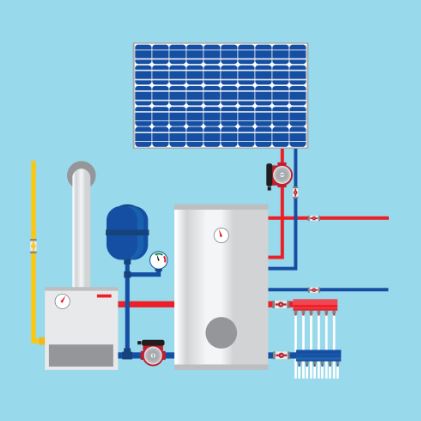 Lighting the way
Trials can also prove a good way of bringing a technology to the attention of those decision-makers who can contribute towards bringing it into the mainstream. James said: "When we looked at LEDs in social housing in 2009, they were quite a new technology, but we were able to demonstrate to local authorities just what they could do in terms of improved levels of lighting and reduced operational costs. Now, LED lighting is being installed by councils as a matter of course, so I feel that it was a trial that really managed to raise awareness."
Turning up the heat on two technologies
The team are currently working with two companies looking to bring new products to the UK market. The first involves a new kind of heat pump. James said: "The Dutch energy supplier ENECO wants to enter the UK market and offer a range of new technologies to their customers.  Its heat pump taps into the exhaust heat from mechanical ventilation systems, and is intended to provide the home's base heat load, supported by the existing condensing boiler at times of peak demand. There's a trial in 200 homes already under way in the Netherlands, so it's about getting an early stage technology verification pilot started here."
An electric storage heating innovation is the focus of the second project. He said: "Electric heating is generally not regarded as the most environmentally friendly method of heating homes, but a company called Fischer Future Heat is offering a German-engineered unit which utilises an advance clay core, allows close thermostatic control and allows better convection of heat throughout the home.
"What we're doing at the beginning of this winter is monitoring 10 homes with existing electric storage heating, looking at internal temperatures and energy consumption, then in the New Year, installing the new Fischer system and monitoring up to the end of April.   This will generate a full data set to with which we will be able to compare the performance of traditional and new electric storage heating."
Trusted verification – based on solid data
The ultimate goal of these one-off technology trials is for the company to receive the Verified by Energy Saving Trust logo, linked to specific performance claims. Energy Saving Trust field trials are often the most cost-effective route to generating the necessary data set for our verification, which gives manufacturers the ability to market products to their customers based on performance claims generated by a trusted and independent organisation.
Our products team also offer manufacturers the chance to develop case studies. These take a smaller 'snapshot' look at a given technology – less than full verification, but still providing a useful indication of performance.
So, what technologies does James expect to be testing in the near future? He said: "We'd like to do more on LED lighting. There are now different types available for every possible application, but consumers are still not fully educated. We have had some interest from manufacturers. I'd expect some evaluation would also be very useful on smart heating controls, with lots of new products currently entering the market.
"Domestic Infra-red heating, which comes in the form of panels on your wall, is another interesting area. We're just starting working with that sector to increase consumer understanding about what it's all about. Then there'll most likely need to be a lot more work done looking at the products involved in the smart homes of the future. There's a lot of talk about this, and I expect there will be a desire for some real performance data so consumers can know what to expect."