Making the decision
For many people, deciding which vehicle to buy is difficult enough – the stakes are even higher when your livelihood depends on it.
In March 2018, Boban Sebastian, a taxi driver, made the decision to switch to an electric taxi and has been delighted with the fuel savings and the excellent driving experience.
While taxis and private hire vehicles only represent a small percentage of all cars registered in the UK, they have a disproportionate impact on air quality. This is because they are mostly diesel-fuelled, travel high mileages and are concentrated in busy urban areas with many pedestrians, such as railway stations and high streets.
On the other hand, electric taxis produce zero tailpipe emissions (while driven on the battery).
Why choose an electric taxi?
For the last five years, Boban rented a vehicle, and in early 2018 had the opportunity to buy his own. To  get  a new Hackney Carriage (Taxi) plate, Woking Borough Council requires all vehicles to be new and wheelchair accessible, which presented him with three choices: two diesel taxi conversions or the new LEVC TX.
The LEVC TX is a range-extended electric vehicle. It has a relatively large battery, enabling it to drive for over 60 miles on the battery. Once the battery charge is depleted, a small petrol engine acts as a generator to produce electricity to drive the vehicle.
Boban decided to go for the top-of-the-range £58,000 LEVC TX, impressed by the specification and the finish of the vehicle as well as the potential cost savings.
With a 60 mile electric range and better MPG figures while running on the petrol engine than the diesel equivalents, Boban was sure the slightly higher upfront cost of the LEVC TX would be soon recouped in fuel costs.
Boban was also attracted by the potentially lower maintenance costs of the vehicle, as the electric taxi does not have a clutch, drive shafts, or a gear box. In a diesel taxi these parts need to be repaired or replaced as the miles add up, increasing costs.
Finally, he was keen to 'future-proof' his vehicle choice against changes in licensing requirements or legislation, such as requirements to tackle air pollution.
Boban felt that battery life could be a risk, but was satisfied with the five-year, unlimited mileage warranty provided by LEVC.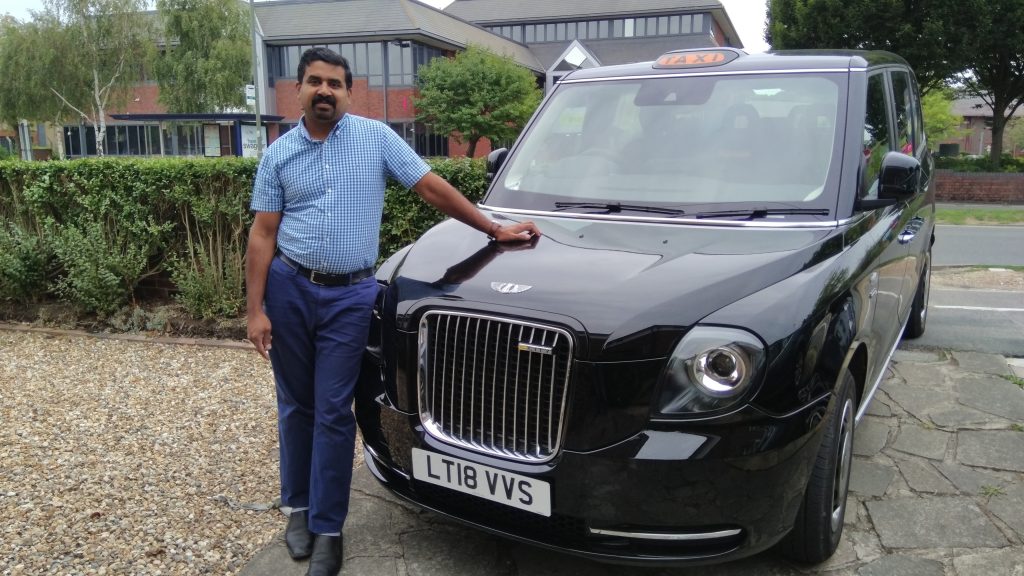 Results
The electric taxi has now surpassed Boban's expectations, proving significantly cheaper to run than a petrol or diesel equivalent. It is capable of 60 zero-emission miles and in colder weather when the heating takes extra power from the battery, the electric range is still just under 50 miles.
Boban charges at home overnight, and as there is no rapid charger in Woking, he frequently requires the petrol engine to complete his average daily mileage of 120- 150 miles (up to 250 miles on Fridays and Saturdays).
However, the electric taxi still achieves 30-31MPG, better than the 26-28MPG Boban experienced when driving a diesel cab.
What about the driving experience?
Boban has found that his customers are impressed with the LEVC TX's. Highlights are the taxi's:
environmental credentials
smooth, quiet ride
effective air conditioning
modern interior and glass roof
"It's brilliant, very comfortable and less tiring to drive, I have no issues at all with the cab".

Boban Sebastian, electric taxi driver
He has also found that having the electric taxi has attracted new customers and more pre-bookings, far more than he used to get with his previous vehicle, as customers appreciate the driving experience.
What could encourage more taxi drivers to adopt electric cars?
As an early adopter, Boban took a risk with his purchase, but thinks many drivers would happily make the switch to electric with a few local changes, especially given the strong financial case.
He believes rapid chargers are needed in Woking, at or close to the town centre ranks, to allow him and others to drive in zero-emission mode for longer. He notes that the rapid charging cost must be affordable however, in order to incentivise drivers to take the time out of their day to recharge, rather than simply continuing to drive using TX's petrol engine.
Additionally, any reduction for electric vehicles in licensing fees or other costs, such as for using the station rank, would be welcome.
For Boban, making the switch from diesel to electric was an initial risk, but has ultimately improved his businesses as well as improving air quality and reducing carbon dioxide emissions.
Get in touch
For more information email fleetadvice@est.org.uk.