'Single-use' was named the word of 2018 by Collins dictionary. Certainly, how we see waste has changed, triggered in part by footage of plastic in the sea, in the BBC's Blue Planet documentary. This week, the EU took action, agreeing new laws to reduce single-use plastics.
Plastic bags and non-recyclable food trays aren't the whole story though. A series of votes currently going through the European Parliament could soon turn our attention to the how easy it is to repair our household appliances and products, potentially making 'repairability' the term of 2019.

Ecodesign and energy efficiency
The EU Ecodesign Directive sets minimum standards of energy performance and a timetable for when a product type has to achieve it, so once the deadline has passed, goods that can't achieve the correct energy performance levels can't be sold.
It's one of the EU's success stories – reducing consumers' energy costs, without most people even noticing. In 2016, the European Consumer Association BEUC estimated that Ecodesign had saved people over £300 per year on their energy bills.
Regulated products account for 12.4% of all energy use across Europe.  And the next evolution of the policy aims to address product durability and repairability, to reduce waste, emissions and speed the transition to a circular economy.
The right to repair
EU legislators are looking at the regulations around key components in appliances – specifically in fridges, lighting and electronic displays. Draft text was originally set to include repair aspects, requiring that some key components should be able to be disassembled without damaging the product, enabling third-party repair with commonly available tools.
This hasn't proved popular with some manufacturers, which have lobbied against the proposed legislation, but EU governments supported the first set of laws for greater repairability, voting that the repair aspect, and the mandatory availability of spare parts, should be maintained in the text.  The final decision on whether repair will be included in the exact content of the legislation will come in March 2019, with other products such as washing machines and dishwashers subject to similar reviews in January.
This is music to the ears of the growing 'right to repair' movement, and it's not so far from the mainstream. Research shows that most of us actually want to be able to repair, rather than have to replace our appliances every time.
A 2014 EU survey found that 77% of citizens would prefer to have their products fixed, rather than buy new ones. Green Alliance's recent report 'By Popular Demand' showed strong support for a resource efficient economy, with 65% of people reported to be frustrated by the short lifespans of their products.
Global e-waste levels continue to rise, with only 35% of e-waste recycled, with the UN calling e-waste a 'major threat to environment and human health' as well as losing the economy almost €55 billion in 2016 as a result of non-recovered, valuable raw materials.  Repair company iFixit estimates that in addition to putting a huge dent in the e-waste problem, 200 repair jobs could be created for every 1,000 tons of used electronics that are repaired instead of recycled (creating 15 jobs) or landfilled, which creates less than one job.

Coolproducts and the Restart Project
The Coolproducts campaign is one of the leading advocates for more ambition on saving energy and resources through our household products. At grassroots level, the Restart Project has set up a series of repair cafes, providing a space to fix items, as well as challenge the accepted norms on what to do when your toaster or kettle break.   Currently Restart's army of fixers are able to repair 53% of products that come to their cafes.
We dropped into Transition Town Tooting's Restart Party a couple of weeks ago, armed with a few well-worn electronics.  The fixer community was in full flow – after being warmly welcomed with a cup of tea, we got to witness first-hand the repair of a garden hedge trimmer that required some internal tinkering and a new power cable – soon to be restored to full working order and PAT-tested by Martin, one of Tooting's regular fixers.
Inspired by the sound of a motor rising from the ashes, we attempted our own fixes with a recently defunct CD player and the opportunity to listen to a Nirvana Boxset disc as the prize.  We prised off the back under instruction from Mike, another fixer, but despite our best efforts to this was one gadget not quite ready to rise from the ashes.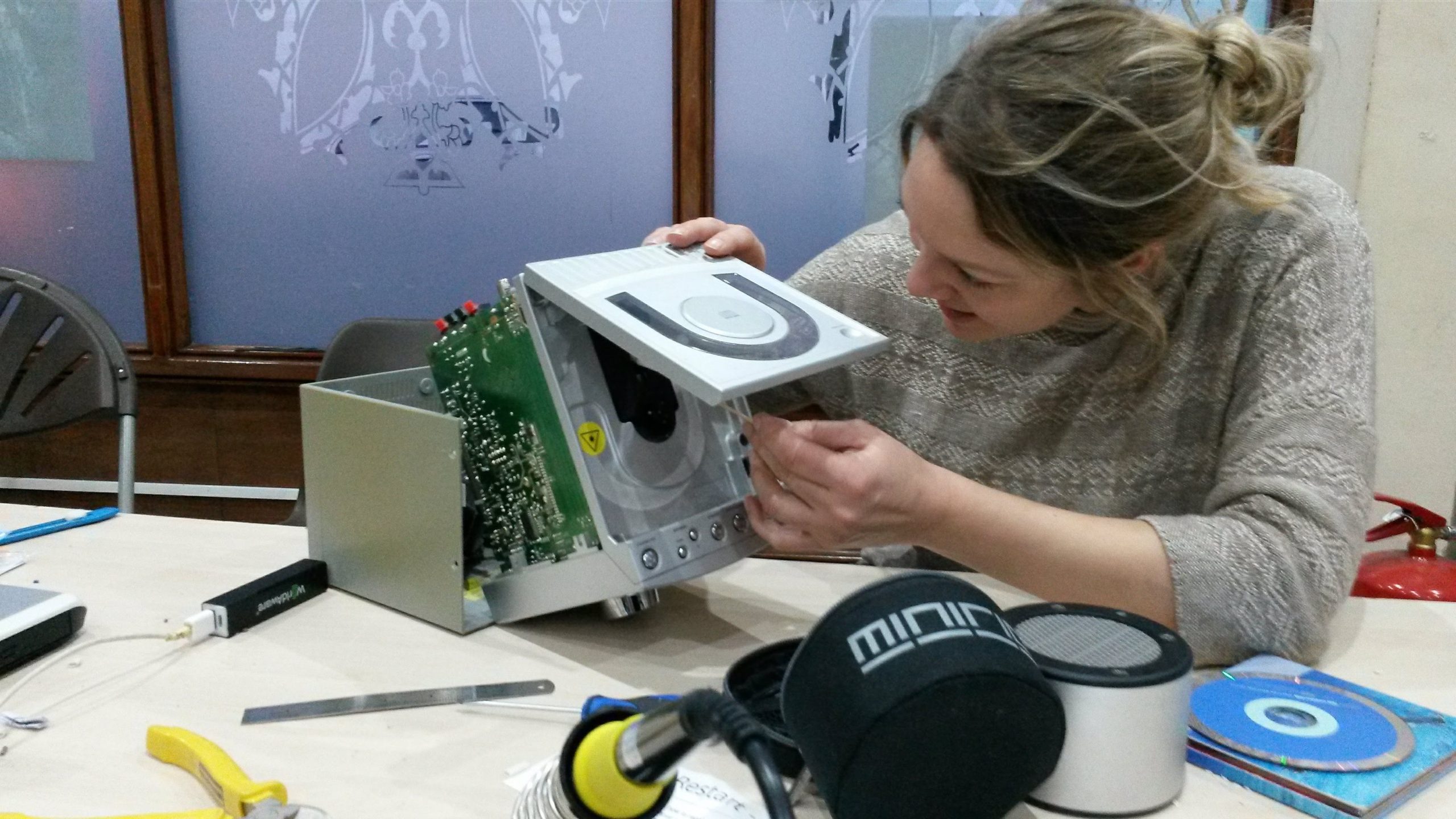 Improving the energy efficiency of household goods shouldn't come at the cost of increased waste creation, and we'd see the new EU directive as a welcome addition to legislation.  In much the same way the plastic bag tax challenged accepted norms, a subtle nudge to change the way we think about our products, and where they end up would appear to be as pragmatic as those that help us cut down on plastic packaging.  And we might just rediscover some of our old favourite albums in the process!