by Luke Redfern, Local Government Support Programme, Energy Saving Trust
The recent UK Government Spring Budget saw the announcement of the latest winners of the Transforming Cities Fund grant and Future Transport Zones awards. Leeds, Bradford, and Sheffield were among the winning cities, with Portsmouth and Southampton, the West of England Combined Authority and Derby and Nottingham to become future transport zones.
The resulting multi-million pound schemes launched across regions of the UK will help to reduce carbon emissions from transport operations, increase the uptake of sustainable travel and transform a city's local air quality. All of these schemes will require the implementation of smart city activities to be successful, which will require greater collaboration between the public and private sector to accelerate the adoption of smart systems and technologies.
Our cities are growing at an unprecedented rate in comparison to rural areas, with the four biggest cities (London, Birmingham, Manchester and Glasgow) accounting for almost a quarter of the total UK population (24%).
This growth is putting more strain on transport services to meet growing demand and this in turn puts pressure on local authorities to ensure that they have a strong mobility strategy; and an increasing number of electric vehicles (EVs)s joining our roads adds even further infrastructure complications. Increasingly there is the need for cities and the mobility infrastructure them to become more intelligent, more data driven, ultimately smart.
Smart cities bring together infrastructure and technology to improve the quality of life for citizens and enhance their interactions with the urban environment. It's a massive topic, and one where local authorities are a key influencer.
Smart cities webinar reflects on local authority progress across the UK
In February 2020, Energy Saving Trust worked with Go Ultra Low and SSE Enterprise to deliver a webinar on smart cities, a recording of which is still freely available. In the webinar, Andy MacPherson, Smart Cities Director at SSE Enterprise, defined a smart city as one that has adopted a range of smart assets, for example chargepoints, sensors and solar arrays. These assets are driven by data using various forms of sensor technology. The resulting analysis and output is then used to manage those assets more effectively and efficiently.
With new technology innovations such as 5G, machine learning, cloud technology and edge processing, we now have the tools required to transform passive assets to smart assets and enable processes to create smart places, smart towns and smart cities.
Local authorities are a key driver for the uptake of smart cities and they need to remember that the key tools for success are their existing assets. Some see smart cities as a complex and difficult topic to tackle and the challenges are different for each community. For example, smart cities activities in Bristol are very much focused on reducing carbon in transport, whereas the focus for the West Midlands is the creation of smart transport hubs.
SSE Enterprise suggests that progress depends upon finding an anchor to focus activities. If a local authority can identify their drivers and find an anchor they will soon be able to find a project to start their smart city journey.
Transport data collection in Greater Manchester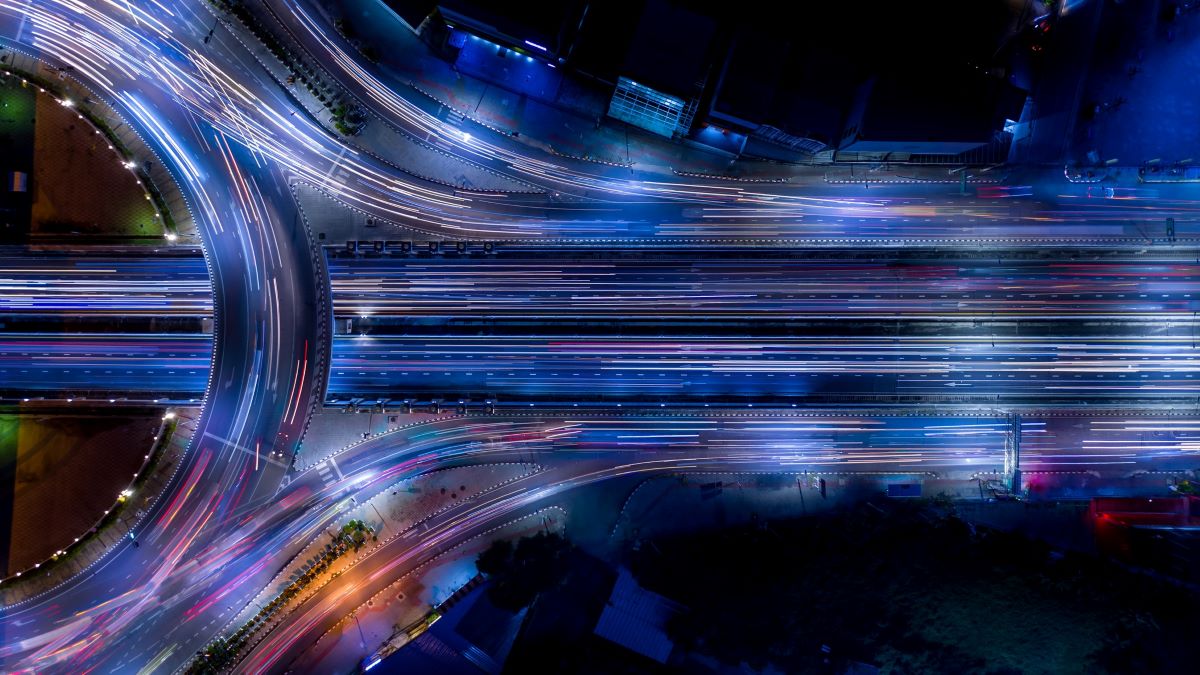 Transport for Greater Manchester (TfGM) have found their anchor. During the webinar we heard from David Watts (ITS Engineer at TfGM) who gave a detailed overview of the work in the Urban Traffic Control team.
Greater Manchester already has multiple data collection points capturing the volume, behaviours and habits of vehicles operating across the region, however they wanted to begin a project that could use the data more efficiently and effectively to help make travel easier for everyone.
TfGM, Vivacity (an artificial intelligence [AI] company) and Immense (a simulation company) are working together in an Innovate UK project to develop sensors that use AI on video feeds in order to gather data about the way roads are used. These new sensors provide supplementary data to existing systems but allow analysis at a greater level of detail. The aim is to improve the traffic control system algorithms so that the AI behind it can respond to thousands of different scenarios without the need for human intervention.
The project aims to roll out between 150 and 200 sensors, especially in dense urban areas to test the sensors to their limits, with the aim of helping to keep vehicles, cyclists and pedestrians moving. Early results show that AI is able to respond very quickly to changing traffic situations, and that the modelling and analysis helps to improve traffic flows across the city, improving productivity and, ultimately, air quality.
Core themes for the development of smart cities
Smart cities are not without their challenges however, and our expert speakers all agreed that much needs to be done to make smart cities a reality. Some core themes include:
Currently assets are bought in silos (e.g. standalone fibre, LED street lighting, heating systems, energy procurement) and this limits opportunities for connectivity. Procurement processes need to be better thought through, and become more collaborative, to ensure a system can work together.
People think smart cities are just for our major urban centres but everyone has to work towards the 2050 net zero target. Sometimes smaller locations are better places to quickly implement the technology. Targeted local actions that match real life data will be key to the delivery of local decarbonisation plans and contribute to achieving the national net zero ambitions.
Organisations need to get over the "that's my data" mentality. Issues around what data is available, how that data is used and how much of that data can be shared need to be addressed. We need leadership to open up the data to the organisations that can use it, then those organisations need to work together to find the right solutions. Collaborations between the public and private sector will help to develop common databases and platforms for everyone to use; only then will we see the real potential of a smart city system.
This is a huge topic, and one that extends far beyond the scope of this article. However, it is clear the UK is poised to implement smart systems and many local authorities have already started on this journey.
Listen to the Building a Smart City webinar.