The Renewable Heat Incentive (RHI) mentioned in this blog is now closed. If you're in Scotland, financial support to install heat pumps is available from the Home Energy Scotland Grant and Loan.
*****************************************************************************
The kitchen is the beating heart of a home and unsurprisingly it accounts for a significant amount of a household's energy consumption.
Our guide to kitchen energy efficiency solutions showcases a multitude of ways we can make our kitchens energy efficient.
It's worth taking a few moments to perform a kitchen audit to see where you could save energy, money and greenhouse gas emissions.
In part one of our look at energy efficiency in the kitchen, we examine everyday habits we can adopt to save energy and what to consider when we're buying a new kitchen.
In part two, we'll take a look at some top cooking tips, as well as how to use our appliances more effectively.
Kitchen energy consumption
Heating and hot water use dominate a home's energy consumption. The percentage of your total domestic energy consumption from different energy uses is roughly:
Ensuring your boiler and water heating system is energy efficient offers plenty in potential savings.
Save energy and water with easy-to-pickup habits.
Change your habits
There are lots of day-to-day energy-saving habits you can adopt in the kitchen:
euse 'Eco' modes on appliances, wherever available and suitable to do so
save £8-a-year (plus 14kg CO2) by washing clothes at 30 degrees
save more by only washing full loads – by reducing your number of washes by one per week you could save an additional £8 on your electricity bill and £5 on your water bill (if you have a water meter)
run the dishwasher only when full, can save £8 on your electricity bill by reducing your loads by one per week
dry clothes outside. In winter, dry them on a clothes' horse (better than directly on the radiator) and save up to £35 a year
replace halogen bulbs with energy-efficient light bulbs
use a microwave to heat a small amount of food, rather than a gas or electric hob
clean your oven manually rather than use energy-sapping self-cleaning options (pyrolytic cleaning – high temperatures burn off grease)
turn off any appliances on standby
Buying a new kitchen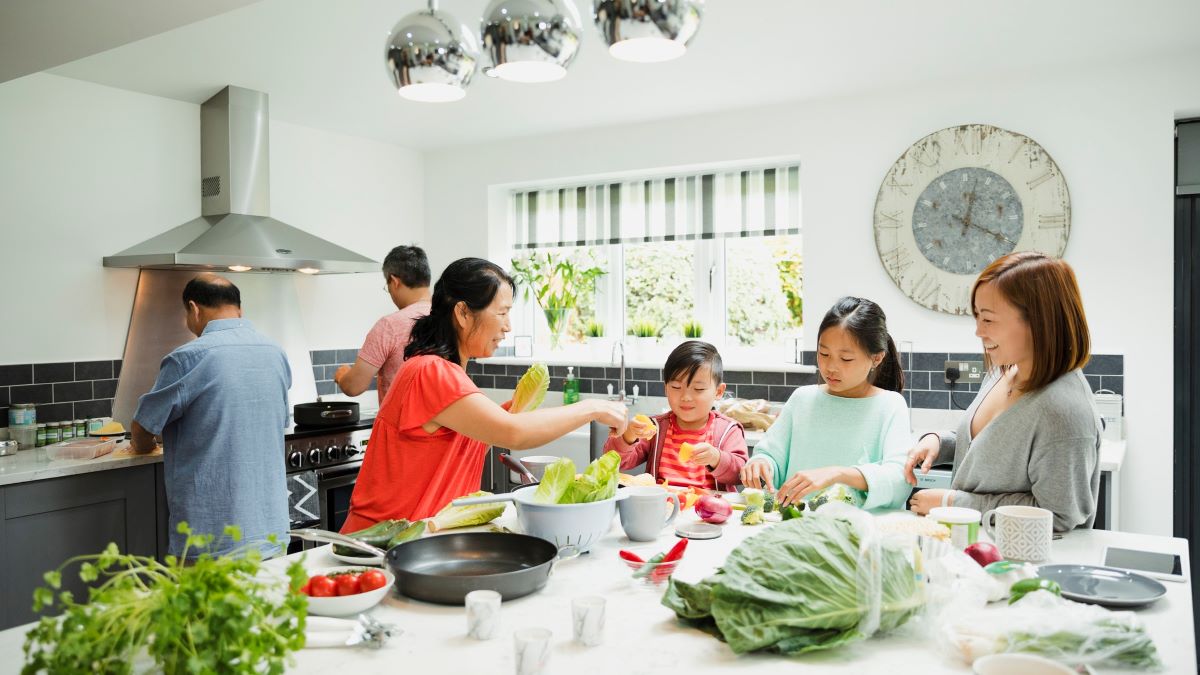 If you are considering redesigning your kitchen, there are a wide range of ways in which to reduce your kitchen's energy impact.
You will save more money in the long term if you invest more in energy-efficient appliances and design aspects of your new kitchen.
For your hot water needs, consider installing solar thermal or an air source or a ground source heat pump.
There is financial support available to help with the installation costs of this renewable energy heating system. The Renewable Heat Incentive (RHI) and the Scottish Government's Home Energy Scotland Grant and Loan help to make it much more cost-effective.
Heating is an extensive area for energy savings. Consider your options when thinking about how to heat your kitchen. If you are re-doing your floor, underfloor heating could be suitable, especially if coupled with a heat source like a heat pump. If you have solar panels, you may want to consider infrared heating panels into the new design, in order to provide a renewable heating solution. They are very diverse; some are mirrors, and they operate in silently. We lose a lot of heat through the floor and walls so look at your options for insulation, too.
Appliances in new kitchen
You may want to buy an oven with a triple-glazed door in order to keep the heat in. Also, a fan-assisted oven is more energy efficient because it helps cook at lower temperatures as it circulates air around the food. Electric hobs are more energy efficient than gas rings, and there is a wide range of induction cooker rings on the market.
(Caution: if you have a pacemaker, an induction cooker's electromagnet field may interfere with the pacemaker's settings.)
It is worth investing in the most energy-efficient appliances to make extended savings in the long run, even paying for themselves in energy savings within just a few years.
And finally, be aware of how you illuminate your kitchen. Light the worktops and not the floors, use down lights and built-in LEDs if you can and have separate switches so you only light areas you need to.
Read part two of our series on energy efficiency in the kitchen for more tips.
More on this…