Energy Saving Trust is pleased to announce the finalists for this year's Fleet Heroes. The winners will be revealed at the Fleet Heroes Awards and Conference on Thursday 28 November at the National Gallery, Trafalgar Square in central London.
The Fleet Heroes Awards and Conference is a flagship event that celebrates organisations who are delivering a cleaner and more efficient future for transport across the UK. It brings together transport experts, business and government to discuss fleet sustainability and innovation, ultra low emission vehicles and air quality.
Speakers at the conference from key players include:
SSE Enterprise's Kevin Walstead
Highways England's Chris Plumb
C40 Cities' Caroline Watson, City of York Council's Dave Atkinson
PSA Group's Helen Lees
Neil Madgwick of UK Power Network.
Tim Anderson, head of transport at Energy Saving Trust said: "Now in its fourteenth year, Fleet Heroes celebrates the best sustainable practices across the transport industry and the achievements of businesses, organisations and local authorities implementing them in the journey towards zero emissions.
"An exceptional shortlist of finalists from the length and breadth of the UK have been selected by our panel of independent judges, making the unveiling of the winners on awards night a truly inspirational one!
"The Fleet Heroes Awards and Conference also offers a great opportunity to network with a range of professionals from across the sector and hear the latest from expert speakers. We are filling those places and I would encourage people to register for their free place soon."
Poppy Welch, head of the joint government and industry campaign Go Ultra Low, said: "Fleets have always been drivers of change when it comes to the implementation of new technologies, and the shift towards zero emission transport is just one such example.
"The companies shortlisted for a Fleet Heroes Award are demonstrating that introducing electric vehicles across their fleets can save businesses significant amounts of money, as well as helping build their organisation's green credentials. We wish all of the finalists the best of luck on the night."
The Fleet Heroes Awards and Conference is delivered in partnership with the Department for Transport. The event is sponsored by Go Ultra Low, Highways England, Alphabet and trade media partner Fleet World.
The Fleet Heroes Awards and Conference begins with registration from 12.30pm. The conference takes place 1.30pm until 4pm, the awards run from 4.30pm followed by a drinks reception at 5.30pm.
Fleet Heroes Awards 2019 Finalist
Electric Vehicle Hero, sponsored by Go Ultra Low
Brecon Beacons National Park Authority
East Coast Organics Ltd
Swansea University, Active Building Centre
Smarter Business Travel Hero, sponsored by Fleet World
Doncaster Council
Royal Derby Hospital
The Highland Council
Sustainable Deliveries Hero, sponsored by Highways England
DPD UK
East Coast Organics Ltd
Gnewt by Menzies Distribution
Milk and More
Team London Bridge
Zedify
Future Cities Hero
Coventry City Council
London Borough of Waltham Forest
Nottingham City Council
Innovation Hero
The Climate Group
Urban Electric
Volkswagen Financial Services
Unsung Hero
Andrea Booth, Royal Derby Hospital
Keith Freeman, DriveTech
Rob Macintosh, St John Ambulance
EST Fleet of the Year, sponsored by Alphabet
Environment Agency, Defra Group Fleet Services
Galliford Try
SMS plc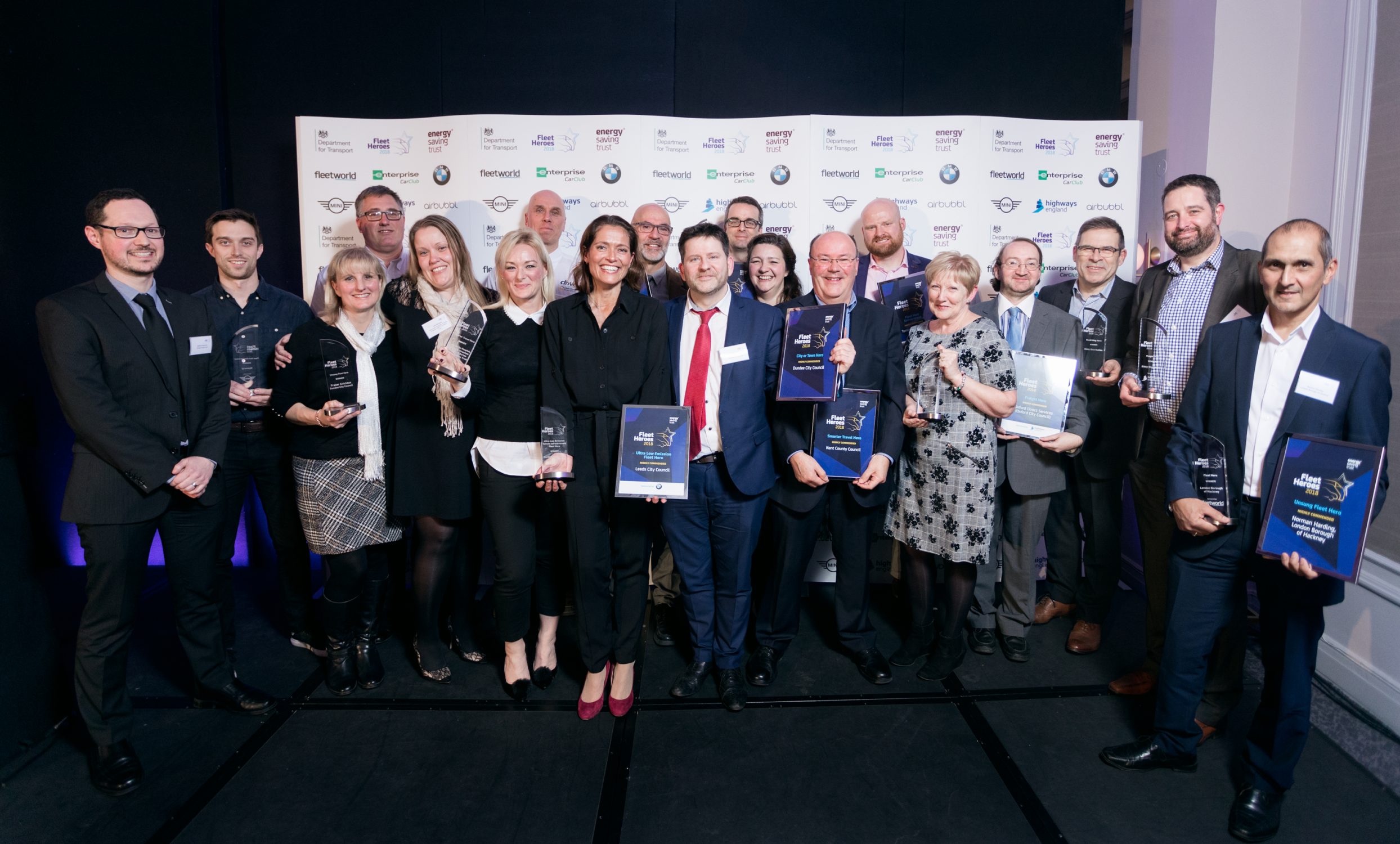 ***ENDS***
For further information contact: Sophie Lanning and Polly Parkin at Kindred, 020 7010 0817, ESTpressoffice@kindredagency.com
Notes to editors:
Fleet Heroes Awards and Conference
Fleet Heroes is free to attend and free to enter. The awards recognise the outstanding achievements of fleets, businesses, local authorities and others who are taking action to reduce carbon emissions, tackle air pollution and improve business operations and public services.
Energy Saving Trust
Energy Saving Trust is an organisation providing evidence-based advice and ground-breaking research that helps people save energy, every day. Trusted by consumers, businesses and organisations for our expertise and independence, our goal is to find new and better ways to drive change and reduce energy and fuel consumption. www.energysavingtrust.org.uk
Go Ultra Low
The Go Ultra Low campaign aims to increase purchase consideration of electric vehicles by helping motorists understand the benefits, cost savings and capabilities of the wide range of plug-in and hydrogen-powered vehicles on the market. Made up of a consortium of vehicle manufacturers, energy suppliers and the government, the campaign works to educate public and fleet audiences about these vehicles, addressing myths and highlighting benefits, including how they offer competitive practicality for private and business users.
GoUltraLow.com provides a one-stop shop for information about owning and running electric vehicles, the makes and models available, and the locations of the thousands of publicly-accessible chargepoints.