Last night saw Energy Saving Trust's UK Fleet Heroes winners announced at a prestigious awards event in central London at the De Vere Grand Connaught Rooms, hosted by motoring broadcaster Amanda Stretton.
The Fleet Heroes Awards acknowledges winners across nine categories recognising fleet sustainability best practice and the 16 shortlisted organisations and individuals, include a rich and diverse range of applicants; from Ecodriving Hero Bibby Distribution to Unsung Fleet Hero Fraser Crichton of Dundee City Council, the first Scottish win and Fleet Hero (sponsored by Fleet World) winner London Borough of Hackney.
Matthew Eastwood, head of transport at Energy Saving Trust commented on the awards: "In this pivotal year for zero emission vehicles which has seen the publication of the government's ambitious Road to Zero Strategy and Birmingham playing host the world's first international Zero Emission Vehicle Summit, the 13th Fleet Heroes Awards & Conference highlights the extent to which zero emission vehicles are becoming more and more widely adopted into fleet operations, as well as what further innovative developments can be expected over the next five years.
"Congratulations to all the individuals and fleets recognised as Fleet Heroes at the 2018 awards. All are leading the way with their work to reduce carbon emissions and tackle air quality issues and can rightly be held up as shining examples of best in class."
Roads Minister Jesse Norman said: "Congratulations to all of this year's winners, who have made an impressive commitment to using zero emissions vehicles.
"Fleet take-up of Ultra-Low Emissions Vehicles is growing at over three times the rate of the rest of the market, and they have huge potential to reduce the environmental impact of road transport and help the UK to meet its air quality and climate change objectives."
The Fleet Heroes Awards & Conference is delivered in partnership with the Department for Transport and sponsored by MINI, BMW, Highways England, Enterprise-Rent-a-Car, Airbubbl and media partner Fleet World.
***ENDS***
For further information, contact:
Winners and Highly Commended Fleet Heroes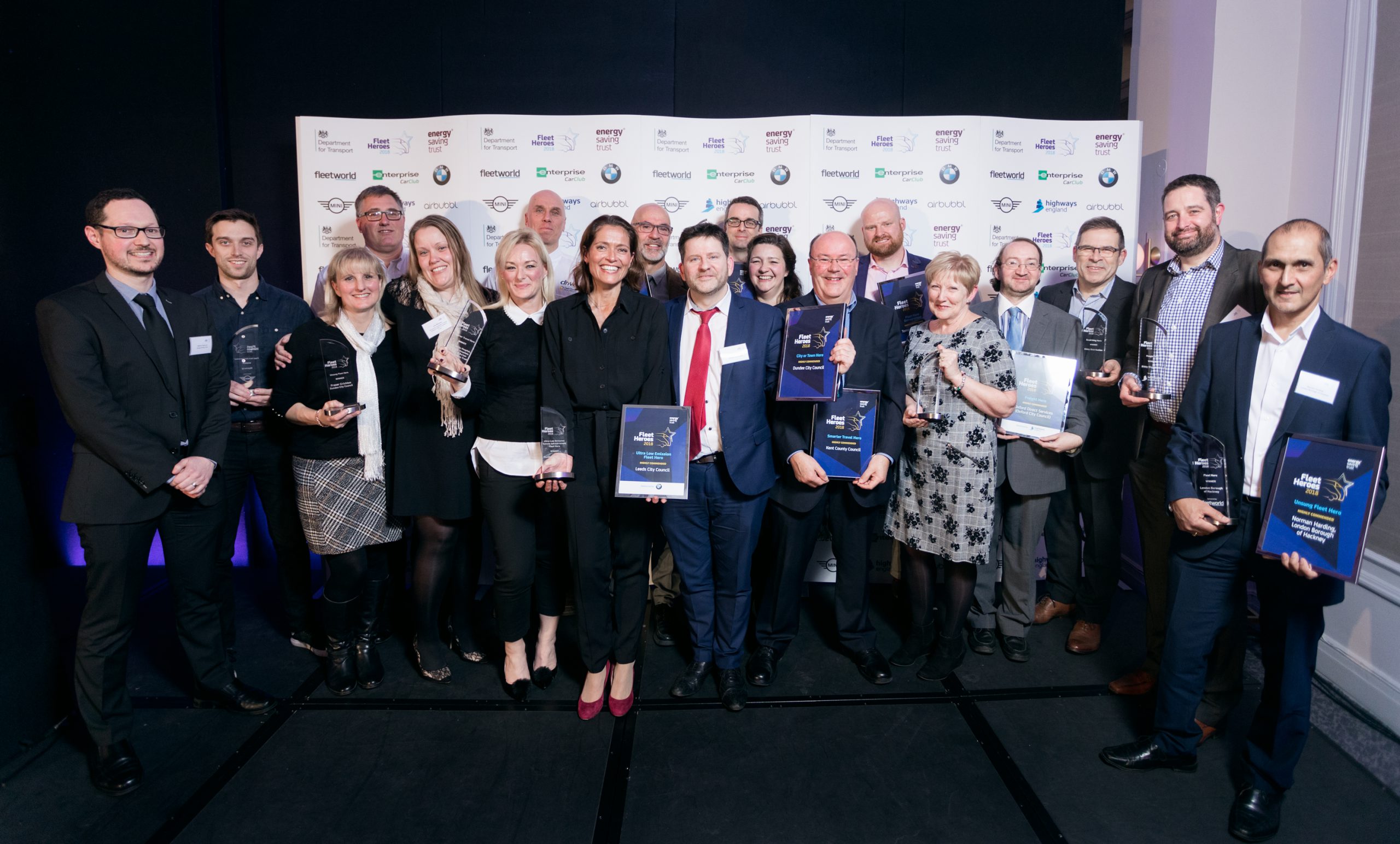 Ultra Low Emission Vehicle Infrastructure Hero
WINNER: Dundee City Council
HIGHLY COMMENDED: Nottingham City Council
Fleet Hero Entrepreneur sponsored by MINI
WINNER: myenergi
HIGHLY COMMENDED: Tomorrow's Journey
City or Town Hero
WINNER: Nottingham City Council
HIGHLY COMMENDED: Dundee City Council
Ecodriving Hero
WINNER: Bibby Distribution
HIGHLY COMMENDED: Drive DeVilbiss Healthcare
Freight Hero sponsored by Highways England
WINNER: Bibby Distribution
HIGHLY COMMENDED: Oxford Direct Services (Oxford City Council)
SPECIAL MENTION: IVECO
Ultra Low Emission Fleet Hero sponsored by BMW
WINNER: Dundee City Council
HIGHLY COMMENDED: Leeds City Council
Smarter Travel Hero
WINNER: Royal Derby Hospital, University Hospitals of Derby and Burton NHS Foundation Trust
HIGHLY COMMENDED: Kent County Council
Unsung Fleet Hero
WINNER: Fraser Crichton, Dundee City Council
HIGHLY COMMENDED: Norman Harding, London Borough of Hackney
Fleet Hero sponsored by Fleet World
WINNER: London Borough of Hackney
HIGHLY COMMENDED: Yorkshire Ambulance Service NHS Trust
Notes to editors:
Energy Saving Trust
Energy Saving Trust is an independent organisation dedicated to promoting energy efficiency, low carbon transport and sustainable energy use. We aim to address the climate emergency and deliver the wider benefits of clean energy as the UK transitions to net zero.
We empower householders to make better choices, deliver transformative programmes for governments and support businesses with strategy, research and assurance – enabling everyone to play their part in building a sustainable future.