Drones – or unmanned aerial vehicles – offer a new way of seeing and interacting with the world we live in. Their increased numbers and presence, from people taking beach videos to states using them in war, often provoke strong opinions.
But what we'd like to know is, could this little machine revolutionise energy use amid our rapidly changing lifestyles, in an environmentally sustainable way?
What are drones used for?
Drones are increasingly used to help deliver aid, medicines and vaccines in remote or cut-off areas. They are also used extensively wherever moving images are needed: films, sports events and stadiums.
Conservationists and farmers have been quick to utilise them for checking on crops, illegal logging, tracking animals and mapping forests, like the Aerobotany project in Peru's Amazon rainforest.
Building inspections, law enforcement, tracking storms; the list goes on – although some countries have banned their use altogether.
The home delivery market, however, is pushing drone development.
Increasing online shopping demand
Online shopping accounted for 7% of all UK retail sales in 2010. By 2019, this soared to 20% and is predicted to rise to 30% by 2024. In 2018, that meant 3.5 billion packages delivered in the UK alone.
Amazon is responsible for 30% of all the UK's online sales and has been battling with the environmental and actual cost of the 'last mile' of delivery for almost a decade. Tonnes of carbon could be saved by cutting down on delivery vans or people driving to pick-up points.
Are drones environmentally friendly last milers?
Drones are very environmentally friendly for small, light packages compared to almost every alternative – including e-Cargo bikes and vans.
But the impressive statistics are based on it carrying one parcel, often 500g or less.
More power-hungry, eight blade drones can carry up to 4.5kg/10lb. The drones' Achilles Heel is their lithium battery power source permitting only short flying times of up to 30 minutes and ranges of up to 4km before the need to recharge.
So in the real world of deliveries, a traditional van, loaded with packages and generating polluting fumes, still outperforms the drone. A van performs at 4.27 kJ/kg/km, while your average drone will deliver the goods at 8.2 kJ/kg/km.
Solar panels are not efficient enough for self-powered drones just yet – 31.6% efficiency is the best achieved so far.
Charging costs for a drone
Charging drones, e-bikes and vans is only cleaner if the charge source is clean.
Colin Smith, Certification Manager for Freight and Clean Vehicle Retrofit at Energy Saving Trust, said: 'Charging drones or any e-vehicle is essentially still fossil fuelled if the electricity used to charge them is fossil fuel generated and not from renewables.
If you charge in a country with a more fossil intensive electricity grid supply such as Poland it's not as CO2 efficient (to charge), but in countries such as France with its higher level of nuclear power or Norway with more renewables in the mix, it is. Here in the UK we're at about 25% renewable electricity energy production. The higher degree of renewables (or decarbonisation) in the charging source, the better.'
You can check the U.K.'s energy sources live with an online tool such as Gridwatch. Alternatively, if you have a domestic renewable energy system, such as solar panels on your home, you can charge your drone, ebike or electric vehicle with renewable energy yourself. Find out more about installing a home renewables system.
A future for drone deliveries
UPS has tested a van that acts as a hub, with a delivery drone on its roof. Software plans the van's route to minimise driving, dispatching drones to deliver goods then return to the van to recharge while docked.
While some business enthusiasm for drones has waned – Google scrapped its Titan drone project  – Amazon has patented designs for a giant warehouse, like a blimp, to float in the skies above towns and cities. Robots pick and select purchases and load charged drones that float down to a specified address. Drones then head to a charging point and fly back to the mother ship.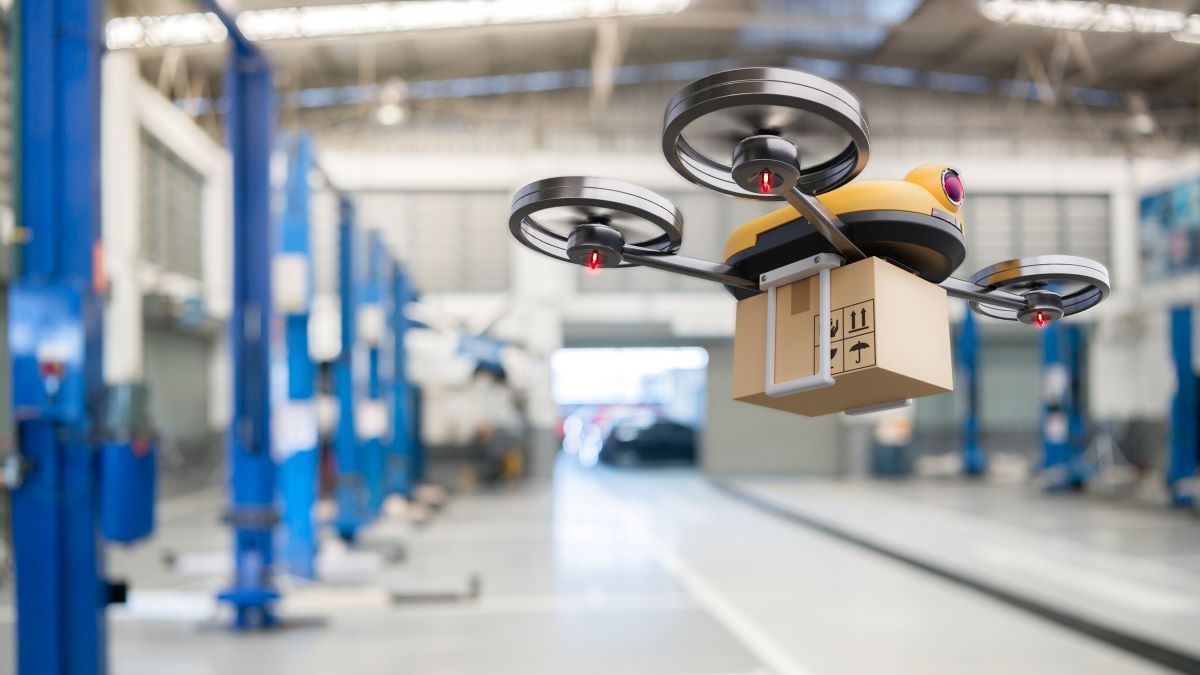 Are drones the future?
Colin continued: "Drones will likely find niche applications such as delivering vital medicines to remote or cut of areas that vehicles cannot reach, and it's more people's behaviour that needs to change.
"Home delivery is seen as a growing (energy) problem and perhaps people should start to ask themselves: 'Do I really need that delivered tomorrow and right to my door, or could I pick it up from a central place later in a few days?
"It's almost going full circle to where we used to drop off and pick up packages. We can't just deliver everything – using click and collect to create less carbon. There really is no such thing as a free delivery and the worst delivery is the failed "no one at home, retuned to depot" one."
Don't forget to register your drone
The UK has more than 90,000 registered drone users and all UK drone owners must now register their drones as part of new regulations.