Location notice
Please note that this page contains information and links most relevant for people living in England.
In August 2022, the Local Electric Vehicle Infrastructure (LEVI) pilot saw nine local authorities across England receive £10m to deliver over 1,000 electric vehicle chargepoints. This was supported by a further £9m of industry funding.
February 2023 saw the expansion of the LEVI pilot scheme, with £22m in extra funding available to deliver over 2,400 more chargepoints. This is supported by £19m of private investment and public funding contributions.
Three of the original LEVI pilot schemes are being expanded, and there'll be additional funding to scale up these projects. These are run by the London Borough of Barnet; Durham County Council; and North Yorkshire County Council.
In addition, 16 new pilot schemes will get the expanded LEVI pilot funding. The councils getting funding are:
Buckinghamshire Council
Cumbria County Council
London Borough of Hackney
Harborough District Council
London Borough of Hounslow
Lancashire County Council
Norfolk County Council
Oxfordshire County Council
Rotherham Metropolitan Borough Council
Sunderland City Council
London Borough of Waltham Forest
Warwickshire County Council
West Midlands Combined Authority
West Sussex County Council
West Yorkshire Combined Authority
City of York
A full map of the areas covered by the expanded LEVI pilot can be found below.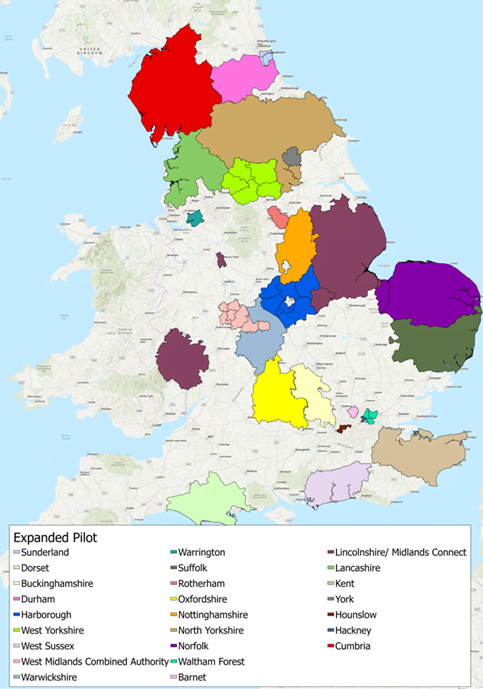 The On-Street Residential Chargepoint Scheme (ORCS) has already installed 3,000 chargepoints, and there's a further 10,000 chargepoints in the pipeline.
In 2022, every 1 in 5 new cars sold was electric. According to the Society of Motor Manufacturers and Traders, there are more than one million plug-in vehicles licenced in the UK. On average, around 600 new EV chargers are being added to the UK's road network each month.
In addition to expanding the pilot scheme, the £8 million LEVI Capability Fund launched in February 2023. This fund aims to equip local authorities with the skills and ambition to scale up their plans when it comes to their EV charging strategy.
Nick Harvey, senior programme manager for transport at Energy Saving Trust, said:
"As part of the LEVI Support Body funded by the Department for Transport, we are pleased to be helping local authorities across England to plan and deliver effective EV chargepoint rollout strategies. The success of the expanded LEVI pilot will pave the way for better access to convenient and reliable EV charging, especially for those without the option of charging at home. This will mean more people than ever can make an easy transition to EVs."
About the LEVI Support Body
The LEVI Support Body (Energy Saving Trust, Cenex and PA Consulting) provides ongoing support and guidance to all LEVI funding applicants.
Energy Saving Trust is an independent organisation dedicated to promoting energy efficiency, low carbon transport and sustainable energy use. We aim to address the climate emergency and deliver the wider benefits of clean energy as the UK transitions to net zero.
Cenex leads the LEVI Fund Support Body's technical advice and guidance for Local Authorities, building on its longstanding expertise in the design, development and delivery of EV charging strategies.
PA Consulting is a global innovation and technology consultancy with a strong track record in clean and smart mobility, including transport strategy, economics, analytics and digital platforms.