•  Energy efficiency should be high priority when buying a house
•  Whether scaling up or downsizing, costs and comfort matter
•  What features should you look out for? Our guide offers some pointers
When buying a home, there's a lot to think about – but that should be no excuse for ignoring energy efficiency.
While room sizes, storage space, what the neighbourhood's like and for families, proximity to local schools will naturally be high on the agenda, it's important to remember that energy bills are going to be with you for the long-term.
A recent study from Zoopla suggested that the average British homeowner moves home every 23 years, so this should make it even more of a worthy consideration. Investing in an energy efficient property provides protection against future turbulence in energy markets.
You should thinking seriously about what the fabric of the building is going to give you. That means in terms of economy, but also comfort.
Check the certificate
The first place to start when looking at a home's energy efficiency is its Energy Performance Certificate, or EPC. When any home is sold, it legally needs to be made available. Our handy guide looks at the EPC page by page and highlights all the important bits.
It provides information on the home's energy efficiency band (rated A-G, with A the best) estimated energy costs, provides an overview of its existing features like insulation and heating system, as well as letting you know what level it could be brought up to with improvements.
For those investing in more of a 'project' home, this is crucial, as it will give you an idea of what improvement costs you might want to factor in to your decision-making ahead of buying.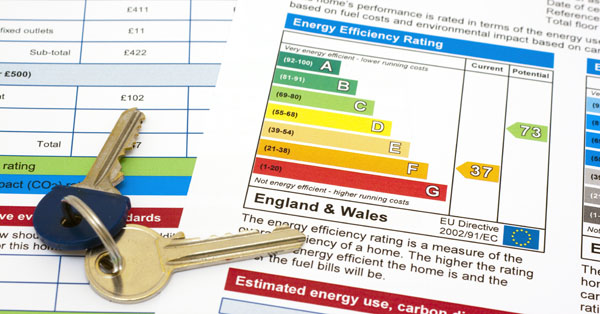 Do your own energy audit
While the EPC lists building features, there are key areas to check up on when visiting a property. Firstly, insulation. You can see for yourself that what's said to be there is indeed there, and also take a look at the age and wear and tear of loft insulation.
Leaking roofs and gutters can help water enter walls – so if the property has insulated cavities, also check that gutters are clean and there's no staining on exterior walls.
It's also well worth checking the windows. High-quality double glazing would be the best option, but proper sealing to cut cold draughts is a good basic quality to look out for.
The type of thermostats that are installed is also important. Thermostatic radiator valves, a rogrammer and a room thermostat, when controlled properly, can save £75 a year in a typical 3-bed, gas-heated home, a saving that certainly stacks up over the years. If the property doesn't have them, that's another potential cost to factor in – but you may want to go further and install smart heating controls that can be operated from your smartphone.
Beyond these basics, it's worth considering homes that have renewable energy features. The most likely renewable technology you might encounter are solar PV panels. They reduce your electricity bills while bringing in modest payments from the Feed-in Tariff (FiT) scheme.
It's worth checking a few details, however, such as when they were installed. This will impact the FiT you receive – plus older panels can become less efficient over time. You also need to make sure the ownership of the panels is transferred to you with the house, to make sure you can get FiTs. Usually, they're considered to be 'fittings' so would by default be included in the sale.
An efficient home – the universal choice
Whichever life stage you're at and whatever piques your initial interest, comfort and long-term savings are things that make a serious difference throughout your stay in a property.
For those making aesthetics high priority, the interior may look stunning, but if the rooms are full of draughts, it's going to be difficult to fully appreciate that.
Perhaps there's big spaces and plenty of storage for a growing family – but if those spaces are going to prove difficult to effectively heat without breaking the bank, that's room that comes with a serious cost.
If you're choosing a home for retirement, there are different considerations. You may want to downsize, you may want to move to the country or even by closer to the high street. But there may be money issues to consider: your income might have dropped in retirement, or you may want to use as much of what's coming in as possible for hobbies. This makes it all the more important to make sure your home doesn't guzzle your money, while leaving you shivering in three jumpers in the winter time.
Energy efficiency could be factor in mortgages
If you need any more persuasion to take energy seriously when picking your home, there's a possibility that mortgage providers could be open to lending people more to buy energy efficient properties.
Our LENDERS research, alongside a number of partners including Nationwide, conclusively proved the link between better energy performance and higher disposable income – income that raises the opportunity for a slightly bigger loan. The findings are being taken seriously by the mortgage industry, so it's definitely something to watch out for in the near future.
A second blog will take a look at what to look for when renting a home.