Energy Saving Trust – which administers central parts of Scotland's Energy Performance Certificate programme – is collaborating with Natural Resources Canada as Canadian jurisdictions work towards introducing new building energy labelling schemes. Our work together is being supported by the British High Commission in Canada.
With its much colder winter climate, its unsurprising that homes in Canada use more energy than the typical UK home – around 28,000kWh of energy each year, compared to the average of 17,500KwH in the UK. But with 17 percent of Canada's emissions coming from the heating and cooling of buildings, it also makes it important for Canada to focus on energy efficiency in buildings in the nation's response to climate change.
One way of promoting energy efficiency in buildings is the use of energy labelling. In the UK and Europe, every time a building is sold or rented out, an energy performance certificate (EPC) needs to be issued to potential buyers or renters. The idea is that by having an easy way of comparting the energy performance of buildings, energy efficiency becomes a bigger part of the decision making process. Homes with higher EPC ratings have – across Europe – been shown to command a higher value.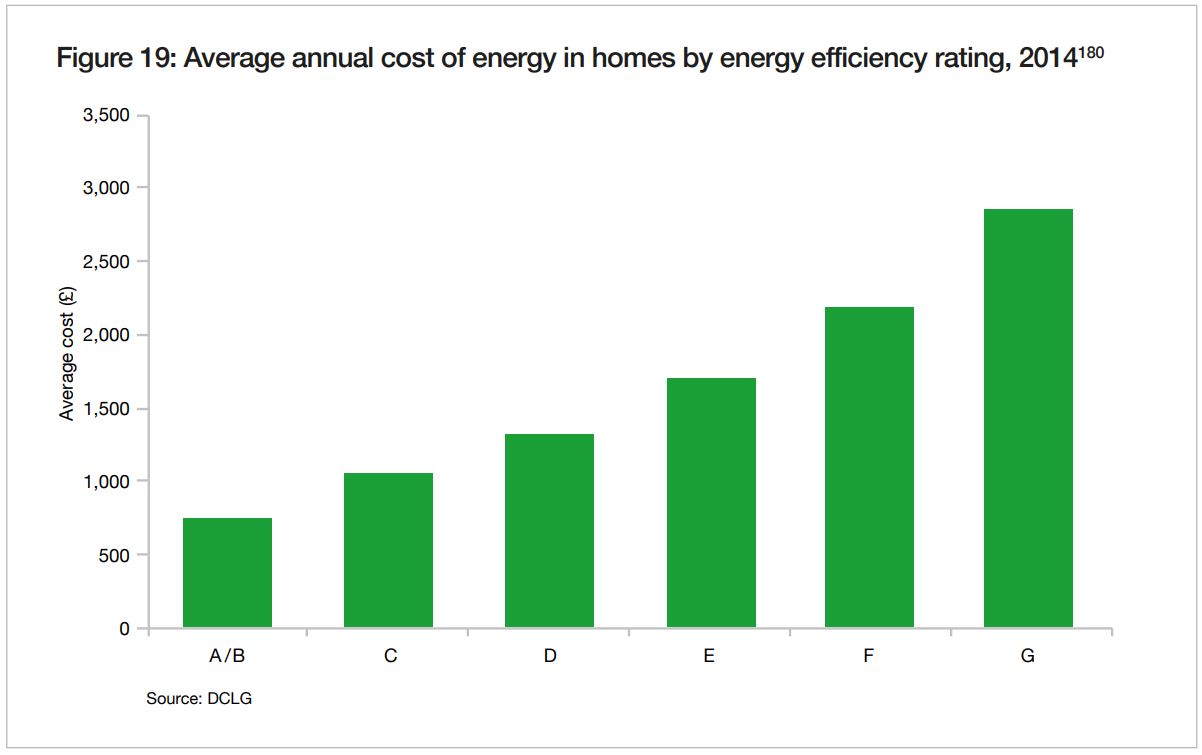 Source: The Clean Growth Strategy, page 73
In the UK and Europe, the EPC has been a mandatory part of the buying, selling and renting process since 2008. In December 2016, the Pan-Canadian Framework on Clean Growth and Climate Change – Canada's country-wide climate change plan – federal, provincial, and territorial governments agreed to work together on requiring building energy use labels as early as 2019. What can the country learn from the UK and European experience about a programme that will – in time – require nearly every building issued  with its own energy label?
Based on the Energy Saving Trust's experience we have been and will continue to share lessons learned with Natural Resources Canada to help answer the following questions:
What's the best way to introduce the new labels in a way that ensures that the public and the property industry understand their benefits? Building energy labels offer major benefits in terms of the information available to building owners, and provides a new way for real estate agents to highlight the energy features of the properties they're selling.
Producing a building energy label requires an energy expert to visit the property. Under a mandatory energy labelling regime, home sellers don't want to go through a lengthy and complex energy assessment process. How can an in-home energy assessment be as quick as possible, but also accurate?
Mandatory energy labelling involves collecting data from every home about energy performance. That's a rich source of data about the housing stock. But how can, and should, governments use that data in planning energy efficiency programmes?  How do we deal with building owners' concerns about data privacy?
This project is a great example of how UK expertise can be shared internationally to support other countries in tackling climate change, while building useful relationships for further collaboration. With the recently announced Canada-UK partnership on clean growth and climate change, there will certainly be more activities, making a real difference to prosperity on both sides of the pond.