In the third part of our blog series on creating attractive effects using energy efficient lighting with designer Graham Festenstein, we move on to the kitchen and dining area.
It's a focal point of many homes, and one where task lighting understandably can take precedence over general room ambience.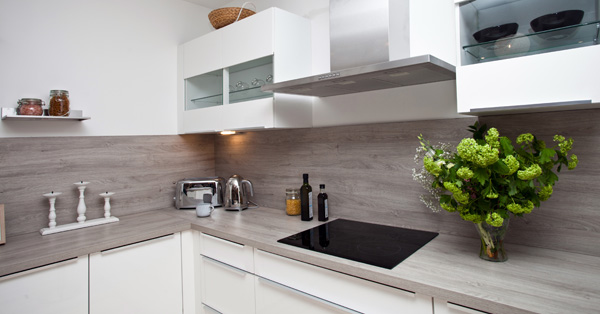 Focus on surfaces
In previous blogs, he's explained that dimmers and scene-setting control systems are worthwhile investments if you have the money – but where should the light priorities be in this key area of a home?
He said: "You need good working light on your work tops – they shouldn't be shadowed. Good quality LED down lighting works really well in the kitchen.
"The equipment that you would use is similar to any other room, but you might modify the colour temperature a little bit – a slightly cooler warm white, or 3000 Kelvin, which is more like a low-voltage halogen lamp. As always with these modern lamps, they don't warm up, so they have to deliver the colour temperature when switched on."
Hidden qualities
There are plenty of ways you can create really attractive looks in the kitchen, as Festenstein explained:
"Under-cabinet lighting is always good. I always suggest hiding this; what's important is the light, not the fitting. The same goes for down lights; you don't want the LED itself to be flush with the ceiling so you're not drawn to a glare on the ceiling, you're drawn to the light effect created."
To light or not to light
But sometimes it's just as much about what you don't light as what you do.
He added: "I tend not to light kitchen floors. There's no great need. If you're lighting the work tops and maybe an island that's going to provide enough to light your floor.
"Often, people don't appreciate that and put down-lights in a grid. A lot of that light is just unnecessary, and it also creates a less pleasant effect. You want a bit of shadow; as lighting designers we like to think we're not just designing with light but darkness as well."
Light focus, or complete kitchen refurb?
But kitchen light fittings can be a bit different to other parts of the home.
He explained: "I've been talking about retrofit a lot, but a number of energy efficient light sources are actually built in, chip on board – particularly things like down lights. However, for the average householder, this is not likely to be the most cost-effective approach.
"The lifetime of LED bulbs means you're not likely to be changing one in a house very often; quite possibly ever. But if payback time is what you're interested in, it's still difficult to justify built-in LEDs.
The built-in option could, however, prove something to consider if you're going for a complete makeover of your kitchen and dining area – indeed other rooms, too – or building an extension.
He added: "With extensions and major room refurbishments, when considering the investment and type of fittings, it's worth noting that the quality of light from LEDs can be better and they are often more efficient in terms of light output to energy used."
Great looks in open spaces
There's a big trend to have open plan kitchen-dining room-living room spaces, and if this is what you've got or are going for, there's plenty to consider.
He explained: "Controls are very important there. If you can stretch to using scene-setting, that's going to make a big difference because you can push a button and you've got emphasis on the kitchen, or push another and the light shifts into the dining space when you're eating a meal.
"It's all connected. You need a bit of light in each space to make it feel comfortable. Otherwise if you're sitting in the dining room and the rest of the space is in total darkness it's not going to feel right. Scene-setting takes away the need to have lots of switches on the wall, and makes it easier to turn things off. It also gives you that balance between different lights.
"From an energy point of view, turning on what you need at the level you need it is more economical. It saves having to go around and turn off a number of dimmers."
More on this…