Location notice
Please note that this page contains information and links most relevant for people living in Wales.
by Ieuan-Rhys Beal
With summer looking set to extend its stay in Wales into August, the last thing on people's minds is how they're going to heat their homes this winter.
Unfortunately, there will be households across Wales that feel the winter more than others, but Welsh Government's Warm Homes Nest scheme is looking to support these households with free home energy efficiency improvements to make their house more comfortable this winter.
Welsh Government are making more homes winter-ready by introducing additional health-based criteria to access the Nest scheme. The new criteria will run alongside Nest's current criteria, which provides support for people who receive a means tested benefit. It will support Welsh residents living with chronic respiratory, circulatory or mental health conditions who also live on a lower income and are at a higher risk of developing an illness as a result of a cold home. The needs of people with disabilities, older people and families with young children have also been specifically addressed to ensure they can benefit from the scheme.
To be eligible for the scheme under the new criteria, you would need to confirm evidence of a pre-existing health condition with one of Nest's telephone advisors. This can include a prescription, medication packaging, treatment plan or a GP/Hospital referral letter.
Laura McGadie, head of consumer advice at Energy Saving Trust, commented: "Welsh Government has identified the need to further support households that are shown to be at the highest risk during the winter months. The new criteria will highlight the importance of meeting the needs of people in Wales living with disabilities, older people and families with young children.
"Living in a cold, energy inefficient home can have an effect on both a person's physical and mental health, but with this new set of health-based criteria more people will become eligible for Nest and receive free home energy efficiency improvements. These improvements can have a major positive impact on a person's life, physically, mentally and financially."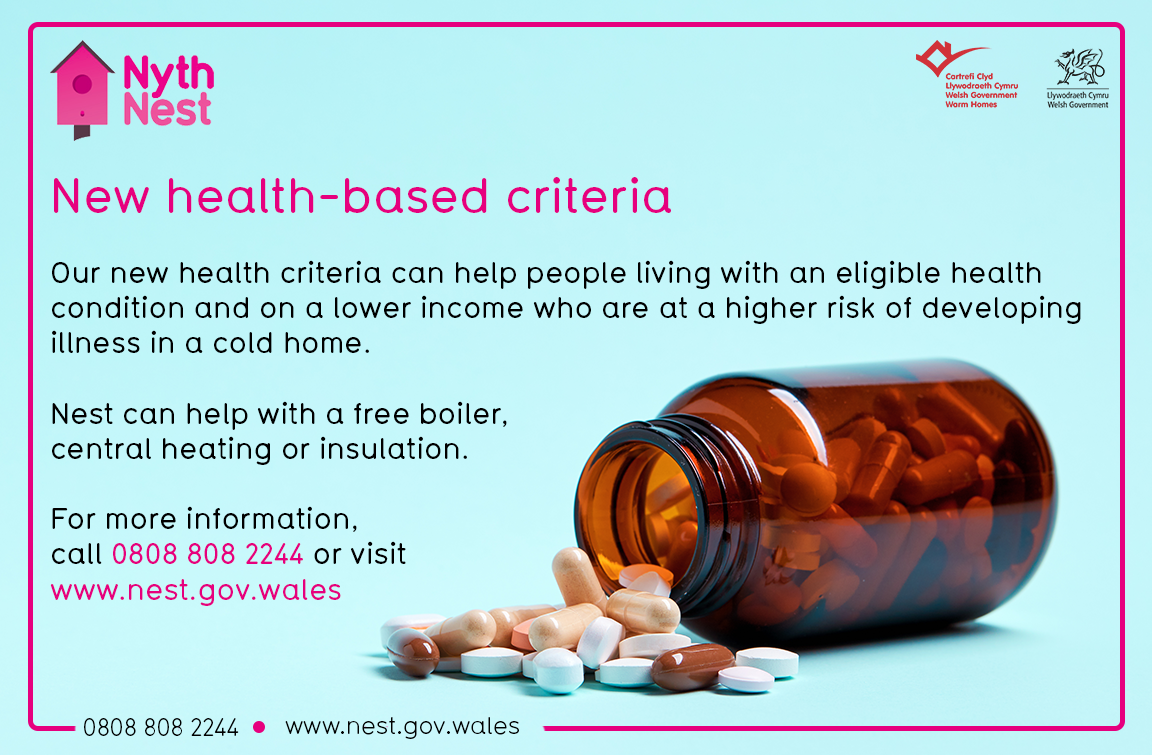 What is Nest?
Nest is Welsh Government's Warm Homes scheme. Nest provides households in Wales access to free advice and support to help them reduce their energy bills.
Since its launch in 2011, the scheme has benefitted 105,000 households with its advice and support services and more than 33,000 homes have been helped with tailored energy efficiency measures, this includes a free boiler, central heating or insulation.
Nest's home energy efficiency improvements have delivered estimated energy bill savings averaging £408 per household per year, making a real difference to households across Wales.
A resident of Maesteg, Bridgend, commented after having work done at their home: "My boiler was 45 years old so I had a friend contact Nest for me. My home is much warmer and it's nice to get up in the morning and have heating straight away.
"I would recommend Nest to anyone who could have it because it made my home so much better for me."
For more information on Nest and its new health-based criteria, visit www.nest.gov.wales/eligibility
More on this…