Edinburgh, Boxing Day 2019. A fully electric van – normally driven for short distances in the city – prepares to leave for Copenhagen, 1,000 km away. An extraordinary six days follow, as the van and crew of three drive across Europe closely following two cargo bikes day and night, in a race against time.
Electric vans are set to play a key role in the decarbonisation of transport. Manufacturers initially focused on small electric vans ideal for short distances. But they've moved on and many people may not realise that they are now electrifying even the largest vans, able to achieve up to 120 miles on a single charge.
Electric vans are great at city driving and short distances, where battery range is less of a concern. However, last year Energy Saving Trust was delighted to source an electric van for a 1,000 km drive as part of the #ResolutionRace.
Emission free support for the #ResolutionRace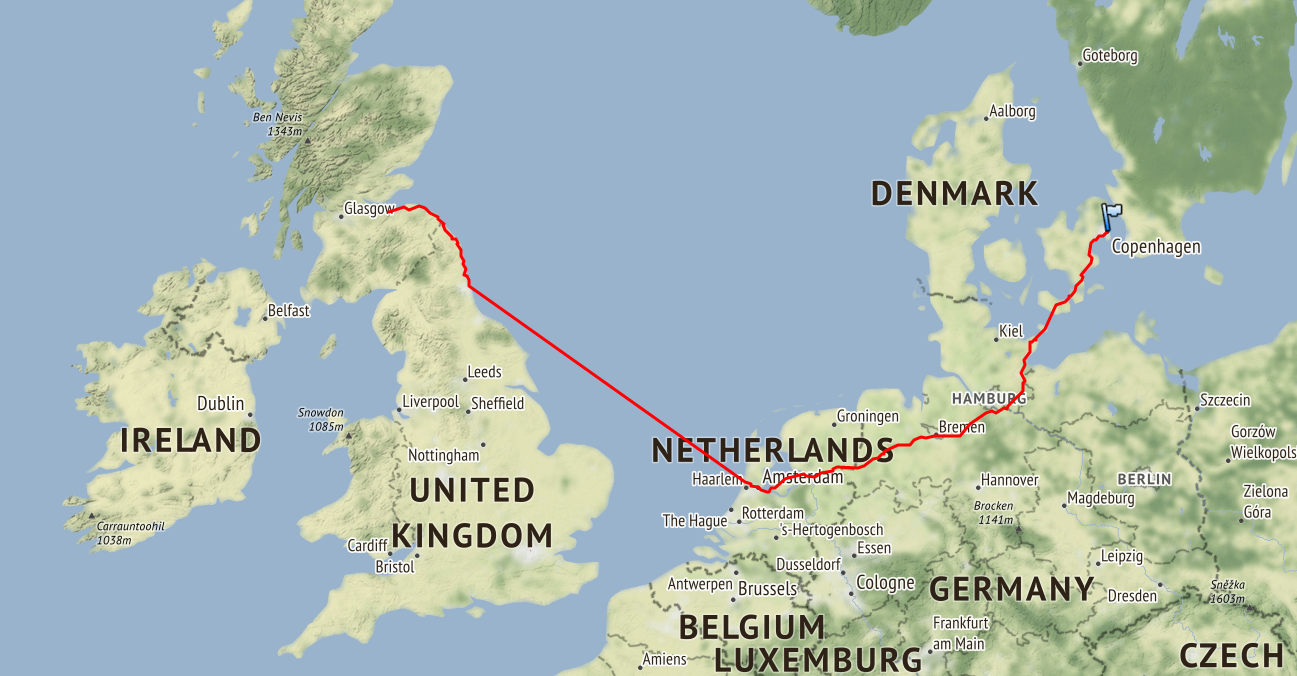 Four endurance cyclists from the Adventure Syndicate cycled nonstop between Boxing Day and New Year's Eve on cargo bikes, from Edinburgh to Copenhagen. Lee Craigie, Active Nation commissioner for Scotland, round the world cycling record holder, Jenny Graham, Alice Lemkes and Phillipa Battye took on the challenge in a bid to highlight the climate emergency. They cycled on cargo bikes, riding with their partner on the front of the bike as "cargo", swapping positions to be able to rest and eat on the move.
A media team followed the cyclists across Europe documenting the epic journey. Keen to ensure that the trip didn't produce any tail-pipe emissions or contributed to climate change, the team drove an EV80 full electric van, secured by Energy Saving Trust in partnership with LDV/ Maxus UK.
Having a large van was essential for the journey, but this kind of long distance point-to-point trip is not a standard journey for most electric vans. The team had to carefully plan the logistics of charging along the way.
James Robertson, photographer accompanying the cyclists, said: "We took turns figuring out the charger types, cross checking with van access and ensuring the chargers were working as we travelled through Scotland, England, Holland, Germany and Denmark.
Once in Europe we had to navigate charging stations in four different languages. We sought to charge at every opportunity and at all times, mostly using fast chargers. It wasn't until we reached Copenhagen that we found chargers close to our hostel to be able to charge overnight."
After a gruelling six days of nonstop cycling, the cyclists (and media team) arrived in Copenhagen just before New Year.
Sourcing chargepoints across Europe
While the team had to use a number of charge point access cards and apps to ensure they could charge when needed, the longest they ever waited was half an hour for a charger to become free. And since they knew what to expect, the return journey was simpler. The team found and used all the chargers they had planned to, with each charge taking between 90 minutes and two hours. They arrived into Amsterdam for the ferry back with hours to spare.
James continues: "What the drive back showed us was something far more meaningful than arriving at a destination earlier than planned; it had given us a glimpse into the future. In a world where urgency and convenience are the norm, it was a delight to travel slowly, to be present and to explore areas we would have otherwise driven straight through. Slower travel, awareness and free time marked the return journey. That is something we could all aspire to."
Range, charge time and charging infrastructure are all factors to take into account when considering electric vans. With more advanced electric power systems and infrastructure rapidly expanding more zero emissions journeys are now becoming a reality.
Read more about the #ResolutionRace
More on this…