Today (18 December 2019) saw the first electric vehicle chargepoints installed at Skiach Services in Evanton, Dingwall as part of the Electric A9 project.
The Electric A9 builds on Scotland's existing electric vehicle (EV) charge place infrastructure. Running the entire length of the country, the Electric A9 will provide EV charging for long distance journeys, local charging for businesses and local residents.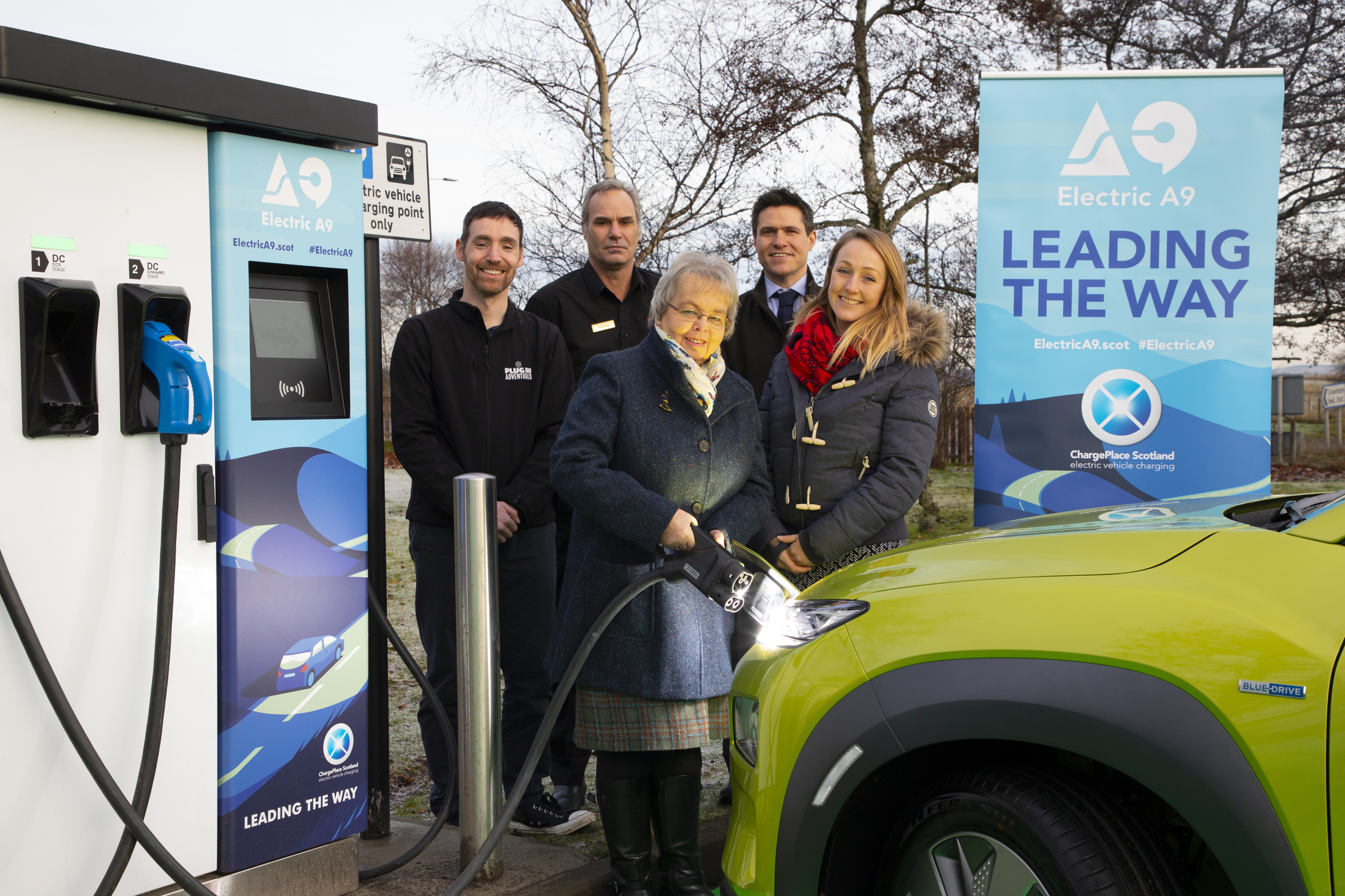 Ellie Grebenik, senior programme manager, Scottish transport at Energy Saving Trust commented: "As the adoption of electric vehicles is becoming increasingly popular across both private and business use, having convenient charging infrastructure is key. The Electric A9 project further strengthens the national network of chargepoints that are vital in supporting the growing number of EV drivers in Scotland enjoying substantial fuel cost savings.
"Grant funding for workplace electric vehicle chargepoint installations is available to help organisations install charging infrastructure on their premises. Additional support includes the Low Carbon Transport Loan which enables businesses and consumers to make the switch to electric vehicles providing a 6-year interest free loan on new vehicles. I'd strongly encourage businesses and individuals to explore the range of support offered by Energy Saving Trust."
Cabinet Secretary for Transport, Infrastructure and Connectivity Michael Matheson said: "It is fantastic to see businesses take advantage of available support to install EV chargepoints. In addition to providing grant funding for businesses, we have more than doubled the Low Carbon Transport Loan for 2018/19, in order to satisfy demand and allow more businesses and individuals to make the switch to EVs than ever before.
"The Electric A9 signals to the world that Scotland is ready to charge ahead with EVs. We've made a bold commitment to phase out the need for new petrol and diesel cars and vans by 2032 – and having the right infrastructure in the right place will help us secure that ambition.
"We will continue to develop both the Electric A9 and ChargePlace Scotland, which, with almost 1000 chargepoints, is bringing EV charging to people and places across Scotland."
A range of support is available online.
Find out more about the Electric A9 at www.electricA9.scot #ElectricA9
Launch photography features:
Ellie Grebenik, Energy Saving Trust
Stephen Rennie, SWARCO eVolt
Trevor Wilson, Skiach Services
Councillor Trish Robertson, Highland Council
Chris Ramsey, EV Adventurer, Presenter and Speaker
For further information, contact:
Energy Saving Trust
Energy Saving Trust is an organisation providing evidence-based advice and ground-breaking research that helps people save energy, every day.
Trusted by consumers, businesses and organisations for our expertise and independence, our goal is to find new and better ways to drive change and reduce energy and fuel consumption. www.energysavingtrust.org.uk
Energy Saving Trust's transport advice is funded by Transport Scotland, an agency of the Scottish Government. For more information on the funding available for businesses for electric vehicle charge points, visit our advice page.
Transport Scotland
Transport Scotland is the Scottish Government's national transport agency responsible for aviation, bus, freight and road policy; coordinating the National Transport Strategy for Scotland; ferries, ports and harbours; impartial travel services; liaising with regional transport partnerships, including monitoring of funding; local roads policy; major public transport projects; national concessionary travel schemes; rail and trunk road networks; sustainable transport, road safety and accessibility, and the Blue Badge Scheme. Transport Scotland is an Executive agency accountable to Scottish Ministers. www.transportscotland.gov.uk