Total global investment in renewables was down last year – but that's not as bad a thing as it initially sounds.
The cost of getting solar, wind and other green energy projects off the ground has plummeted – so despite the overall drop in investment, 2016 was still a record year in terms of installed capacity. It rose by 17% to 921GW, and the figure including hydro power is over 2,000GW.
In a number of countries, there is new low carbon energy generation technology going on to the grid at a cheaper rate than both nuclear and fossil fuels.
The end of dirty energy? Not yet
It might seem easy to extrapolate from this that the end of the energy 'old guard' is nigh, but the reality is different. Eighty per cent of world energy still comes from oil and gas – and fossil fuels still receive the lions' share of government subsidy.
Financial Times produced a map of energy subsidy based on International Energy Agency (IEA) figures last year, and it paints a striking picture of this continuing disparity. In monetary terms, renewables are getting by on roughly half of what is received by the fossil fuels industry.
Evidently, change is coming in spite of this, with economies of scale making renewables more and more competitive.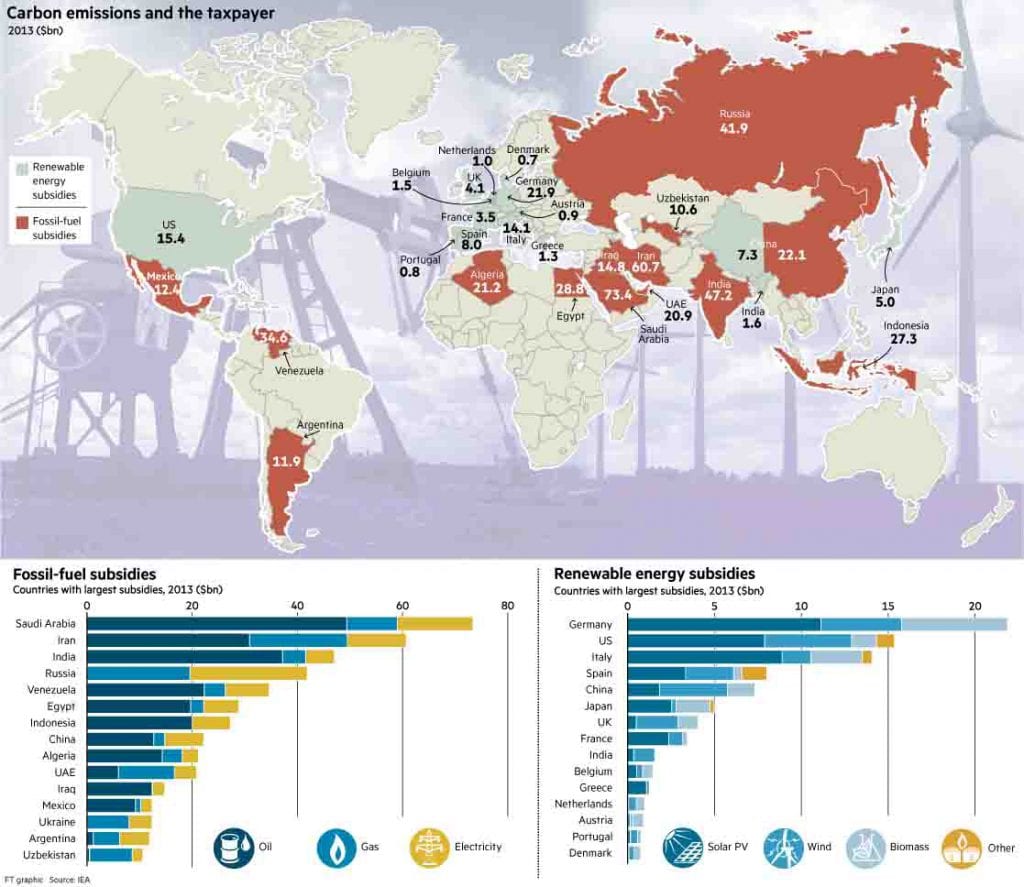 Solar surprises, grid gains
Here in the UK, records also keep tumbling. Renewable energy, mostly wind and solar, helped meet a new high proportion of peak electricity demand at the start of last month – over 50%.
Solar power alone met just under a quarter of UK energy demand on a Friday at the end of May, while earlier in the year saw mid-afternoon power transmission demand drop below that of the night before for the first time ever, an occurrence again put down to the roll-out of solar PV.
Ready to connect?
But with this increased renewable energy market penetration, questions have come about the National Grid's ability to deal with additional clean energy connections. It, however, remains bullish.
Duncan Burt, representing the transmission network, said: "We now have significant volumes of renewable energy on the system and as this trend continues, our ability to forecast these patterns is becoming more and more important.
"We have an expert team of forecasters who monitor a range of data, to forecast just how much electricity will be needed over a set period. It really is the beginning of a new era, which we are prepared for and excited to play our part."
Getting ahead of expectations is exactly what the renewable energy has been doing over the last few years, so now those in charge of connectivity need to follow the same path. Managing the transition to low-carbon energy sources in order to exploit what's generated to the fullest is a great – but achievable – challenge of the age.